WINDSOR, Ontario -- Some eight hours before game time, Warren Rychel was lacing up his skates in the coaches' tiny dressing room, his head down, his hands and voice shaky.
''I first knew about Mickey when he was an atom, 6 or 7 years old, and he'd put his skates up on the counter for my father to sharpen at the arena out in Tecumseh," he said. "I knew that Mickey touched a lot of people in the community but I had no idea until last week ... within a day or so, I got 500 e-mails, calls ..."
Rychel, the general manager of the Windsor Spitfires, was about to say something else but words failed him. He had been a tough guy in the NHL, 400 games and dozens of brawls against the league's heavyweights, and now he was fighting back tears. Again. No counting how many times over the past 10 days.
Meanwhile, just steps away, the Spitfires were starting to file through the arena doors. Maybe they were making their entrances more quietly than usual for junior hockey players, but still there was chatter about NHL games the night before, about sticks and skates and cars, about the Arctic cold that made starting their cars dicey. Bradley Snetsinger, second-oldest player on the Ontario Hockey League's second-youngest team, was watching C.J., the tow-headed son of assistant coach D.J. Smith, stick-handling a ball of tape while the Spitfires were getting ready for a game-day skate.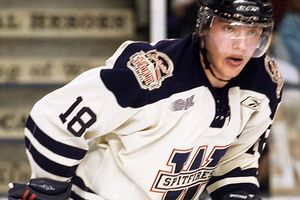 AP Photo/Mike Carroccetto
Windsor Spitfires captain Mickey Renaud, 19, was a fifth-round draft pick of the Calgary Flames in 2006.
The funny thing was, the ex-NHLers who own, manage and coach the Spitfires seemed to be taking it harder than the teenagers in the junior team's dressing room. It feels cruel just to type that, but you couldn't miss it. Thursday morning, on the eve of the Spitfires' first game after the sudden death 10 days before of Mickey Renaud, the team's captain, it seemed like the kids were in better shape than the former pros.
The key word here is "seemed." It had to be all about appearances.
You could find signs of tribute and grief in the dressing room.
Some were easy to put together. The empty stall with No. 18 hanging in it. The lantern with a candle burning in it, lit by the first player in the room and to be blown out by the last to leave. The white board at the front of the room, blank but for "18." Other signs were tougher to spot. The necklaces around the players' necks, 18 again, gifts from a local jeweller. For some, a freshly tattooed "18" on their chests. And there was one sign of the memory of Renaud that you wouldn't have caught without being told: A pair of enormous workboots with shoelaces as thick as fingers and reinforced soles that a nailgun couldn't penetrate.
The boots looked like they'd been left there by a worker on the arena crew, but they had been Renaud's idea -- he was always trying to think up motivational gimmicks, stuff that the team, his team, could rally around. An award for the hardest-working player on a given night. Renaud had bounced the idea off Tom Webster, the Calgary Flames scout in Windsor, the one who had convinced the Flames to draft Renaud in the fifth round in 2006. Webster dropped off the boots a few days after the funeral.
But the telltale sign of grieving wasn't one you could have seen. It was one you could hear. You could hear the players talking and they didn't have to raise their voices. In most dressing rooms you would have to shout to be heard over music booming at 100 decibels. In the Spitfires' dressing room, there was no music. Maybe it was a conscious decision, that it wouldn't be appropriate. Or maybe it was the fact that Mickey always brought his iPod. He was in charge of the music.
---
By 6:30 p.m., 4,228 fans had filled the arena -- fans of the Spitfires and fans of Mickey Renaud. That was before you counted the arena staff who first met Renaud when he was a grade-schooler, the kid whose father Mark had played for the Hartford Whalers in the early '80s. The stands were filled almost an hour before game time. Hundreds braved the cold outside the arena, waiting for two hours for fear of being late to the pregame ceremony.
Renaud's friends and classmates from St. Anne's High School were there. The stands were filled with No. 18 sweaters, many that Renaud had autographed with a Sharpie. Hockey fans in Windsor might be able to pick a few Spitfires out of a crowd but they all recognized Renaud -- hard to miss at 6-feet-2, 210 pounds, blond-haired, smiling, outgoing, always saying hello first. If any fan in the crowd knew one of the Spitfires or had talked to just one, it was bound to have been Renaud. Joe Louis Arena is just across the Detroit river from downtown Windsor, but if Niklas Lidstrom came out of the tunnel on the Canadian side few would recognize him. Mickey Renaud couldn't walk a city block in Windsor without getting stopped by a friend.
Junior hockey has home teams but fewer hometown heroes than you might think. A junior player usually has to head out at age 16 to play for a team in another town.
"I played in Sudbury and Ottawa, never for the Spitfires," Rychel says. "I had a hard time just coming back here to play a game or two a season."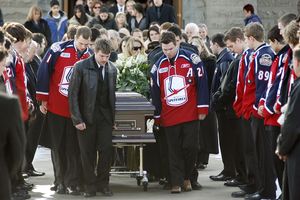 AP Photo/Dave Chidley
Members of the Windsor Spitfires Ontario Hockey League team carry the body of Renaud during funeral services on Feb. 22.
It can be a mixed blessing for some. You get home-cooked meals, but that doesn't help with the unrelenting pressure of performing in front of those who know you. Some struggle with it but Renaud thrived.
"It didn't make his life any easier," Spitfires coach Bob Boughner says. "He was pulled in a lot of directions. He had his friends on his team and his friends from his neighborhood. He had the kids he went to school with, too. As the captain, he tried to do things in the community -- if there was an event that a player had to attend, if someone had to get up and speak, it was Mickey. And he wanted to do that. If a player was traded to the team, he was the one who picked him at the station and drove him to his billets' house and introduced him to his teammates. Mickey looked for a way to lead."
He did that right up to the end. Last week, on a morning when the Spitfires were scheduled to have a community event, skating with the public at the Windsor Arena, Renaud invited a few teammates over for breakfast -- Conor O'Donnell, Bradley Snetsinger and Jordan Nolan, the son of Islanders coach Ted Nolan. While at the breakfast table Renaud collapsed. No previous condition. No symptoms even moments before. An ambulance arrived at the Renauds' home. Minutes later his family was at the hospital. Doctors couldn't revive Renaud. No last words, no clues. An autopsy was ordered but nothing was going to make any sense of it.
The Spifires showed a couple of videos in tribute to Mickey as fans stood throughout. Twenty minutes of highlights. The videos featured the stuff that you'd expect -- goals, big hits, even a couple of fights, which drew the biggest cheers. But the tribute videos couldn't show everything.
"Mickey was a good player with a good chance to play as a pro," Boughner said. "What made him special was all the stuff off the ice. He was the best teammate the players here could have. He was a quality person. There's no video we could make that could really show that."
The Spitfires lined up on the blueline before the game, wearing No. 18 sweaters, with Renaud's name on the back and a captain's C over their hearts. Two by two, they peeled them off and stacked them on a table before a moment of silence that lasted barely longer than a few of them could stand.
---
The Spitfires hadn't played in a couple of weeks. After Renaud's death a couple of games were canceled. Rychel and Boughner brought in grief counselors for the players. Parents arrived to be with their sons. Some of the players went home for a few days. Boughner was able to get them on the ice a few times for practice but a team's confidence even at the best of times can be a fragile thing. And even at the best of times the Spitfires would have been in for a tough game.
The Belleville Bulls have the second-best record in the 20-team OHL and their roster is made up of older players, a half dozen high NHL draft picks, including top Florida prospect Shawn Matthias. The Bulls were just the sort of team that Renaud played best against. He was always matched up against the other team's top line -- that's how he was going to make the NHL, not as a scorer, but as a shutdown checker.
Those 4,428 fans came out for the tribute; a stirring hockey game was just a bonus. The final score, a 4-3 Belleville win in a shootout, doesn't do either team justice. The winners get two points and credit for playing a hard, clean game after donning their own No. 18 sweaters in the warm-up, a tip of their helmets. The story, though, was the Spitfires, who twice rallied from a goal back to tie the game. The home team took the play to the Bulls, outshooting them 40-24 and hitting the post at least three times. Taylor Hall, a left winger who turned 16 in December, set up Windsor's first goal with a nifty drop pass and scored the goal that sent the game into overtime. With a great backhander for a goal in the shootout, you got a sense Hall was going from boy to man in front of your eyes. The same could be said of others.
"There has been a lot of emotions over the last few days and it's been tough," Hall said in the Spitfires' lounge after the game. "We channeled our emotion into playing a game but we kept our discipline, too. The first few minutes were the hardest ... it was a nervous time. But after that we found our game. This is always going to be hard to think about and talk about. Things will be different with Mickey gone. There isn't one of us who can replace him. We all have to try to do more."
Matthew Bragg, a 20-year-old center from Newfoundland, walked into the lounge in his sweats, wearing the oversize work boots that nearly came up to his knees.
"It could have been any of this who'd wear Mickey's boots tonight," he said. "It was a hard night but a special one, too. I think all of us have changed the way we look at things. We had a chance to remember Mickey and then we had a chance to play the way he did and the way he would have expected us to. Every night Mickey would have worn these boots."
There was no music. Bragg said that might change.
"It was Mickey who was in charge of the music and I used to get on him," Bragg said. "He used to play this awful rap or hip-hop or whatever. I'd get in there and try to sneak on some of my music. Some Irish stuff. Some Newfoundland music, like the band Great Big Sea. I might take over the music in the room from now on. Maybe that's what I can do."
At practices and before games there'll be music the rest of the season and maybe Bragg will put on Great Big Sea. But no one is going to replace Renaud, their captain -- someone will wear his boots but no one will put on the Spitfires' C.
Gare Joyce is a regular contributor to ESPN The Magazine and ESPN.com.