By Tim Keown
Page 2 columnist
This, officially, is the offseason. It's the start of the football offseason and the end of the baseball offseason and anything that doesn't include the playoffs is the NBA offseason. College basketball is catching its breath before the tournament, which means the only teams with a chance of winning the title are worried as much about health as wins.
So it's February, the eternal offseason.
That used to be a bad thing. It used to be a horrible time for newspaper sports sections and gamblers. But now we should all embrace February, because February has come a long way in the past 10 years. February is the future of sports, where speculation and prognostication is all there is.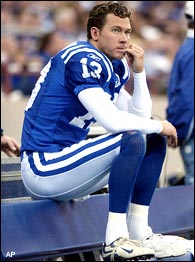 After Mike Vanderjagt's missed field goal ended the Pro Bowl, we officially entered offseason mode.
No games to get in the way of everybody's brilliance, in other words.
It's been heading this way for some time, ever since sports became a 24-hour operation. There simply aren't enough games, so the space between games had to be filled with opinion and analysis and a special brand of dramatic guessing.
If you don't know what you're talking about, say it a little louder. That way, nobody can tell. And besides, silence doesn't work well on radio or television.
It's February, time for you to let everybody know who you think is going to win and why. It's non-baseball season and non-football season and in-between basketball season, so do yourself a favor: Call a talk show or visit a message board and spread the genius.
Consider it an ode to February, when the offseason reigns.
This Week's List
Right about now, you're asking yourself one pertinent question: What the hell was that weird thing I just read?
And one other good thing about February: We can all tune in to the NBA All-Star Game to see Jamaal Magloire instead of LeBron James.
Is that the sound of a couple of hissy cats I hear in the distance?: Mark Cuban vs. Larry Brown.
If his stock drops any further, he'll be lucky to end up as Mr. Irrelevant: Remember when people were calling Maurice Clarett the next Jim Brown?
According to my calculations, he falls somewhere between Catfish Hunter and Dick Cheney: When it comes to those who have made the fight for social justice above their individual well-being, I have a hard time putting thinking of Clarett in the same way as, say, Gandhi.
To which you say, before knowing anything further -- Philadelphia: Mascot's Head Stolen at Charity Function.
It's really not known how weird one guy can get, but it's time for us to acknowledge one fact: Kurt Warner's getting awfully damned close.
Here's an offseason question to wrap your arms around: Does anyone want Keyshawn?
It's the offseason angle the whole world will be watching: How's Mike Vanderjagt going to live with himself this offseason after missing a field goal to cost his team the Pro Bowl?
What Shareef Abdur-Rahim is asking himself today: What did I do to make even the thought of acquiring Rasheed Wallace look good?
Just for the heck of it: Scott Wedman.
And to think, we all just got over the offseason stories asking us which major league baseball team was going to go from missing the playoffs to winning the World Series: Now we all get to guess which NFL team will go from missing the playoffs to winning the Super Bowl.
Apparently there's one team we can cross off the list: A headline this week read, "Rebuilt Devil Rays set sights on 70-win season."
Or, looking at the glass as half-full: With steady improvement, the Rays could be winning 90 within the next 15 years.
That's one way to impress in an interview situation: Mark Brunell, having dinner with Joe Gibbs as part of his free-agent "recruiting" period, drove Gibbs to the emergency room when the Redskins' coach suffered an insulin imbalance.
Yet another sign your ballclub is simply not headed in the right direction: Brewers pitcher Luis Martinez is being sought in connection with a shooting in the Dominican Republic.
The funkiest thing about it, of course, is that the multi-millionaire players seem to really listen to him: Nets coach Lawrence Frank looks like someone who got lost on his way to the popcorn stand.
And finally, if you ever find yourself being traded, rest assured it's going to be in exchange for one of two men: Theo Ratliff or Bruce Chen.

Tim Keown is a senior writer for ESPN The Magazine.