By Tim Keown
Page 2 columnist
We're coming up on the best weekend of the year and the weather where I live simply won't cooperate. It's 85 degrees and gorgeous -- horrible weather for the first two rounds of the NCAA Tournament. If you're facing a four-day stretch of snow, sleet or some other hideous meteorological malfunction, consider yourself lucky. You get to stay inside without guilt.
Here's what I love most about the first round: Absence of reason.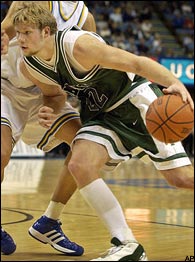 Announcers could go crazy if Vermont's Taylor Coppenrath does some damage against UConn.
The best absence-of-reason moments come in the first halves of the 1 vs. 16 and 2 vs. 15 games. Probably about half of these games have a sequence where it appears, however briefly, that the underdog has a slight, slight chance of pulling off the upset. It might be 18-16 Underdogs with 8:12 left in the half, or maybe there's a nine-point run by the Underdogs to take a 43-42 lead with 2:10 left in the half.
Whatever the case, you can always tell by the fluctuating modulation of the announcers. They start these games barely interested, like they're waiting to order take-out at the next timeout; and then something clicks and they start hyperventilating.
They say things like "Huh-ho, what've we got here?" and "Don't tell the Fighting Jehosophats they shouldn't be in this game" and "Somebody forgot to tell Decrepitus State this is Duke we're talking about here."
There's always one guy on the Underdogs playing so hard his head is bound to explode; he hits everything he throws at the hoop and constantly screams at his teammates to come along for the ride. The overmodulating announcer traditionally tells a long and pointless story about all the big schools that dissed this guy by not recruiting him and how he's "got something to prove" in his one big chance in the spotlight.
Of course, it almost always fades. The Dissed Guy is always joined on the court by the guy who is so intimidated by the moment that he's throwing passes to cheerleaders and Billy Packer. For his part, the Dissed Guy always ends up taking about 15 shots too many.
In the end, the teams with the guys who find the $50,000 sacks of money on the front porch during their junior years of high school always pull away in the first few moments of the second half. And by the 15:00 mark, the Jumpin' Coppenraths are down 20 and Coach Omniscient of No. 1 or 2 seed is sitting on the bench watching video of his second-round opponent as it's beamed onto his clipboard via Alumni Cam.
But while it lasts? Huh-ho.
This Week's List
As they say in the e-mail headers, DON'T LET THIS BE YOU: Cincinnati, which probably doesn't feel too comfortable facing East Tennessee State, a 27-win team with a nasty speed game.
One man's opinion: Oklahoma State wins it all.
Three questions from today's pop quiz from Professor Harrick: 1.) How many teams make the Final Four?; 2) The University of Kentucky is located in which state?; 3) Who is Phil Martelli's favorite color commentator?
And now you know why the Racers are being referred to as a "No. 12 stem and seed": Murray State's starting point guard and second-leading rebounder were arrested and charged with marijuana possession on Sunday.
Just for the heck of it: Marvin Delph.
A suggestion for next year's Selection Sunday show: On-campus cameras catching the cheering and backslapping when on-the-bubble NIT teams find out they were snubbed.
For instance, at St. Mary's (Ca.): The cries of "No More Practice" could be heard through three counties.
One way you can tell whether a so-called expert is not dispensing the kind of advice you want to take to your bookie: If he or she writes or says, "School X could just as easily win it all as lose in the first round."
Team that's getting way too much credit: North Carolina.
If Utah State is looking for grounds for a discrimination lawsuit, it could do worse than this: There are only seven teams in the tournament with "State" in their name, and that's clearly not a coincidence.
And not only that: Other than Murray, Alabama and East Tennessee, there's not a State team in the tournament with lower than a 7 seed.
OK, since you didn't ask, here's the only lead-pipe cinch first-round upset: No. 13 Virginia Commonwealth over No. 4 Wake Forest.
And, finally: In the all-important Utica bracket, Duke is seeded Nos. 1, 2 and 3.

Tim Keown is a senior writer for ESPN The Magazine.