By Tim Keown
Page 2
Cardinals reliever Steve Kline flips off Tony La Russa for not putting him in the game after Kline had warmed up repeatedly in the bullpen. Told of Kline's action, La Russa says, "Give me two minutes and I'll be standing on his chest."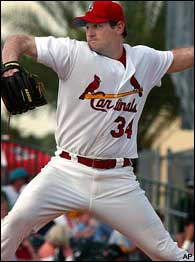 With teammates like Kline, the Cards could care less about their enemies.
If that isn't proof that baseball is the best game on the planet, nothing is. You simply can't beat baseball when it comes to time-honored, inexplicable traditions and unintentional humor.
In the College World Series, two remarkable events: 1.) Cal-State Fullerton coaches see fit to use A's third-round pick Jason Windsor for 322 pitches and 21 innings in eight days; and 2.) Texas coach Augie Garrido, one of the old-line, great-for-the-game coaches, refuses to have his team take the field for the award ceremony after the Longhorns are swept by Fullerton and Rubber-Band-Man Windsor.
How does anybody in his right mind send a college kid out there for another inning -- and another, and another, and another -- when he's gone over 300 pitches in a week? Leave it all on the field, Jason, because we just cost you $100k off your bonus.
And in St. Louis, it wasn't just Kline. Closer Jason Isringhausen said the same thing -- that La Russa is annoying him with the same routine. Get him up, don't bring him in. Doesn't Tony know the boys got more important stuff to do down there than bother with getting up off their rear ends to throw a baseball?
But the kicker is the best: The Cardinals are on a tear, and there are columnists in St. Louis who believe the team has been helped by the set-up man giving the manager the finger and the closer swimming into the wake to get in a few shots of his own. St. Louis has won 23 of its last 31, and the Cardinals look like the best team in the National League.
For that reason and others, the Cardinals are the team to watch. If they fall into a slump anytime soon, look out. Imagine what they'll do to get back on the right track.
This Week's List
Bring back Ellis Valentine!: If Livan Hernandez and his 5-7 record are deemed the Expos' best bet to represent the team in the All-Star Game, it's time to dump the idea of every team being represented.
If you're aiming to be the absolutely least productive employee you can be: You need to subscribe to mlb.com's all access package, where you can watch nearly every game on nearly every day.
The Braves played till 1:25 EDT Monday night, which can mean only one thing: It was about four hours past the time Julio Franco usually falls asleep in front of the television.
With the proper supervision, it probably would have added more years to his career than the stuff he ended up taking: A cartoon in The New Yorker shows two guys sitting in a bar; a photo of Mickey Mantle looms above them and one guy says to the other, "I'm probably in the minority, but I would've loved to see Mantle on steroids."
The NBA offseason, so far, in three parts: 1.) Is Shaq coming to (fill in your favorite team here)? 2.) Why can't Shaq come to (fill in your favorite team here)? 3.) Team owner or GM of (fill in your favorite team here) is a complete raving lunatic if he doesn't at least try to get Shaq to play for the (fill in your favorite team here).
It sounds horrible; but in a twisted way, you know this would be Kobe's Dream Five with the Lakers next year: Derek Fisher, Devean George, Slava Medvedenko, Some Other Guy Who Doesn't Want To Shoot and Kobe Bryant.
It was probably about the time I heard the name Viktor Khryapa that I made the stunning realization: The only thing separating the NBA draft from the Major League Baseball draft is a television contract.
Just for the heck of it: Barry Foote.
Haven't we heard this before?: Word has it that sultry Russian tennis player Maria Sharapova is more than just a pretty face.
Maybe because it doesn't conform to the consensus, it hasn't gotten the attention it deserves: Richard Williams definitely took the high road in the Venus-got-screwed flap at Wimbledon, saying the disputed point didn't decide the match.
I know golf's different and all, but: Isn't Phil Mickelson playing in the Tylenol Par-3 Shootout the same as Barry Bonds deciding to play in a beachfront Over-The-Line tournament?
Just another statement that makes me think there's no bleepin' way this kid is 14 years old: When asked to describe his first season in professional soccer, Freddy Adu said, "Things aren't going so well personally."
And finally, as John Goodman might say, "It's a league game, Smokey": Police in South Lake Tahoe are pondering whether they can objectively investigate a brawl during a softball game between two local teams, one of which is made up of police officers.
Tim Keown is a senior writer for ESPN The Magazine. He is the co-author of the upcoming book "Hunting the Jackal: A Special Forces and CIA Ground Soldier's Fifty-Year Career Hunting America's Enemies," to be published in June by William Morrow.