By Tim Keown
Page 2
The New York Yankees have asked Major League Baseball to force the opposition to forfeit every game Kevin Brown would have pitched for the rest of the season. The move comes less than a week after Brown broke his left hand by punching a wall in the Yankee clubhouse.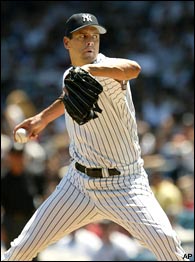 Kevin Brown's been really clutch for the Bronx Bombers this season.
Yankee general manager Brian Cashman said the forfeits were only fair. "Stupidity, like a hurricane, is an act of God," Cashman said. "And since we believe hurricanes are cause for forfeiture, why not stupidity? We're just trying to be consistent."
When asked about the development, Brown said, "It sounds like a good idea. Why should I be penalized for being such a fierce, stubborn competitor. I'm a gamer."
Yankee boss George Steinbrenner said he expects most teams to understand and accept the Yankees' request for forfeits. "We're in a tight pennant race, and we need every win we can get," he said. "What's good for the Yankees is good for America."
Brown is a 39-year-old man with an eight-figure annual salary to throw a baseball. He said he should not be penalized for the phenomenal competitiveness that has forced him to leave his team when it most needs him. "I'm a team guy," Brown said. "I'm a gamer. The guys know that. I punched the wall for the good of the team, because I care. Did I mention I'm a gamer?"
This Week's List

The '98 Marlins don't count, for your information: Has there ever been a team that fell farther and with less grace than the San Francisco 49ers?
Because if you don't heed this advice, you'll probably find yourself having to "Win late," which is also pretty good advice, come to think of it: A preview of the 49ers' season in a local sheet listed "Win early" as a key to the club's season.
Which makes him exactly like ... oh ... 95 percent of big-time professional athletes: Brett Hull apparently made some people mad at the hockey World Cup when he said he no longer cares what the fans think of him.
I did buy a soda once because the commercial had a catchy jingle: Are we supposed to be provoked into buying McDonald's chicken because some mentally disturbed office boy is standing near the copier making odd gestures and speaking pig Latin?
It's 1,998 miles from Baton Rouge to Corvallis, in case you're wondering just how long Alexis' night was after the game: Oregon State redshirt freshman kicker Alexis Serna cost his team a win at LSU by missing three extra points.
Judging by what I heard through my television speakers: The Red Sox had a home game in the Oakland Coliseum on Monday night.
There's one every year, and this year's pick as Most Likely to be Overestimated goes to: Seattle Seahawks.
Guess I'm glad I missed it: The account of the riveting Nebraska-Western Illinois matchup in the Nebraska State Paper included the following -- "For NU fans, it was a night of yelling 'Whoopeee!' a lot, especially in the first half."
Last-minute fantasy football tip: Pick punters late.
Just for the heck of it: Bill Bordley.
As evidenced by the Red Sox and Rangers, there's only one way to ensure that your team will make a drastic improvement: Trade the hero shortstop.
Seems like they'd be better off sponsoring the bottom of the fifth, but who's to argue with the good folks in marketing?: If you watched the A's-Red Sox game Monday night you were treated to "The Jack Daniel's Seventh Inning Stretch."
Seattle's Walter Jones has made an absolute art out of this: Ever notice how the biggest, heaviest guys are always the ones who find the most reasons to be unhappy with their contracts and therefore miss the most time during training camp?
As if you Dolphins fans didn't have enough bad news: Jay Fiedler, starting QB.
The regular season starts this week, which means only one thing: Bill Parcells gets to start yelling at reporters for real.
Maybe you have to bless yourself before you write the check: One of the suggested searches on MSN this weekend was "Christian debt consolidation."
And finally, if you want to feel inadequate and anti-hip these days, there's only one way to achieve your goal: Refuse to wear a bright yellow plastic band around your wrist.

Tim Keown is a senior writer for ESPN The Magazine.