By Tim Keown
Page 2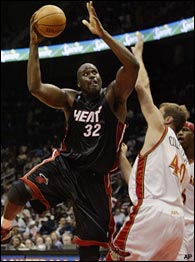 Can Shaq lead the Heat deep in the playoffs? Well, first we have to sit through 82 regular-season games.
Baseball has Opening Day, elevated to Unnecessary Capitalization before most of us were born. The opening weekend of the NFL season is practically a national holiday.
The opening of the NBA season? It's tonight, in case you missed the fanfare. Shaq is in Miami, but he might not play. Jason Kidd is on the injured list. The Pistons look really good again. The Kings appear to have closed their window of opportunity before it was ever completely open.
Kobe is just good enough and vindictive enough to make his Lakers the biggest surprise in the NBA. The Hawks might have trouble winning the MAAC. The Nuggets are the new Clippers, which means they're the trendy pick that won't come close to projections.
But for the most part, the beginning of the NBA regular season serves one central purpose: It marks the beginning of the countdown to the playoffs.
This Week's List

And as Steve Spurrier can tell you, whenever the Redskins lose as many games as they figure to lose this year, the incumbent coach always gets voted out of office: If you believe history and the accompanying onslaught of media attention, the Redskins' loss Sunday apparently hands the Presidency to John Kerry, automatically.
His team is horrible and getting worse, but say this much about 49ers coach Dennis Erickson: The man knows how to choose some sharp eyeglasses.
He might be right, but I'm wondering if we all missed the Ditka-as-Chris Rock portion of his coaching career: Mike Ditka, commenting on Bill Belichick's stoic demeanor after winning his 21st straight last week and losing his first straight Sunday, said Belichick needs to have some fun.
Everyone thinks it's sexist, but you ought to hear what he thinks should be done to Hank Goldberg: Keyshawn Johnson says Pam Oliver needs to be spanked.
If you wonder why his team looks so befuddled and clueless, wonder no more: Asked to explain his sideline argument with Warren Sapp during Sunday's thrashing at the hands of the Chargers, Raiders coach Norv Turner said, "We were talking about things that were going on in the game, in terms of how the thing is going and what we needed to do."
What you must hear in your headset if you're a Raider QB: "OK, now run that thing where we go that one way and do that other thing we talked about."
Interesting sidelight for Turner: The Raiders have already quit on him, which means he's managed to accomplish in eight weeks what it takes most men 11 or 12.
Just for the heck of it: Rogelio Moret.
Dare we say it?: Ben Roethlisberger, MVP candidate?
For the curious person who claims stints as a student at both Cal and Washington State, it doesn't get a whole lot better than this: Cal, No. 4 in the country; the UW Huskies, in the dumper.
Consider it the Owens Paradox: Has there ever been an athlete who appears to be so lighthearted but takes himself as seriously as Terrell Owens?
Believe it or not, 94 percent of those responding don't believe Andrea Mackris: A poll on BillOReilly.com showed President Bush winning the election 92 percent to 8 percent.
And up next on "The Franken Factor": Roughly 92 percent of those polled say Kerry wins.
It's times like this that make Dock Ellis wish he were still in the game: On "The Best Damned Sports Show" Friday, Kevin Millar said he and his Red Sox teammates each took a little shot of Jack Daniel's before every game, starting with Game 6 of the ALCS.
Sad words come true for Paul Tagliabue: Parity, it ain't a guarantee.
Besides, Bush might lose and there goes another two percent right off the top: Latrell Sprewell, unhappy with the pace of contract negotiations with the Timberwolves, says he doesn't want to take a pay cut from his $14.6 million annual salary.
Brendan Haywood signed a five-year contract extension, which means only one thing: The Wizards must figure they can squeeze at least another two points and maybe another rebound per game out of a 7-footer who started 59 games last year and averaged 7 points and 5 rebounds.
And finally, it's the offseason, so it's time once again for baseball's longest-running reality show: "Interviewing Everywhere," starring Willie Randolph.

Tim Keown is a senior writer for ESPN The Magazine.