By Tim Keown
Page 2
It's hard to predict trends, of course, but it's clear the NFL might be moving into the golden era of spitting. It's the ultimate insult, an unsanitary degradation of the human condition, and it's something most of us outgrow before our age hits the high single digits.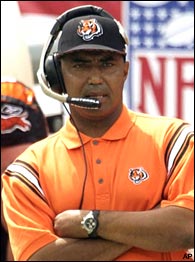 Marvin Lewis isn't too pleased with the Redskins' Sean Taylor.
Marvin Lewis says one of his Bengal players was spit upon in Sunday's game against the Redskins. Lewis refused to identify the spitter or the spittee, but surrounding events seem to implicate Washington's Sean Taylor (spitter) and victimize Cincinnati's T.J. Houshmandzadeh.
In Cleveland, the grand pregame fracas between Browns running back William Green and Steelers linebacker Joey Porter either originated or was accelerated by spitting. Who spat upon whom? Let the jury sift through the rubble.
Could it be that imitative dancing -- as performed by Hines Ward, Terrell Owens, Terrell Owens, Terrell Owens and Terrell Owens -- might be a short-lived trend? Just as we were getting used to the idea of every NFL game becoming a parody of a bad television series, they've gone and reinvented themselves.
Almost makes you wistful for the days when the biggest argument between players concerned the theft of proprietary dances, doesn't it?
This Week's List
You can fall back on the old "everybody's-doing-it-and-we-all-know-it" defense, but the allegations in the Maurice Clarett case can be distilled into one word: Stunning.
So, in the name of Larry Eustachy and Mike Price: Will Professor Tressel survive this?
And if he does: Is it a survival out of merit, or a survival indicative of how far athletic director Andy Geiger's head lies buried in the sand?
Come to think of it: Will Geiger survive this?
And Mr. Geiger, while we're still on the subject, you need to understand one thing: The level of detail in the ESPN The Magazine expose makes it clear -- just because Clarett lied once doesn't mean he's always lying.
Here's a sentence you can believe at your own peril: An Associated Press story Monday on the Ohio State mess began, "Ohio State athletic director Andy Geiger is happy the NCAA is coming to the university's campus Monday to investigate allegations made by former Buckeye star Maurice Clarett.
Just for the heck of it: Marcus Dupree.
Just for the heck of it bonus: SMU, and the death penalty.
Sometimes, mere words don't work: Ron Artest, a man in need of a sabbatical.
Sorry if this cuts too close to the company bone, but there's one word it's far too early to see, hear or write: Bracketology.
Say what you will about the football factories, but: The guys who introduce themselves on Monday Night Football seem to be awfully proud of their institutions of higher learning.
Talk about the need for further drug-testing, Part I: One voter, no doubt striking a blow for skeptics, DEA agents and state attorneys everywhere, listed Barry Bonds third on the MVP ballot.
Part II: Carlos Zambrano got one ninth-place vote; Vinny Castilla and Jeromy Burnitz (two Rockies!) received votes.
The career of Barry Bonds, the abridged version: Asked to address the BALCO/Greg Anderson issue, Bonds said, "I don't owe anyone a response to anything."
And, as you can probably guess, it's not a good look: Bill Parcells' tenure in Dallas is starting to take on the Bill-Walsh-returns-to-Stanford look.
Speaking of degeneration: Evander Holyfield lost to Larry "The Legend" Donald.
Of course, Texas converting on fourth-and-18 had nothing to do with the refs: Kansas coach Mark Mangino claimed his team's loss to Texas could be broken down into three letters -- BCS.
The BCS, where preposterous decisions and unending controversy are a way of life: If Utah and Boise State are out and Boston College is in, there's something seriously wrong.
So let's get this straight -- these fans call themselves "Ruf/Neks," throw oranges and shoot pop guns at the opposing team, then get upset when someone calls them "hillbillies"?: Nebraska coach Bill Callahan lashed out at a group of Oklahoma student fans, saying, "I don't think any team should be subjected to the type of treatment we were subjected to in that particular contest."
You might not have known it, but apparently it was a big win: Duke students brought down the goalposts after beating Clemson on Saturday.
And finally, all this time we sat here, oblivious, thinking none of them could have possibly cared: Fans in Regina, Saskatchewan, trashed the house of Rough Riders' kicker Paul McCallum with eggs and manure after he missed an 18-yard field goal in overtime of the CFL West final on Sunday.

Tim Keown is a senior writer for ESPN The Magazine.