Baseball's Home Run Derby is mostly for kids, the way I look at it. And as a marketing tool, it's one of the best things the sport has going for it. It brings the faces and personalities of some of the game's best players into people's lives in ways a ballgame or a public-service announcement can't. The Derby is right there with the NBA's Slam Dunk Contest when it comes to exhibition events that merit attention and create discussion.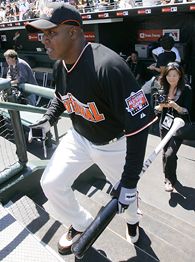 AP Photo/Jeff Chiu
Bonds suited up -- why not just participate?
I've never been a huge fan of the Home Run Derby, but I've always watched, occasionally in awe, when someone drives a ball 500 feet. But sitting in the stands Monday night in San Francisco gave me a new appreciation for the event, and I came away with one thought:
Barry Bonds really blew it by not participating.
It always comes back to Bonds, doesn't it? It seems everything in baseball eventually turns itself back to him, and at times it's unfair that he takes the brunt of everything related to performance enhancers.
But this isn't about that. This is about a guy who had a chance to turn a slice of public opinion his way and couldn't manage to do it. This is about a guy who could have stood in front of his home fans -- the fans who, at the desperate urging of Giants management, voted him into the All-Star starting lineup -- and swung his bat and tipped his cap and been a hero.
They were dying to see him. Listening to the conversations and the scattered chants of "Barry, Barry, Barry" -- usually after someone, such as Prince Fielder, didn't do well -- made that clear.
If Bonds had chosen to participate, despite the length of the contest and the damage to his swing and the party he planned with Jay-Z, it would have transformed the Derby from a fun event to a major deal. The buzz in that stadium would have been unreal.
This, remember, is a guy who always complains about the media's refusal to humanize him, and here was the ultimate opportunity, at the most opportune time, for him to cut out the middleman and humanize himself.
But Bonds opted out, choosing not to repay the fans and help rehabilitate his shredded image in the process.
Once again, he's met the enemy …
This Week's List
• Once a year, he shows up at the All-Star festivities to remind us why we never hear from him the rest of the year: Rob Schneider.
• I never thought I'd even suggest this, but after reading a review of "License to Wed" it must be asked: Is Robin Williams just Rob Schneider with a better agent?
• So, you're telling me he can afford his own brain scans, right?: The Sports Business Journal reported this week that head NFLPA honcho Gene Upshaw made $6.7 million last year.
• If you're going to stop the game for this, what will you do when something really big happens, like maybe when Ozzie Guillen says something that makes sense?: The White Sox announcement that Mark Buehrle signed a contract extension caused a delay during a game while Buehrle came out of the dugout to tip his cap.
• The price of pick-and-roll just went up: Don Nelson reportedly wants more of Warriors owner Chris Cohan's money to coach the team next year, and the most revealing fact is this -- his $3.1 million salary is in the bottom half among NBA coaches.
• First to hit one wins: In an effort to bring new life to the Home Run Derby, we propose an eight-man field of Juan Pierre (0 HRs, 373 ABs), Luis Castillo (0, 295), Reggie Willits (0, 231), Aaron Miles (0, 214), Adam Kennedy (0, 214), Abraham Nunez (0, 167), Erick Aybar (0, 157) and Jason Tyner (0, 142).
• Here's one way to put it -- a salmon has a better chance against a grizzly: Watching Venus Williams outclass, outmuscle and outsmart Marion Bartoli in the Wimbledon women's final was to be an accessory to cruelty.
• Best image of the baseball season: The Phillies out there working the tarp in Denver.
• And finally, everyone knows that without the allegations the streets of Des Moines and Memphis and Billings would be covered in ticker tape, and old women and children would be wiping away tears of joy, and pure strangers would be hugging on street corners: William Rhoden of the New York Times says steroid allegations against Bonds have taken some of the luster out of "what should be a great national celebration" over the new home run record.
Tim Keown is a senior writer for ESPN The Magazine. Sound off to Tim here.