I don't know what fans see in NFL training camps. I don't get the attraction, and that goes double for the hard-core fans who can't stand to miss even the smallest tidbit about the lowest-round draft pick.
It's not an indictment; look, it's the most popular thing going, no matter the season. The NFL is king, and since everybody agrees, that makes it right. ESPN The Television could run "The Best of Clayton and Salisbury" on endless loop for a week straight and probably get better ratings than it does for just about anything else.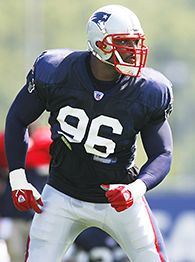 Jim Rogash/Getty Images
Based on everything we've read about the Pats, we conclude that Adalius Thomas is omnipresent.
But before the games start … I just don't get it. Exhibition football is practice at regular-season prices, and it has forever seemed to be the biggest fraud perpetrated on the American sports fan. It's got to be a source of unending amazement in the offices of every professional sports franchise -- "How do they get away with this?" they've got to be asking themselves.
Since I'm clearly the outcast here -- as proof, the Colts-Cowboys preseason game last week drew better TV ratings than Barry Bonds' 756th homer -- I decided to consume as much as I could about one team in one day. On Monday, I randomly decided to be a Patriots fanatic and read as much as I could about the team to see what I'm missing by ignoring most of the who-got-the-most-snaps-in-practice coverage of one NFL training camp.
On the Boston Globe Web site, I read an informative transcript of a news conference with defensive coordinator Dean Pees. From him I learn that newcomer Adalius Thomas, he of the many positions while with the Ravens, is considered a natural inside linebacker by the Patriots because Pees is trying to get the best guys on the field in the best positions. He says something about Mike Vrabel and the MIKE linebacker system here, too, but I'm already losing interest. Brandon Meriweather is versatile, too.
Some guys aren't here, such as Asante Samuel, but Pees can only prepare the guys he has. Sounds fair. If I truly did live and die with the Patriots, I would not call for Pees' firing based on that statement.
The depth on the defensive line is a worry, though, and this I can understand. A little more than three weeks 'til the opener. However, defensive end Jarvis Green is attempting to talk me off the ledge through the Globe: "We still have time -- it's the first week of the preseason, the third week of training camp." I think this guy's my favorite player.
There's something in here from Bill Belichick that might set a record for most words saying nothing, though, and it makes me appreciate my man Jarvis even more. About Meriweather's performance in the first preseason game last Friday, Belichick said, "I think Brandon would fall into that category of there were some things that were good and other things he did he could have done better, and he needs to learn from them and improve the next time out."
Man. That's enough to make a guy an Eagles fan.
From the Boston Herald, I get perspective. I also get a second-by-second rundown of practice, which is something I didn't know I needed. Until now, of course.
Albert Breer writes, "QB Tom Brady walked away from the offense midway through practice and camped with a trainer by the South end zone to get his arm rubbed down."
At this point, I'm worried, but Breer continues by writing, "Not to worry, though, Brady quickly came back and, if anything, was too strong on his throws to follow."
Then there's nearly hallucinogenic stuff about deep outs and Jabar Gaffney lunging and someone named Gemara Williams before I am rousted by a question:
"What does it all mean?"
This is why I come here, oh master.
Here's what:
"The Patriots are serious about managing Brady's right arm, just like the Colts are cautious at times with Peyton Manning."
That's good. Solid management. Protect your investment and all that. Just don't let him get too strong too often, OK, or I might have to call in to a talk show and yell a little bit.
When I get to Patriots.com, I think I've found the ultimate site. The team sites are absolute gold mines of pure, unadulterated football information for the true football fan. They record the minutiae -- sorry, the essentials -- of every single snap at every single practice.
Wrap your football-hungry mind around this recap of Sunday's nonpad workout:
"Players not in attendance were David Thomas and Asante Samuel. Since it was a walkthrough, players on PUP were allowed to be present. Richard Seymour, Troy Brown, Chad Jackson, Eddie Jackson, Kyle Brady, Benjamin Watson, Billy Yates and Randy Moss were on the field. Moss and Brady jogged through some drills but none of the players did anything too excruciating."
Now I'm getting into it. I can smell the sweat and feel the importance of every move. I think I might be inside the huddle. I read on.
"At the start of practice, Kyle Brady and Benjamin Watson were playing catch, only with a twist. The two tight ends were tossing the ball back and forth one-handed. They had a good rhythm going until Watson eventually let one hit the ground."
Does it get any better than that? This is what I've been missing? No wonder people paint their faces for preseason games.
Now I'm down in the miscellaneous notes section, where I learn the following:
"During a break in the action, (Tom) Brady was standing with his receivers talking shop."
Pinch me. I feel like I'm there.
This Week's Really Short List

• Watching a few of the Giants' telecasts since Bonds' record-breaking homer, I think I've picked their signs: If there's a slight lull in the action, someone in the truck says, "Hey, how about we show that homer again?" and then they show that homer again.
• Apparently it's true -- dogs are a man's best friend: Michael Vick's final two co-defendants have decided to cop pleas and help the prosecution nail Vick.
• Remember, folks, at this point it's still a small sample size: Eric Gagne, getting lit up.
• And he'll always remember that time Elton John taught him how to stay back on the changeup: When someone asked Bonds to name his greatest influences growing up, he didn't name a family member or a coach or a teacher, but he did mention Muhammad Ali, Magic Johnson and Michael Jordan.
• They had to listen to a 45-minute speech about the inherent goodness of Terrell Owens, but in the end they got their information: Since it's Jets team policy not to reveal injury information, reporters for the New York Daily News got the scoop on running back Thomas Jones' calf injury from his agent, Drew Rosenhaus.
• Geez, did he think Mike Gravel was too much a front-runner? The Fox sports Web site reported that Bud Selig has donated $4,600 to Christopher Dodd's presidential campaign.
• And finally, not to go all Ingmar Bergman on the TNA, but if you wanted to perpetuate the conspiracy theory most often put forth by the victim, wouldn't you reverse the roles? Pacman Jones appeared at a wrestling show Monday night, and he entered the ring surrounded by police officers/actors who were allegedly there to make sure he didn't get attacked.
Tim Keown is a senior writer for ESPN The Magazine. Sound off to Tim here.