Let's leave the greater meaning of the Michael Vick plea bargain to everybody else. Clearly, there are enough people out there with strong feelings about Vick vis-à-vis dogfighting, gambling, racism, cruelty, sentencing, image rehabilitation and the long-term implications of just about everything. They can proceed unabated.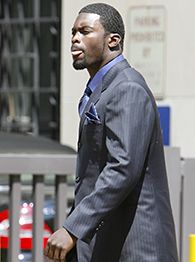 AP Photo/Dean Hoffmeyer
It's time to stop making any kind of excuses for Michael Vick's behavior.
I have an issue with just one word. Every time someone attempts to either explain or defend Vick, they invariably utter the same three syllables: subculture. As in, "the subculture of dogfighting," or "dogfighting is part of the Southern subculture," or "a subculture many do not understand."
The dogfighting subculture is apparently a subsidiary of the Southern subculture, which is itself a subsidiary of American culture.
By strict definition, the defenders and explainers of Vick -- Harry Edwards and Ray Buchanan were two I heard on Monday -- are correct: Three guys who hold up a convenience store are a subculture, the same way three teenagers who play pinochle with their grandparents are a subculture.
A religious cult is a subculture, a drug ring is a subculture, a quilting bee is a subculture.
And then there is a subculture of people who like to train dogs, then like to watch them fight while betting on them, then kill them by hanging or electrocution or drowning afterward. Yes, that subculture exists.
The problem is one of usage. The way I hear it, subculture is used as a justification, as if attaching the word culture -- in whatever form -- somehow imbues this activity with credibility.
In other words: However depraved it might be, you have to somehow respect it because it's cultural.
Nice try, but it doesn't work. Three weeks ago, I raised the issue of whether the NFL and Nike were being duplicitous by attempting to purge the marketplace of anything related to Vick. I felt they had profited from Vick's edgy image, perhaps knowing how unstable that edge really was.
But now that Vick has pleaded guilty and will go to prison for his crimes, the justifications and defenses need to stop. The people who justify and defend on the basis of culture are demeaning themselves in the process. Don't tell me about Leonard Little or Jamal Lewis, and please, please, please don't tell me everybody who eats a T-bone or a piece of barbecued chicken is as guilty as Vick because the meat-processing business in this country is as inhumane as Bad Newz Kennels. Spare us both the specious comparisons and the pieties, and see it for what it is.
And do yourself and us a favor: Don't tell us we don't understand the subculture.
This Week's List
• I ask only with the best intentions, because what's happened this year could have taken the pressure off: Is it coldhearted to ask if maybe Rick Ankiel -- author of one of the best two or three baseball stories of the year -- could throw strikes now?
• There aren't many sure things in life, but here's one: Tim Wakefield against the Devil Rays.
• You know how you can tell there is no way on earth you could slip anything past the ESPN research crew? Well, here's why: In the daily research notes that arrived in my inbox Monday afternoon, there was the following note on the Pirates: "It was only the eighth time in major league history that a team in sole possession of its league's worst record won consecutive games after trailing by four or more runs in both."
• And you know what? That's why nobody can stump the Schwab.
• Second-best trade acquisition, behind Mark Teixeira: Wilson Betemit, Yankees.
• Well, then … mission accomplished: After the Dodgers acquired Shea Hillenbrand and his notoriously offbeat personality, manager Grady Little said, "At this point, we're not looking for a good presence in the clubhouse."
• Just for the heck of it: Steve Renko.
• But they at least knew the rules, which probably helped: Ric Clarson, PGA senior VP for brand marketing, came up with the following comparison for golf's inaugural FedEx Cup: "I wonder if the members of the Green Bay Packers when they won the very first Super Bowl in 1967, which wasn't even called the Super Bowl then, realized their place in history."
• Right, Phil, because if you told the average guy he just earned a $10 million annuity, he'd probably turn up his nose and ask, "Hey, where's that big cardboard check?" Discussing the prize money allotted to the FedEx Cup winner, Phil Mickelson said, "For the last year, I felt it would be really cool if we had this big check or we had cash to pay the winner. Instead, guys won't see it for 20-plus years, so it takes some of the luster out of it."
• And finally, sometimes you travel the country and experience something that makes you shake your head in awe of the benefits of freedom: While driving in the Northwest on Sunday afternoon, idly listening to the Mariners play the White Sox, I was treated to the unexpected pleasure of listening to a man -- professional baseball announcer Rick Rizzs -- talk to a dog.
Tim Keown is a senior writer for ESPN The Magazine. Sound off to Tim here.