Dear Season-Ticket Holder,
As the head coach of your favorite NFL team, I would like to thank you for your loyalty and devotion to the team. I would also like to inform you of some changes I intend to implement in an effort to make our team better.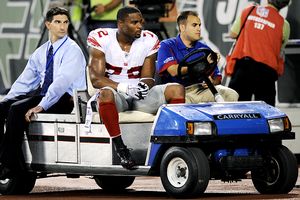 Jeff Zelevansky/Getty Images
The sight of a star player leaving the game on the dreaded "cart" is one NFL head coaches would rather not see.
Since we are a perennial playoff team, I have the utmost confidence in my players' ability to get ready for the season. They're pros, and they know what it takes.
Because of this, I have decided to take a slightly radical approach to our preparation. Starting now, our front-line players will no longer play during the exhibition season.
At all.
Ever.
Never again.
We, as a team, are adopting the LaDainian Tomlinson Principle of preseason roster management. LT has it right. Ask Osi Umenyiora. Ask Shawne Merriman. Ask Chad Johnson.
I feel it is my responsibility as the coach of this team to make sure we start the regular season in the best possible shape to make a run at the Super Bowl. It is clear to me that using meaningless practice games to play our front-line players -- especially skill-position players on whom our game plans are based -- is both reckless and irresponsible.
Every year top players get injured seriously during exhibition games. I ask you -- for whom? For what? If you are a top-flight NFL player, the exhibition season is pointless. It's nothing more than a run through a minefield, and I have decided that enough is enough.
Now, I know what you're saying: I pay regular-season prices for these games, and I should be able to see at least a quarter of my favorite players. To that I say: No. Take it up with the owners, or the commissioner, because my job is to make sure my team is prepared, and risking injury for no reason is not the proper preparation.
We are a team with high hopes, and I will continue to use the exhibition season to assess inexperienced players and nonstarters who need to perform in game situations in order to make the team.
The exhibition season is inherently unfair -- it means far more to the lousy teams than the good. A lousy team -- I'll use the Raiders as an example -- needs to use the exhibition season in ways we don't. JaMarcus Russell needs the exhibition season to work on his timing with his receivers in game situations.
And because it's more important, it can also be more devastating, as you saw on Saturday night when two Oakland starters -- fullback Oren O'Neal and receiver Drew Carter -- were lost for the season in the first quarter of a game nobody remembered eight seconds after it ended.
I know how seriously you take your football, and I want to assure you that issues of timing and execution are handled during practice time. And if someone gets hurt during practice, that's just life. I'll live with that, but I can't live with the idea of losing an important player in an unimportant game.
I appreciate your understanding in this matter, and good luck unloading those preseason tickets! Should be even more fun than ever. Sorry. Just kidding.
One other thing: Please consider the contents of this letter to be confidential. Whatever you do, don't tell Commissioner Goodell. I could get in really big trouble.
Sincerely,
Coach
This Week's List
• Jacques Rogge, leader of men: He said nothing about China's record of human-rights abuses during the entire Olympics, but he found time in his busy schedule to ascend the lectern and admonish Usain Bolt for not being gracious to his opponents.
• And now for the event that makes each of the competitors look like they're heading for a rest-stop bathroom, worried they might not make it: The race walk.
• The last time we saw her she was 3, and that was back in '97 ... no, '95 ... oh, hell, I can't remember: One report after the inquiry into the age of the Chinese female gymnasts indicated that the girls' parents were "outraged" by the scrutiny.
• When he got to the airport back home, he kissed the ground and started bawling: Boxing analyst Teddy Atlas, who became disgusted during first-round bouts and got more and more disgusted as time wore on.
• Sounds like we've got a winner for Sportsman of The Year: Fidel Castro expressed his "total solidarity" for taekwondo athlete Angel Matos, the man Castro thinks was justified in kicking a judge in the face after being upset with a disqualification.
• Just for the heck of it: Charlie Leibrandt.
• The new recruiting pitch for Oregon State basketball: Hey, kid, you want to meet the president?
• And, in breaking news: Greta Van Susteren says Brett Favre is going to be awesome this year.
• To which Fidel Castro said, "Kick somebody in the head": In an Olympic semifinal bout between Ireland's Paddy Barnes and China's Zou Shiming, replays showed some of Barnes' punches being counted as points for Zou.
• A term that, sadly, sounds like something we're going to hear an awful lot during the next six months: "Fantasy relevance," as in, "Kurt Warner has newfound fantasy relevance."
• The man: Dwyane Wade.
• And finally, Fidel Castro says Jericho is completely justified if he hits the first seven players from the barbershop team: Jericho Scott, a 9-year-old baseball player in New Haven, Conn., has been told by league officials that he can no longer pitch because parents and opposing coaches have complained that he throws too hard and too accurately; his coach says Scott is being singled out because the second-place team -- Carlito's Barber Shop -- is sponsored by the league president.
Tim Keown is a senior writer for ESPN The Magazine. Sound off to Tim here.