There are many lessons to be learned from the dual sagas of Aaron Rodgers and Alex Smith, not the least of which is this: The best time to draft a quarterback is when you don't need one.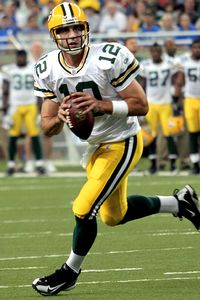 Domenic Centofanti/Getty Images
Carrying a clipboard was the smartest thing the Packers asked Rodgers to do.
Easier said than done, of course, since there are times when you don't think you need one until suddenly you discover you do. Still, the idea is solid. It's pretty much unquestioned that quarterback is the most important position in any team sport. Nothing else really compares -- not a big-time starting pitcher (significant only every fifth day) or even a LeBron James-type basketball player (though that one comes closest).
When you factor in how much football coaches expect a quarterback to learn and how quickly they expect him to learn it, there's no other position that deserves a place in the discussion. And if NFL offenses seem at times to be overly complicated -- maybe even artificially complicated -- well, you're not alone in that line of thinking. No matter, though, since wondering if all of that professorial, sleep-in-the-office stuff is necessary doesn't make it any easier to master.
There's no doubt Rodgers would have rather been playing in Green Bay -- or maybe somewhere else -- than standing on the sidelines in a ballcap waving in signs like a third-base coach. For three years he played behind Brett Favre, and it was the rare instance in football where nobody clamored for the backup.
It's also true that Rodgers' time as a backup to Favre couldn't have been better for the Packers. How good do they look now? They drafted him in 2005 knowing he wouldn't play right away, and now that he is playing he looks like a younger, more practical version of Favre. So far, he's Brett without all those lovable mistakes.
The theory on Rodgers is this: It wouldn't have happened if he started as a rookie. In fact, if he had started as a rookie, it might not have happened at all.
Which brings us back to Alex Smith. Taken by a quarterback-starved 49ers team with the first pick of the same draft, Smith was tossed into the grinder far too soon. He played poorly, got hurt and wandered through three different offensive coordinators in his first three years.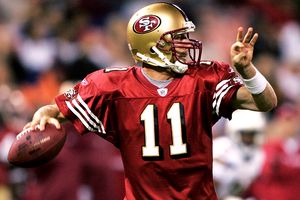 Phil Carter/US Presswire
Who knows what Alex Smith could have done if he were not thrown into the fire so quickly?
Were the talent evaluators that far off on the respective talents of Smith and Rodgers, or did their circumstances dictate their futures? Rodgers has started only two games, so there's always the possibility this won't last, but no quarterback has hit the ground running like this guy in the past 10 years. And Smith, out for the year with another shoulder injury and ostensibly through as a 49er, is being discussed as the worst pick in the history of the NFL draft.
And right now, it would be hard to craft a compelling argument against that statement.
Assuming the talent evaluators had some level of competence, the difference is largely location. Smith was the great hope for 49ers fans hoping for a return to the team's quarterback-centric glory. After all, there's only so much Tim Rattay, Ken Dorsey and Cody Pickett that any dues-paying fan can take.
So what's a team to do? If you have the luxury, pick a quarterback high in the draft and wait it out. As a real-life example, think about how many years Peyton Manning has left at his current level. Four, maybe five? Assuming Jim Sorgi isn't a solution, there's only one option for the Colts: Look for a quarterback, now, with the idea of getting one of the top two in next year's draft. Pick your linebackers and wide receivers after the first round, and concentrate on the most important position first.
Either that, or choose this option: Sign Alex Smith. Give him the apprentice years he wasn't afforded in San Francisco. That way, we'd all get to see whether environment is the main factor in the development of a quarterback.
This Week's Very Short List
• It's safe to assume the news was relayed over the phone: One thing the NFL probably already knows about its decision to "downgrade" referee Ed Hochuli for his blown fumble call in the San Diego-Denver game -- you downgrade Ed Hochuli at your own risk.
• This seems like the type of heroic act that would be possible only if someone like you or me were running an NFL team: Mike Shanahan's epic decision to go for two and either win or lose outright.
• Of course, it could have been a biorhythm thing: Given the fortuitous circumstances that put the Broncos in that position in the first place, Shanahan had to be thinking there was no way he could possibly lose.
• Just for the heck of it: Virgil Carter.
• So now, of course, if they don't make the playoffs it's Dale Sveum's fault: The Brewers' decision to fire Ned Yost with two weeks left in the season has to go down as one of the strangest firings since George Steinbrenner's dysfunctional marriage to Billy Martin.
• And finally, from now on, they'll have to Taser them to get every future touchdown out of their hands: Washington quarterback Jake Locker, for obvious reasons, and the Eagles' spectacular rookie DeSean Jackson, who flipped the ball backward a yard too early and cost himself a long touchdown reception against the Cowboys on Monday night.
Tim Keown is a senior writer for ESPN The Magazine. Sound off to Tim here.