I'm not sure how it happened, or why, but on Sunday afternoon I found myself watching nearly every play of the Falcons-Raiders game. You know how all those self-help people and "The Last Lecture" guy tell you to live every day like it's your last? Well, on Sunday, I didn't even come close.
Thankfully, I woke up Monday morning, so I got another chance.
To be clear, I didn't set out to spend three hours watching the Raiders. It just kind of happened. First, I watched to see if the Raiders' offense would turn the corner and reach a positive yardage total. That took me past halftime. Then I watched to see if the Raiders would get a first down, and that took me past the 10-minute mark of the third quarter.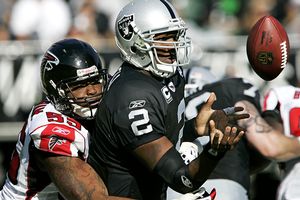 AP Photo/Paul Sakuma
JaMarcus Russell and the Raiders offense racked up a whopping three first downs, 77 total yards and 14:45 time of possession Sunday against Atlanta.
By then, what the hell? Might as well see it through.
The entire time, one thought was running through my head: What would it be like to have spent thousands of dollars on season tickets to watch this team? Would you feel stupid, used or angry? All three?
Let's say you bought four season tickets at $100 a game, shelling out $4,000 to watch your favorite team after it spent lavishly on free agents and drafted Darren McFadden and promised you a full season of 2007 first overall pick JaMarcus Russell.
And you got this, a putrid heap of nobody-cares, employing an offensive game plan with all the complexity of a weekend pickup game of two-hand touch. You got a team that redefined ineptitude with minus-2 yards of offense in the first half, 77 total yards for the game and three first downs. You got a 260-pound quarterback who goes down if you breathe on him.
On the telecast, they made mention of Raiders cornerback DeAngelo Hall's reunion with his former Falcons teammates. He met them at the team hotel Friday night, and then he had a group of them over to his house for dinner Saturday. Since Raiders fans start preparing on Friday morning, it's safe to say they might want a little more Commitment to Excellence from another of their high-priced underachievers.
When you look at this team, with its top-down dysfunction, it seems only a matter of time before one of its high draft picks pulls a John Elway or an Eli Manning and demands a trade or simply refuses to sign. Maybe Russell and McFadden wish they had thought of it.
(By the way, if you go to the official Raiders Web site, you will see a link that will take you to the official site for 2009 Pro Bowl voting. You might not automatically identify this as a Pro Bowl-voting link, however, since there's a photo of Russell advertising it.)
If you started watching this game, there's no way you could stop. Trust me. It was that horribly, pathetically riveting.
But if you were paying to watch this game, I imagine it looked different. There's no way you could hang around. You wanted out, because every single play was like a metal spike in the eye.
If you remember, Stanford got some attention before the college season by promising fans their money back if they weren't entertained. (Judging by attendance, it seems potential Stanford fans decided to skip the purchasing option altogether.) Could you imagine the stampede if the Raiders made the same offer?
This week's List

• Quick, remove all sharp items from the film room; repeat, all sharp items out of the film room: Raiders interim coach Tom Cable said he couldn't really comment on what went wrong in the game, but he thought he'd have a better idea after he looked at the film.
• Maybe it's a sign of the weirdness of the professional sports world that we're more concerned with who leaked the information than the fact a grown man -- a head coach, no less -- dropped his pants as a means of motivation: Mike Singletary, who emptied the motivational playbook in his first 60 minutes as an NFL head coach.
• It's gotten to the point that it would be easier to be Raiders interim coach than a D-I defensive back: One thing wrong with college football -- too much pass interference.
• And maybe they can seal the deal by hiring Jimy Williams to coach third: The Brewers, hoping to make a run at signing CC Sabathia, hired Ken Macha as manager.
• Next up, Phoebe Cates: There's got to be some serious midlife crises going on at the highest level of DirecTV to bring us the nonstop commercials starring National Lampoon's "Vacation"-era Christie Brinkley in the pool as a means of selling satellite systems.
• Best brothers: Oregon State's Jacquizz (freshman) and James (sophomore) Rodgers.
• I'm thinking by now it probably won't happen, but if I ever get a chance to play in the NFL, there's one guy I'd want to play for: Steelers coach Mike Tomlin.
• It was almost like he had Bill Callahan in his headset: Bill Belichick had a rough game Sunday night, wasting timeouts, asking for wacky challenges, and generally making a mess of everything.
• The leader of a conservative game plan with quick, short passes: It's Brett Favre, the new Trent Dilfer!
• After watching Matt Cassel and Brad Johnson and Brooks Bollinger, I stand by my earlier statement: A few weeks ago, when I wrote that quarterback is by far the most significant single position in professional team sports, I got a lot of flak from hockey fans who believe the goalie is more important.
• Sometimes, a man just can't help himself: Patriots tight end David Thomas, whose costly personal-foul penalty on a block cost his team big-time.
ESPN The Magazine senior writer Tim Keown co-wrote Josh Hamilton's autobiography, "Beyond Belief: Finding the Strength to Come Back," which is available now on Amazon.com. Sound off to Tim here.