Behold an amazing human transformation. From idiot to genius in four short weeks, he overcame unbelievably long odds to turn himself from a laughingstock into an icon. He once flailed helplessly in a bobbing sea of confusion, unable to ascertain even the simplest concepts. He now stands tall and proud, feted and honored as a singular leader of men.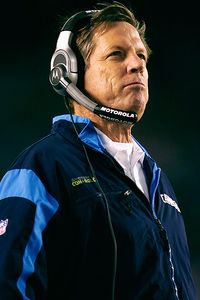 Jeff Gross/Getty Images
Norv is standing tall, for now, after the Chargers' five-game win streak.
Ladies and gentlemen, Norv Turner.
He was as good as fired if his San Diego Chargers didn't make the playoffs. Oh, how helpless he looked as his team stumbled through misfortune and poor execution. With his team 4-8, his name was being tossed around as a potential offensive coordinator for next season. He would be fired, but at least the 49ers would have him back to call their plays, wouldn't they? He can call plays, they all said, but he's not a leader.
Oh, poor Norv -- his fait was accompli.
And then, somehow, Norv got smart again. Norv reeled off four wins in a row to single-handedly and single-mindedly will his team to the playoffs. And then Norv steeled his mighty spine and kept his team together through four harrowing quarters and part of an overtime period Saturday night against Indianapolis. In the end, Norv -- mighty Norv -- emerged victorious.
And now the commentators talk over themselves to find the right words to praise Norv. He kept the team together, weathered the storms, stayed calm and glinty-eyed in the face of doom. Through adversity he traveled, exhorting his men to greater and greater heights of human achievement.
Either that, or the Broncos fell apart, the Colts couldn't block for Peyton Manning on the most important third down of the season and the Chargers got lucky on the coin flip to start overtime. Oh, and those three Colts penalties during OT didn't hurt, either.
But whatever. Norv Turner, man among men.
For now, anyway.
This Week's List
• Meanwhile, in Minnesota: Brad Childress stuck with what wasn't working long after it became obvious it never would, with predictable results.
• On the bright side, the law of averages was in his favor: It's well documented that a team never has come back from a two-touchdown deficit with less than four minutes to play by using only check-off passes and screens, but you have to give it to Childress -- he was willing to give it a shot.
• Youngsters these days don't have much of a grasp of history, but here's a question: Do you think there's any chance Tarvaris Jackson has even heard of Dieter Brock?
• "So the ball is somewhere on the field, and it's … I think it's third down and … 17? Oh, hell, nobody's going to score anyway, so it doesn't really matter": The award for least inspired announcing crew of the endless bowl season goes to Verne Lindquist and Gary Danielson for having to call the Sun Bowl, a riveting 3-0 win by Oregon State over Pittsburgh.
• And then, in the Clemson-Nebraska game, we were treated to this time-tested bit of wisdom: "There's always room for the guy who can make the big play."
• If it's just a suspension with no requirement for treatment or testing, then it sounds like he's just an embarrassment they hope will go away: John Daly, suspended by the PGA for six months.
• Apparently it would be better -- and definitely more modest -- if he thought about being tripped up just past the line of scrimmage: Adrian Peterson was roundly criticized for his arrogance during an NFL Network interview in which he told Marshall Faulk, among other things, that he thinks about scoring a touchdown before every carry.
• To which Eric Mangini said, "Where were you three weeks ago?": Jets running back Thomas Jones, who came out and said what most right-thinking people believed -- Brett Favre was a much bigger reason for the Jets' collapse than any coach could have dreamed of being.
• I've got an idea -- let's play some Wagner and then bring in Weird Al Yankovic to assess it: Fox started its Fiesta Bowl broadcast with an overly serious, barely intelligible intro with a whole bunch of Longhorns and Buckeyes talking over each other, then followed with the stylings of Chris Rose.
• News story: Oklahoma DB Dominique Franks says there are three QBs in the Big 12 who are better than Tim Tebow.
• Follow-up news story: A headline read, "Tebow laughs off jab."
• Meanwhile, the untold story: Assuming the three on Franks' list are Graham Harrell, Sam Bradford and Colt McCoy, did Josh Freeman, Chase Daniel, Todd Reesing and Joe Ganz also laugh off the jab?
• Since hyperbole is expected, there's a new question facing Roy Williams and his Tar Heels: Will they go winless in the ACC?
• All in all, you've got to admit it's more functional than a third ear: Al Skinner, discussing how his Boston College team no longer is a one-headed monster consisting solely of Tyrese Rice, said, "This year, you cut the head off and another head grows."
• Tim Floyd strikes again!: Oregon State ended a 21-game Pac-10 losing streak by overcoming a 15-point deficit with 12 minutes to play to beat USC in overtime.
• This week's pointless waste of time and energy: Consider how cool it would be if the winners of the BCS bowls -- well, with the loser of Florida-Oklahoma replacing Virginia Tech -- competed in a playoff over the next two weeks.
• And the winner would be: USC.
• Among the best guys in sports: Oregon State's Mike Riley.
• And finally, they'll really fire him if he takes the job: Boston College says it will fire football coach Jeff Jagodzinski if he interviews with the Jets.
ESPN The Magazine senior writer Tim Keown co-wrote Josh Hamilton's autobiography, "Beyond Belief: Finding the Strength to Come Back," which is available on Amazon.com. Sound off to Tim here.