Single page view
By Tim Keown
Page 2
Sixty-four random observations -- because our lofty standards prohibit us from acknowledging anything as low-rent as a (don't-call-it-a-)play-in game:
1. Player most likely to be labeled the Biggest Newest Discovery in the tournament: Danny Granger, New Mexico.
2. Words that probably apply in three or four cases but won't be uttered: "This is Team X's first tournament appearance since they stopped cheating, or at least stopped getting caught."
3. Player whose aberrant on-court behavior will most often be preceded by the word "uncharacteristic" while the replay of said aberrant behavior is repeated over and over and over: Chris Paul, Wake Forest.
4. They might win by 20 or lose by 20, and you shouldn't be surprised either way: Texas Tech.
5. Just a simple question about semantics: Was there anyone out there who struggled to understand the old-fashioned geographical regional terminology, such as "East" or "West"?
6. State with a better chance than you might think: Utah State, which plays the kind of slow-and-slower pace that has tormented Arizona this year (See: Washington State).
7. At what point does someone get mentioned as an "unknown" so often that he skips "known" and advances immediately to "overknown?": Taylor Coppenrath, Vermont.
8. Widespread Final Four pick that makes you wonder whether they've discontinued the use of free throws in the NCAA Tournament: Syracuse, making just 62 percent when you eliminate Gerry McNamara's 87 percent.
9. Since these games aren't really worth much more exertion than a reach-in foul: John Chaney, returning for the NIT.
10. Team that looks a lot like the Cleveland State team that beat Indiana way back in '86: UW-Milwaukee.
11. Best dark horse pick for the Sweet 16: UW-Milwaukee.
12. And if that doesn't work: St. Mary's.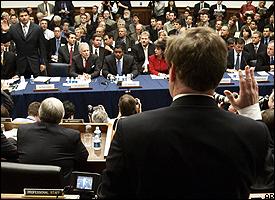 Can Congress handle the truth about steroids?
13. The only guy in the tourney you might choose to shoot your lifesaving shot over J.J. Redick: Salim Stoudamire, Arizona.
14. Weird medical angle that figures to be given way more attention than it deserves: The effect Boise's elevation will have on Stoudamire's asthma.
15. Team with the most accents: Pacific.
16. Player most likely to be misconstrued as a young, inexperienced contributor: Jaycee Carroll, Utah State's 21-year-old freshman.
17. Player whose health will go the furthest toward dictating his team's fortunes: Rashad McCants, North Carolina.
18. Just for the heck of it: Mouse McFadden.
19. Someone please make it stop: "One Shining Moment."
20. This year's commemorative Rick Neuheisel Bracket-Buster First-Round Game: New Mexico over Villanova.
21. Here's a "Play-In Game" even we could live with: Notre Dame-UCLA, Tuesday night.
22. What the UCLA people will tell you: They already played, and won, that one two weeks ago.
23. Basketball state? We've got your basketball state right here: The state of Indiana, completely shut out of the tournament for the first time since 1972.
24. Regional final host arena least likely to be confused with a Frank Gehry design: Austin's Erwin Center, UT's concrete layer cake.