Welcome to the first edition of "Keri The 10." Every Monday, we'll take a look at 10 stories in the baseball world. Sometimes we'll focus on big, honking headlines, such as Barry Bonds' assault on the all-time home run crown. Other times, we'll tackle the game's little mysteries, like how anyone outside Port Orchard, Wash., would ever want to see Willie Bloomquist take the field for the Seattle Mariners.
Before we get started, a tip of the hat to former Page 2 columnist Jason Whitlock. His "NFL Truths" series served as part of the inspiration for this column. We're not sure whether Beyonce will write in to demand more "Keri The 10" the way she did for "NFL Truths." We'll settle for any Montreal-born celebs who might miss the Expos half as much as we do. Think Emmanuelle Chriqui ever enjoyed a delicious poutine while cheering on Andres Galarraga at the Big O?
With the first month of the season behind us, here's our end-of-April installment of The 10: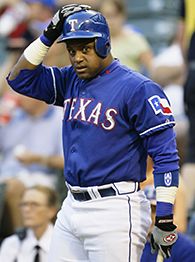 AP Photo/Matt Slocum
Sammy Sosa's hitting homers, but he's still hurting his new club.
1. By coming out of retirement to chase the 600-homer mark, Sammy Sosa is helping no one but himself.
Sosa's seven homers have him tied for third in the AL with Vlad and Big Papi, behind only teammate Ian Kinsler and A-Rod. Three of those bombs came Thursday and Friday night, and Sosa rolled up eight RBIs in a five-game stretch last week. The homers and RBIs are swell. But Sosa's going to be an offensive liability this season even if he blows by the 600-homer mark and hits 25-30 bombs. That's because even at his current scorching pace, he's hitting only .232, with a woeful .300 on-base percentage. Against right-handed pitchers, it's even uglier -- a .253 OBP. Put another way, when Sosa faces a right-handed pitcher, he hurts his team three times out of four.
The Rangers have plenty of other problems. Their starting pitching is still shaky; Hank Blalock hasn't turned out to be the player they expected; and a bunch of regulars are off to slow starts. But Ron Washington's recent proclamation that Sosa is an everyday player will only make things worse. Watch a few Rangers games, and you'll see that he's swinging for the fences every time, aiming only for homers to pad his career total and not concerning himself with trifles such as singles and doubles.
Josh Towers, a journeyman pitcher for the Blue Jays, said it best. After giving up a homer to Sosa Friday night, Towers didn't speak in reverent tones about the No. 5 home run hitter of all time. He hung his head in shame instead. "It's embarrassing," Towers lamented. "I know how many homers he's hit, but he's got so many holes [in his swing]."
2. By forgoing retirement to chase the 3,000-hit mark, Craig Biggio is helping no one but himself -- and maybe a few others who value individual accomplishments over a team's success.
Once a patient hitter, Biggio has let his plate discipline erode over the years. But in an effort to reach 3,000 hits, the 19-year veteran has taken his hacking ways to new heights, drawing just six walks in 101 plate appearances -- because in Biggio's mind, a walk isn't as good as a hit.
There are folks in Houston who are happy for Biggio -- one of the best players of his generation, a future Hall of Famer and a lifelong Astro. They can't wait to see their man get his 3,000th. They even chastised us when the hit quest wasn't cited as one of the 83 story lines to watch this season. Meanwhile, Biggio sports a subpar .250 average and putrid .300 OBP of his own, and his manager compounds the problem by sticking him at the top of the lineup.
Chris Burke, the heir apparent at second base and early-season stopgap in center field, also has struggled this year -- getting pushed to the bench this weekend when top prospect Hunter Pence got called up. But although Burke's youth portends future improvement and his young legs and reflexes make him a much better defensive player, Biggio still gets the nod because mushy sentiment matters more than wins in Houston. Roger Clemens isn't going to play for a last-place team. And penciling Biggio into the lineup is a great way to ensure the team stays near the cellar.
3. The rumors of Joe Torre's job being in jeopardy were the result of backroom backstabbers and New York papers desperate to rattle cages and move newsprint.
Torre is not the world's greatest manager. His fixation with flaccid first baseman Doug Mientkiewicz isn't pretty. Neither are his bullpen-handling skills and his obsessive pinch running for Jason Giambi -- a move that has come back to bite the Yankees more than once this season. But it's not Torre's fault that the starting rotation imploded out of the gate or that poor scouting, drafting and player development left the team with Hughes and Pray for Booze as replacements in the minors. The Yankees will get well this week against Texas and Seattle, throw a ton of money at Clemens, seek out a top-shelf alternative if the Rocket doesn't sign and challenge the Red Sox in the East, as expected. Then the vultures circling George Steinbrenner like the cast of "Greedy" can go back to stealing milk money from schoolkids and kicking puppies.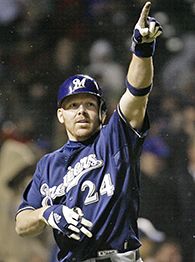 AP Photo/M. Spencer Green
Kevin Mench and the Brewers might just be headed for the playoffs.
4. Bud Selig doesn't need to rig the 2007 season.
His beloved Brewers will make the playoffs without his help. The former Brew Crew owner still has close ties to the team and remains beloved in Milwaukee. (We remember a road trip to County Stadium in the mid-'90s, in which Selig popped his head out of the owner's box for the seventh-inning stretch, causing the assembled masses to cheer "Bud! Bud! Bud!" at the top of their cheese-clogged lungs.) So you know he has to be delighted to see the Brewers in first place in the NL Central, tied for the second-best record in the National League.
The Crew owns one of the most underrated pitching staffs in the majors, with Ben Sheets supported by a deep, talented group in Chris Capuano, David Bush (more on him in a minute), Jeff Suppan and Claudio Vargas. With Prince Fielder, Rickie Weeks & Co. on board, the Brewers have a dynamic, young offense that only figures to get better. They even have an X factor on their side: Yovani Gallardo and Ryan Braun, two of the top prospects in baseball; both are terrorizing the minor leagues, and both are poised to come up and give the Brewers a big lift.
The Brewers haven't made the playoffs since 1982, by far the longest such streak of any team in the four major pro sports leagues. That streak ends this year.
5. The Phillies have Ryan Howard, Chase Utley, Jimmy Rollins, Pat Burrell, even a .371-hitting Aaron Rowand … and they still stink.
How is it that every year the Phillies look like a playoff team on paper, add a star player to the mix to get even better, and still play as though every player in the dugout scarfed down a dozen cheesesteaks with everything from Geno's before each game? On top of the loaded lineup, the Phils now have a bona fide young ace in Cole Hamels -- a fireballing lefty who's as much of a threat to throw a no-hitter every time out as anyone since Pedro. Having clueless managers doesn't help. Larry Bowa routinely cost his team a handful of games each season, and Charlie Manuel is another in the sport's long line of Social Security collectors who hasn't learned anything new about the game since he managed Mordecai "Three Finger" Brown.
But cheer up, Philly fans. At least the Eagles didn't do something foolish like reach for a second-tier QB prospect three rounds too early. Oh, wait …
6. David Bush, Jeff Francis and Erik Bedard all have ERAs of more than 6 … and we'd trade most of the pitchers in MLB to get them.
One of the theories that has gained traction in analytical circles the past few years is this: A pitcher has very little control over where a batted ball will go if it doesn't fly out of the park. The idea seems counterintuitive. How can Greg Maddux, one of the best pitchers of all time, have no more influence on what happens to a batted ball than his brother Mike? We're not quite prepared to speak in absolutes about the subject. But for the most part, major league pitchers will, over their careers, end up allowing about 30 percent of the balls hit in play against them to drop in for hits -- give or take any lucky or unlucky outliers.
We bring this up because Bush, Francis and Bedard are three excellent, under-30 pitchers who loom large in their teams' future plans, and they own ERAs of 6.09, 6.23 and 6.52 so far this season. Now here's another fun stat: Bush, Francis and Bedard are No. 1, No. 2 and No. 4 in highest batting average allowed on balls in play (BABIP) this season among the 96 major league pitchers with at least 25 IP, at .407, .392 and .384. Those numbers will start dropping soon as all three pitchers revert toward the mean. What you do with this information -- go see Brewers, Rockies and Orioles games with these pitchers on the mound, acquire them on your fantasy team, make funny hats with the word BABIP on them -- is entirely up to you.
7. John Maine, Matt Cain and Rich Hill aren't Clemens, Seaver and Koufax.
At least not yet. These three young pitchers rank 2-3-4 in NL ERA at 1.35, 1.54 and 1.57, respectively. They're also the flip side to Bush, Francis and Bedard: three of the four luckiest pitchers in MLB, with microscopic BABIPs well below .200. All three pitchers have talent, with Maine showing last year that he can overcome his so-so stuff with smart pitch selection and location and Cain and Hill gunning mid-90s heaters by unsuspecting hitters. Still, if we were their agents, we'd be calling the Mets, Giants and Cubs for lucrative long-term contracts ASAP. Hill should have the easiest time -- rumor has it the spend-a-lot Cubs just signed the peanut guy to a $50 million deal.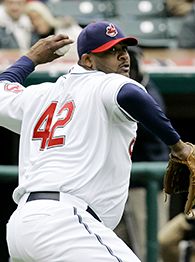 AP Photo/Tony Dejak
The largest Cy Young Award winner ever?
8. C.C. Sabathia will win the AL Cy Young award.
Hey, we like Johan Santana as much as the next guy. But this is Sabathia's year. The, ummm … generously proportioned lefty is off to a great start this season, rolling up a 3-0 record, a 3.12 ERA and a career-best strikeout rate of more than a batter an inning. Those gaudy numbers come despite his own inflated BABIP of .359, 10th highest in the majors for the 25 IP club. Meanwhile, the Indians are -- as we predicted at the start of the season -- in first place in the AL Central, powered by a scary lineup that includes MVP hopefuls Grady Sizemore and Travis Hafner. Look for Sabathia to become the AL's first 20-game winner since Bartolo Colon in 2005 as he collects plenty of hardware.
9. These teams will be better in May …
Yankees: The rotation gets healthy.
Cardinals: Chris Carpenter gets healthy.
Cubs: Alfonso Soriano suddenly remembers he's really good.
Phillies: Brett Myers takes time out from not hitting his wife to help the beleaguered bullpen.
Royals: Alex Gordon isn't Mario Mendoza.
10. These teams will be worse in May …
Red Sox: Normal pullback for a very good team.
Braves: Tim Hudson isn't this good.
Giants: More on Matt Cain -- 23 strikeouts, 17 walks; lowest rate of homers allowed per fly ball of any SP in the majors.
Dodgers: Not buying Jeff Kent, .329 hitter.
Pirates: Teams don't last long near .500 with the second-worst offense in the majors.
Jonah Keri is a regular contributor to Page 2 and the editor and co-author of "Baseball Between the Numbers." You can contact him here.