Last season the Detroit Tigers were the darlings of Major League Baseball, completing their transformation from a 119-loss laughingstock to a 95-game winner and American League champs in just three years. The Tigers' success inspired me to write a midseason report on all 30 teams. Only instead of assigning each team a letter grade, every club got its own member of the 1984 Tigers -- the franchise's last big winner.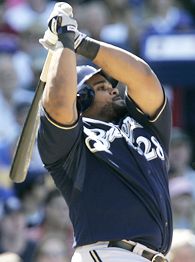 AP Photo/M. Spencer Green
Thanks to Prince Fielder, among others, Milwaukee may make a long-awaited return to the postseason.
This season the Milwaukee Brewers are the talk of baseball. It's been 25 years since the Brew Crew last made the playoffs. But led by an army of good, young hitters and a deep pitching staff, the Brewers have led the NL Central for most of the season, and now sit 5.5 games up on the second-place Cubs. To honor that achievement, we're digging up the
old ball-and-glove, "mb" logo
and flashing back to 1982. All 30 teams will be graded using a member of that great
'82 Brewers team
.
Let's crank up "Maneater" (Oh-oh here she comes … watch out boy, she'll chew you up!) … and we're off.
NL EAST
New York Mets (46-37): Paul Molitor
The youngest starter on that Brewers team struggled with injuries and substance abuse issues early in his career. But 1982 marked a breakthrough season for Molitor, starting him on the path toward the Hall of Fame. The Mets have lost four in a row and watched their lead shrink to just three games in the NL East. Carlos Delgado's struggles, injuries to Pedro Martinez and Moises Alou, and other setbacks have slowed them down. But this still is the most talented team in the National League. It's also the team with the most money to spend, an aggressive GM willing to make a deal, and Pedro due back in a few weeks. The Mets are still the favorites to win the division -- but it won't be easy.
Atlanta Braves (44-41): Dwight Bernard
Bernard was the No. 2 man in the bullpen and owner of the best red Grizzly Adams beard in the league. He put up solid numbers that year, yielding just four homers in 79 innings. Oddly, that was his last hurrah in the majors, at age 30, making him one of several players who played their final season with the '82 Crew. Is this the end of an era for the Braves too? They'll probably lose Andruw Jones to free agency at year's end. John Smoltz is 40, and the nagging injuries are adding up. In terms of recognizable names, 2008's Braves team could be Chipper and the Kids. Not that that's a bad thing, necessarily. Brian McCann, Jeff Francoeur, Kelly Johnson and Chuck James are very good, homegrown talents -- the kind of players who allow the Braves to stay within their budget and still compete. Before the new guard takes over, it'll be interesting to see whether ownership lets John Schuerholz open the purse strings a bit at the trade deadline. With the team possibly needing a year to reload after '07, a go-for-it trade that doesn't sacrifice an elite young player could be worth a shot.
Philadelphia Phillies (43-42): Bob McClure
McClure played 19 years in the big leagues, but the spotlight never shone brighter on him than in '82. When Rollie Fingers got hurt in the playoffs, McClure -- who'd started earlier that year -- moved back to the bullpen. The results were mixed: He saved Games 4 and 5 of the World Series, but lost Games 2 and 7. The Phillies also have had mixed results in the past few years, garnering abuse for falling short of expectations and failing to make the playoffs for the past 14 years. The uneven play of the Mets and Braves has kept Philly in the race. The Phils will get Brett Myers back soon, and Pat Burrell's going to come around eventually, giving fans some hope. Even if it doesn't happen this year, the Phillies own a strong core led by Ryan Howard, Chase Utley and Cole Hamels, so you have to figure we'll see a '93 Phillies flashback sometime soon, right? Right?!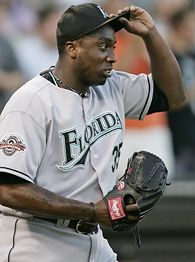 AP Photo/Jerry Lai
Will Dontrelle be one of the big names that changes uniforms before the end of the month?
Florida Marlins (39-46):
Randy Lerch
Traded to the Expos in August of that year, Lerch didn't get to complete the Brewers' joyride with a trip to the playoffs. You wonder how long the Marlins will go without making a move of their own. Dontrelle Willis was a great pitcher earlier in his career. This season he's been merely a decent one, and it's worth asking if all those innings he pitched at a young age may be catching up to him. If he's still valued like a star in the trade market, he should be shopped aggressively, especially because he's about to start making some real money as his service-time clock advances. As for the idea of trading the team's other star, Miguel Cabrera? Forget it. He may look like he's
consuming quarter pounders intravenously
, but Cabrera's also a hitting machine who's a good bet for Cooperstown in 2025. Even on a low-payroll team with a carpetbagger for an owner, you pay up for a player like that.
Washington Nationals (34-50): Jim Slaton
Drafted by the Seattle Pilots in 1969, Slaton had a surprisingly solid season in '82, posting a career-best 3.29 ERA. His peripherals were underwhelming, and he was just a bit player for the Brewers, but he still beat expectations. The Nationals were also the product of a franchise move. And like Slaton, they've done better than many expected. Sure, they're still on pace for a 96-loss season. But that beats what many expected. Preseason projections ranged from the Nats' making a run at the Tigers' 119-loss season in 2003 to the team raining a plague of frogs down on RFK.
NL CENTRAL
Milwaukee Brewers (48-36): Robin Yount
A promising young player who became great, Yount led the league in slugging average, OPS, hits, total bases, doubles, runs created and extra-base hits, all while playing the toughest position on the diamond at a Gold Glove level. Thanks to the efforts of Doug Melvin, Jack Zduriencik & Co., the Brewers have developed a new generation of young stars. J.J. Hardy is comparable to Yount, a shortstop who struggled early in his career before blooming into a power-hitting threat. But Prince Fielder's the better comp, leading the league in homers and establishing himself as a leading MVP candidate in his own right. The biggest difference between these Brewers and the Harvey's Wallbangers squad of '82? This team has enough young, front-line talent for five playoff runs, never mind one.
Chicago Cubs (42-41): Rob Picciolo
Picciolo was the king of the hackers, gaining notoriety for never drawing a walk -- he drew just 25 in almost 1,700 career plate appearances, and none at all in 1983 (29 plate appearances) or 1984 (128 PAs). The Cubs have played well lately, riding improved performances from Carlos Zambrano and others to get back in the race. But their walk totals over the past few years are Picciolo-esque:
CUBS MLB WALKS RANK
2007: 24th
2006: 30th
2005: 28th
2004: 25th
2003: 21st
You don't have to have Ted Williams' batting eye to score runs and win games. But if you need to hail a cab to reach a pitch, you might want to think about not swinging at it.
St. Louis Cardinals (38-43): Buck Rodgers
Rodgers went from a split-season division title to fired after 47 games in 1982. Of course it was hard to blame the Brewers for the move. Rodgers guided the team to a 23-24 record before getting the heave-ho, and the Brewers became the second straight team to fire its manager in-season and still make the league championship series, following the Expos' lead in the strike-shortened '81 season. The Cardinals have also gone from the penthouse to the outhouse, as injuries and a lack of high-level talent in the minors have caught up with them. The problem is, with the team still just 8.5 games out and Chris Carpenter's return on the horizon, it might be tempting to try to load up for the stretch run, which is exactly what the aging Cards shouldn't be doing. On the other hand, Jim Edmonds and David Eckstein are hurt, most of the rest of the team has underachieved, and Albert Pujols isn't going anywhere -- leaving the Cards with few viable trade chips to flip for younger talent. Skip Schumaker, anyone?
Pittsburgh Pirates (37-47): Doc Medich
A stretch-run pickup from Texas, Medich posted an ugly 5.00 ERA with the Brewers in the season's final few weeks, got lit up in his only playoff appearance, and was never heard from again. If only the Pirates' losing could disappear that quickly. Pittsburgh hasn't had a winning season since 1992 -- not coincidentally the year the Bucs chose to re-sign Andy Van Slyke and let Barry Bonds walk. There's very little star talent in the lineup, with even franchise player Jason Bay struggling this year. Adding insult to injury, Salomon Torres recently filed a grievance against the team, becoming the latest of many players to go that route in the past few years. The Pirates owe it to their fans to become known for something other than the cool downtown views and Primanti Brothers sandwiches at PNC Park.
Houston Astros (37-48): Harvey Kuenn
After Kuenn took over for Rodgers, the Brewers went 72-43 the rest of the way, surging all the way to the World Series. Kuenn had one of the most unusual managerial records of all time: 1982 was his first season as manager, at age 51; the Brewers won a solid 87 games the following season, but finished fifth in a brutal AL East. And that was it, Kuenn never managed again. Could it be the end of an era for Phil Garner at the helm of the Astros too? The team has gotten worse every year since Garner took over midseason in 2004 and took the team to its first and only World Series appearance. His lineup choices have been dubious, too. You want Craig Biggio to get 3,000 hits? Fine. But why play him every day when he can't hit righties anymore? Even more puzzling, why keep him in the leadoff spot when he's become an on-base sieve? Morgan Ensberg has withered under Garner, and Chris Burke has rotted on the vine waiting for playing time. Teams are only as good as the talent on the roster, and the Astros need about six more Hunter Pences, to be sure. But the next winning team in Houston will almost certainly have someone else at the helm.
Cincinnati Reds (32-52): Jerry Augustine
It takes a special kind of talent to give up nearly two homers per nine innings. But Augustine turned that trick in '82, and was a rare weak link on the loaded Brewers roster. It takes a special kind of team to lead the majors in home runs and still have the worst record in MLB. But the Reds are 27th in the majors in ERA, thanks to a combination of bad pitching, an unfriendly ballpark and the 27th-ranked defense in the majors. Many of the most successful teams in Reds history were dominated by great offense. But at some point you need a Don Gullett or Jose Rijo to help prevent runs too. Homer Bailey might be that guy, but it's not happening now, and it could take awhile. On the plus side, Reds players have avoided the jail time and suspensions that have plagued the Bengals. So they've got that going for them, which is nice.
NL WEST
San Diego Padres (48-35): Jim Gantner
Gantner was an excellent defender who helped the Brewers keep runs off the board but didn't do much to help them score. Still, Gantner fashioned a 17-year career out of that skill set, all with the Brewers. The Padres rank 26th in MLB in runs scored, but first in fewest runs allowed. Sure, part of that is because of Petco Park. But this is also a team built on pitching. With apologies to Jake Peavy, the Padres' ability to field dominant but cheap bullpens has been the biggest reason for the team's success in recent years. It's been said many times, but it bears repeating: By focusing on pitchers with good command, even in the minors, the Pads are consistently able to find hidden gems such as Scott Linebrink and Heath Bell to anchor the pen ahead of Trevor Hoffman. But with Adrian Gonzalez slumping, the rest of the offense struggling all year long, and the Dodgers and Diamondbacks in the hunt, will that be enough? Look for Kevin Towers to go after a bat -- probably not in the discount bin.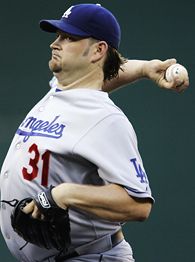 AP Photo/Haraz N. Ghanbari
Brad Penny, a Cy Young Award winner? It just might happen.
Los Angeles Dodgers (48-37):
Pete Vuckovich
Did Vuckovich have the worst peripheral numbers of any Cy Young winner in MLB history? It's possible, with a staggering 102 walks and just 105 strikeouts in 223.2 innings. But the man with the second-best moustache on the team just found a way to win, combining ample run support with durability and an ability to keep the ball in the park (just 14 homers allowed) to grab the hardware and anchor the Brewers' staff. Lacking a monster bat in the middle of the lineup, the Dodgers have still found a way to win themselves. Brad Penny's a candidate for a Cy of his own, the bullpen is loaded, and Russell Martin has emerged as a fan favorite and the starting catcher in the All-Star Game. But how long can the Dodgers carry the limp bats of Juan Pierre (.278/.310/.332) and Nomar Garciaparra (.269/.308/.330)? At least Pierre has speed, defense and some recent success on his side. Whether it's more playing time for Wilson Betemit or a well-placed trade, the Dodgers need to upgrade at third base, then introduce Mr. Hamm to the bench.
Arizona Diamondbacks (47-39): Gorman Thomas
How did a man of Thomas' ummm … carriage manage to play center field in the majors for so long? The Brewers excused his lack of range (his listed weight of 210 pounds at 6-foot-2 is a riot), instead embracing the power output they got from a premium defensive position. The Diamondbacks would settle for Thomas' brand of offense almost anywhere on the diamond -- only the Pirates, Nats and White Sox have scored fewer runs per game than Arizona. A deep, dominant pitching staff has helped defray the offense's problems. But the D-backs have been lucky, sitting at eight games over .500 despite allowing 20 more runs than they've scored. Carlos Quentin and Stephen Drew have been big disappointments offensively. But both are also vital elements of the team's future, making a short-term rental of a big bat Arizona's best bet. The NL West race is so close, the team that pulls the trigger on a deal could easily end up winning the division.
Colorado Rockies (42-43): Doug Jones
Jones seemed to hang around baseball forever, getting by on his deceptive delivery and wide assortment of junk pitches. Let's not sell him short, though; Jones was one of the best relievers in baseball in seven different seasons, getting better with age. His rookie season came with the Brewers in '82, and offered just a glimpse of what was to come. You can see similar glimpses of the Rockies' bright future this year. Few teams own a better farm system, and the Rockies finally have a crop of homegrown hitters who are successful without needing an asterisk for Coors Field's effects. With the Brewers' bandwagon filling up quickly, you can still ride up front with the Rockies.
San Francisco Giants (36-46): Mark Brouhard
Brouhard was an otherwise forgettable player, but a monster Game 4 performance helped force a deciding Game 5 in the ALCS, with the Brewers completing their comeback from a 2-0 series deficit to go to the World Series. Barry Bonds has been that same lone bright spot in an otherwise awful San Francisco offense. The Giants' lineup is stuffed with 30- and 40-somethings, and the team hasn't developed a legitimate major league hitter since Rich Aurilia. The Brian Sabean Plan has been a patchwork effort to surround Bonds with veterans who can win now. But it's obvious that plan isn't working anymore, as "experience" doesn't always equal "player who doesn't stink." Even if Bonds plays another season in '08 after breaking the record, the Giants have to go in another direction. Or they could just sign Julio Franco to replace Bonds and pretend nothing happened.
Come back to Page 2 on Friday for Part 2 of the midseason review, on the American League.
Jonah Keri is a regular contributor to Page 2 and the editor and co-author of "Baseball Between the Numbers." You can contact him here.