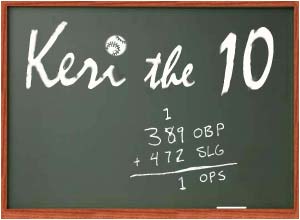 If you're a baseball fan, there's a good chance that the way you follow the game revolves around your favorite team. You read the papers, then rant about what an idiot the local columnist is. You click on highlight shows in search of Web Gems by your team's center fielder. You rail against the haters, both those who ignore your team and those who actively bash it. You scour the Web for injury reports, trade tidbits, even news on rookie ball prospects, all to further your loyalty and devotion to your local nine.
I envy you. Three years ago, the Montreal Expos announced they were moving to Washington, D.C., thus ending my lifelong attachment to the only team that ever mattered to me. Since then, I've taken a more holistic approach to following the game, keeping tabs on all 30 teams, searching for interesting story lines and watching whichever games happen to interest me most on a given day. But thinking about this lately, it occurred to me that taking this kind of broad approach means sacrificing a lot of the little details you pick up by spending every day obsessing over one team.
With that in mind, I spent the past week following the New York Mets. I watched every game I could find on MLB Extra Innings, yelled at Tom Glavine and Jose Reyes and Willie Randolph, searched frantically for news about Pedro and Alou and when they might be back, concocted fake trades in my mind that Omar Minaya needs to jump on ASAP … everything short of getting a Mr. Met tattoo. If you're a fan of the Braves or Phillies, or just hate the Mets in general, put down the flamethrowers -- this was just a one-week fling. Actually, getting emotionally invested in one team for a week was so much fun, I might latch on to a few other playoff contenders down the stretch.
But for now, I've got my Jerry Koosman and Butch Huskey shrines well-lit, and I'm ready to take up the cause. Here are my Mets-related thoughts for the week, plus a few Padres- and Dodgers-related notes.
1. Why can't these guys score some freaking runs?
Heading into their seven-game swing through San Diego and L.A., the Mets ranked just 10th in the NL in runs scored, ahead of only the Petco Parked Padres, the injury-racked Cards, the struggling D'backs and the awful Nats, Giants and Pirates. They hit just .250 in June, going 12-15 and dropping six of their final eight games before the break. Their offense looked better last week out West, especially against two tough pitching staffs in two tough parks. But the offensive shortfall is still a big concern, especially with the playoff races so tight in the NL. Carlos Delgado, Shawn Green, Paul Lo Duca, Jose Valentin and the cast of characters in left field are all solidly below the level of the average player at their respective positions this season. Blame left field on Moises Alou's injury, but blame the rest on lousy roster construction. Delgado, Green, Lo Duca and Valentin are all well over 30, which puts them at greater risk for decline. Should Minaya and Randolph have expected such big year-to-year drop-offs for Delgado, Lo Duca and Valentin, not to mention Carlos Beltran? Maybe not for all of them, but the odds were heavily against an across-the-board repeat of last season's third-ranked offensive powerhouse.
A generation ago, Bill James' research showed that players tend to peak around their mid- to late 20s. Advances in medicine and other factors (wink, wink) have extended the careers of some players. But Bonds and Clemens remain the outliers -- it's still a young man's game. The team's two best players might be 24 years old, but the Mets still need to get a lot younger to contend over the long haul. For right now, in what figures to be a thin trade market, there's little they can do other than pray for some life out of their old bats.
2. The Padres can't score either.
You can only blame so much on Petco. The Pads managed just five runs in the three games against the Mets and rank 27th in MLB in runs scored. Like the Mets, they'd be in the playoffs if the postseason started today, thanks to a killer pitching staff. But run through the lineup and you find holes aplenty. Brian Giles is the team's best on-base threat, but he also has just two homers in 236 ABs; Marcus Giles has just four in 349 ABs, and he doesn't get on base; Khalil Greene leads the team with 16 homers -- but he's also hitting .236 with a .272 OBP; Kevin Kouzmanoff's improved from a terrible start, but he's still at .231 with a .291 OBP; and Michael Barrett hasn't drawn a single walk since the Cubs dumped him in Chula Vista and fled across the border.
Give Kevin Towers credit for trying, though: The Padres gave up very little for Barrett's services, then surrendered even less to acquire Milton Bradley. Both were players with proven track records of offensive success who were available on the cheap after their teams soured on them. The same team that scooped up Heath Bell, Scott Linebrink, Cla Meredith, Kevin Cameron and other helpful relievers for pennies on the dollar could see their bargain hunting for bats pay off with a return trip to the playoffs. Still, you have to wonder what the Padres could do if they opened the checkbook and grabbed Adam Dunn, or a healthy Jermaine Dye.
3. Pitchers older than Methuselah are apparently OK, though.
Back to the Mets, and Orlando Hernandez, who may very well be 50 years old for all we know. El Duque has pitched six or more innings in five of his past six starts, including last week's two outings. His six-inning, four-run effort Sunday was just good enough to keep the Mets in the game long enough to make a late comeback. But Tuesday night's performance was a joy to watch from the opening pitch. Hernandez carved through the Padres' lineup like they were a bunch of Little Leaguers. First he'd set up a hitter with an eephus-like sweeping curve. He'd then throw a chest-high, mid-80s fastball, inducing weak swings on what must have looked like a 100 mph pitch. Right-handed hitters in particular were completely helpless -- only Chris Young and Carlos Zambrano are better against righties this year. Up two strikes on Giles in the sixth, El Duque dropped his arm angle, striking Giles out on a completely unhittable Frisbee slider 6 inches off the plate.
As if that weren't enough, Hernandez went 1-for-2, scored a run, and even stole a base. This was no fluke, either: He studied the pitcher, guessed right on an offspeed pitch, and swiped the bag with ease, becoming the first pitcher to steal bases in consecutive starts since Tom Seaver did it 40 years ago.
4. Can Moises lead them to the Promised Land?
Actually, he might. The patches proffered by the Mets over the past two-plus months in Alou's absence have been terrible. Lastings Milledge and Carlos Gomez, two 1985-born outfield prospects who fit the profile of the young talent they'll need to compete down the road, proved they weren't ready yet, combining to hit .238 with just three homers in 147 at-bats. Meanwhile, Alou looked like one of the best signings of the offseason early on, hitting .318/.374/.445 on a one-year, $7.5 million deal before going down with a quad injury in mid-May. The left fielder is expected back in the lineup Tuesday, and should offer some right-handed balance and pop to a lineup that needs both. The Mets widened their lead by two games last week, and are now adding a player that few of their rivals will be likely to match, either internally or via trade. You don't necessarily need to add a superstar to get a big return for your dollar -- an above-average player replacing a collection of greenhorns can be almost as valuable.
5. The Mets haven't hit in the clutch -- but that might not last.
They're hitting .255 with runners in scoring position, ranking just 23rd among all MLB clubs. Overall, they're hitting .268. Only three teams have hit more than 13 points lower with RISP than overall: the A's (16), Diamondbacks (15) and Indians (15).
Clutch hitting isn't a skill like throwing strikes or hitting homers. The vast majority of players routinely go from good clutch-hitting seasons to bad ones, with no explanation other than random variance, otherwise known as luck. They show no consistent, provable ability to hit significantly better in clutch situations than the rest of the time. Teams are the same way, only more so, since the rare outlier players get lumped into the mix with the rest of the offense.
In other words, the Mets aren't chokers with no heart -- they've just been unlucky. Their offense could start to improve in clutch situations for no other reason than their luck improving.
6. The Dodgers and Padres have hit in the clutch -- that might not last either.
The Dodgers are hitting .292 as a team with runners in scoring position, tops in the NL and 15 points above their overall batting average. The Padres have shown an even bigger gap: .259 with RISP, .242 overall. Only the Royals (21 points), Rangers (24 points) and one other team have outperformed in the clutch more than the Mets' opponents last week. In a tight NL playoff race, little regressions in these kinds of key situations could make the difference of a game or two that could have one team playing baseball into October and another playing golf.
And if you're looking for one team's clutch performance that screams fluke, look no further than the Tigers. Detroit's offense is for real, leading the majors in batting average, slugging average and OPS. But the Tigers are hitting an obscene .322 with RISP, .287 overall. With a stacked offense and loaded starting rotation, you still have to like the Tigers' playoff chances, whether or not a regression occurs. But if Placido Polanco (.375 with RISP, .331 overall), Craig Monroe (.268 with RISP, .222 overall) or Pudge Rodriguez (.312 with RISP, .284 overall) grounds out with a runner on third in the ninth inning of a big playoff game, don't say you weren't warned.
7. Should the Mets consider Pedro in the 'pen?
Huge seasons from Oliver Perez and John Maine have given the Mets one of the deepest starting staffs in the majors; Tom Glavine, the team's nominal ace, has the worst ERA of the five. Jorge Sosa can be erratic, as last week's outings (6 IP, 2 R and 4 IP, 6 R) showed. But he's still been above-average as a fifth starter. With Pedro's health bound to be a risk and his exact return date still unknown, slotting him in the bullpen at first could help preserve his arm and help him get more juice on his pitches, knowing he doesn't have to throw for seven or eight innings. And if he succeeds in that role? Playoff rotations need only be four men deep, making Sosa's occasional struggles moot. Pedro teaming with Wagner and company in support of Glavine, Duque, Perez and Maine could be very tough to beat.
8. Jose Valentin's injury may have been a blessing in disguise.
The New York dailies lit up with trade speculation after word came down that Valentin's broken right tibia would keep him out six weeks. But Omar Minaya quickly deflected the trade talk, saying he was comfortable with Ruben Gotay handling the bulk of the playing time at the deuce. You had to believe him, too. Gotay's hit a cool .336/.366/.495 in part-time duty this year, dwarfing Valentin's numbers. Once a highly touted prospect for the Royals, Minaya grabbed him at a discount last summer, giving up only utility infielder Jeff Keppinger. Gotay's glove is still erratic, and no one expects him to hit .336 all season. But last season's trade shows a newfound attention to detail on Minaya's part, something he lacked in his last GM gig. It's hard to believe that the same guy who was so anxious to pick up the immortal, about-to-be-released Lou Collier that he gave up Jason Bay in a trade would also have the foresight to snag a 23-year-old posthype prospect in Gotay, then stash him on the roster for exactly this situation. But the former Expos GM, who was out of his element trying to steer a rudderless ship, has shown he's willing and able to make beneficial deals on the margins, as well as snag big-ticket free agents whenever possible.
Oh, and a little luck doesn't hurt, either. The Mets designated Gotay for assignment on Feb. 15, because they wanted to clear roster space for Chan Ho Park. Fortunately, no one wanted him.
9. Speaking of good karma …
Sunday's 5-4, extra-inning win over the Dodgers came courtesy of Chip Ambres, a minor league lifer who'd seen just 145 ABs in the bigs before getting called up to ride the pine a few days ago. With two outs and the tying run on third, Ambres pinch hit for the pitcher's spot and rapped a bouncing single to left off D.J. Houlton to put the Mets ahead. It was his first major league hit since Oct. 2, 2005, with the Royals, his only other season of major league experience. "Being able to come through in the clutch like that and help out the team, it's one that I'll always remember," Ambres said after the game. "It's unbelievable. I'm on Cloud 9."
10. However all these scenarios play out, winning the East won't be a cakewalk.
On this date last season, the Mets led the Braves by 13.5 games, 10 more than their current lead. Atlanta's five games over .500 this year, compared to six games under last season. Tim Hudson and Kelly Johnson have been much better in '07, and the bullpen is also much improved. The Phillies have also picked it up compared to last season, led by one of the best trios in baseball in Ryan Howard, Chase Utley and Cole Hamels. Everything's up for grabs.
Jonah Keri is a regular contributor to Page 2 and the editor and co-author of "Baseball Between the Numbers." You can contact him here.