With the July 31 nonwaiver trade deadline behind us, it's time to focus on the pennant races. We're more than two-thirds of the way through the season, and several races look like as though might go down to the wire. Here are 10 players who could decide their teams' fates down the stretch: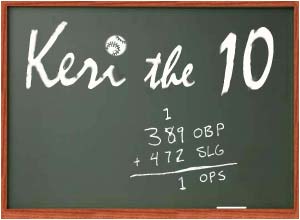 1. Jeremy Bonderman, Tigers
A breakout first half and an injury to Kenny Rogers propelled Bonderman to the role of co-staff ace, along with Justin Verlander. But Bonderman's numbers before and after the All-Star break tell the story …
First half: 9-1, 3.48 ERA
Second half: 1-3, 8.10 ERA
… or do they? Bonderman has, for the most part, maintained his strong peripheral numbers, striking out 23 batters and walking just four in his five starts since the break, versus 98 K's and 26 BBs in the first half. Yes, his home run rate's up a bit, and he's giving up a lot more hits. But unless Bonderman's pitching hurt, the Tigers have to figure they'll get their big gun back sometime soon. They'd better hope so anyway. Having lost 11 of the past 13 games, Detroit has fallen out of first place and is just a half game up on the Yankees in the wild-card race. The margin for error is zilch.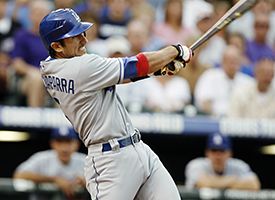 AP Photo/David Zalubowski
Can Nomar stay hot? Dodgers fans desperately hope so.
2. Nomar Garciaparra, Dodgers
For all the flak that Wilson Betemit took for hitting .230 or less for most of the season, his homers and walks still made him a more valuable offensive player this season than Garciaparra. A line of .282/.329/.368 with just six homers would be enough to knock most players out of the lineup. But Nomar's contract and reputation have kept him in there every day. He's shown hints of the old Nomar lately (two homers in the past five games), but the Dodgers need more. Riding a four-game losing streak and now four games out in the West, they're getting near danger time in L.A.
3. Derrek Lee, Cubs
Among the league leaders in batting average and OBP all season, Lee has recently started regaining his power stroke too, making him one of the league's best hitters. The recent revival of Jacque Jones has also boosted the offense. Still, the Cubs are in a four-way tie for 15th in the majors in runs scored. That's not what management envisioned when it anted up for Alfonso Soriano and re-signed Aramis Ramirez. Once the team's glaring weakness, the bullpen has improved, with Carlos Marmol joining a now-healthy Ryan Dempster and Bobby Howry in the back of the pen. For the Cubs to make the playoffs, they'll need more from their bats.
4. Vladimir Guerrero, Angels
Though Lee's season total remains well below Guerrero's, Vlad went a ridiculous 125 at-bats without a homer before launching two on Thursday and two more on Friday. The Angels have maintained a 3.5-game cushion over the second-place Mariners despite that drought. With slugging DH Juan Rivera's return from injury delayed and starting second baseman Howie Kendrick and catcher Mike Napoli also sidelined, you'd expect this team to struggle to score runs without Vlad's power. Credit the Angels' farm system for generating the kind of depth needed to withstand those losses and keep the offense rolling. But how would the Angels fare against say, Verlander or C.C. Sabathia in a short series? Against tougher pitching in the postseason, they'll need all hands -- including Vlad's -- on deck.
5. Mark Teixeira, Braves
The big fish at the trade deadline, Teixeira immediately made his presence felt in the Braves' lineup, blasting three homers and knocking in seven runs in his first three games in the NL, but the Braves still lost two out of those three. Despite aggressive deals for Teixeira and Octavio Dotel, the Braves failed to address their biggest weakness: a starting rotation headed by a 40-year-old ace with nagging injuries and a shaky back end. Two games out in the wild-card race and suddenly 4.5 behind the Mets, the Braves may need to slug their way to a bunch of 8-6 wins to make the playoffs. And Teixeira could be their go-to guy.
6. Scott Linebrink, Brewers
For all the talk of star players needing to step up, let's not forget some of the lesser names. The Brewers gave up strike-throwing pitching prospect Will Inman, major-league-ready reliever Joe Thatcher and a third prospect to get Linebrink, hoping the veteran righty could solidify the late innings in Milwaukee. Linebrink's done his share -- tossing four scoreless innings while striking out six, walking two and allowing just two hits over four appearances. But the Brewers fear Derrick Turnbow may have been overworked this season, and Francisco Cordero has given up two or more runs in three of his past six outings -- including a devastating blown save on Sunday in which the Brewers blew a five-run lead in the ninth inning. Seeking their first playoff berth in 25 years, and with their lead over the Cubs down to one game, the Brewers can't afford many more bullpen-induced ulcers.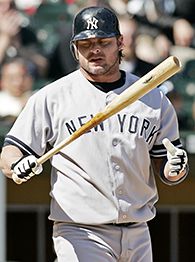 AP Photo/Jerry Lai
Jason Giambi will be back in the Yankees' red-hot lineup any day now.
7. Jason Giambi, Yankees
Philip Hughes got more ink for his return last week. But the Yankees' starting pitching has improved considerably since Hughes was forced out of a seventh-inning no-hitter with a hamstring injury in May, thanks to the addition of Roger Clemens and the return of Good Mike Mussina. Before Yankees fans get too confident about the team's recent offensive onslaught (including 31 runs over the weekend against the Royals), remember that all 25 of the Bombers' past 25 games came against sub-.500 teams. With 20 of their next 23 games against over-.500 clubs and the likes of Roy Halladay, John Lackey, Justin Verlander and Josh Beckett looming on the schedule, the Yankees will welcome Giambi's bat back to the middle of the lineup, maybe as soon as Tuesday.
8. Stephen Drew, Diamondbacks
It's time for his performance to start living up to his pedigree. The Diamondbacks' shortstop has seen his OPS plunge more than 200 points from his stellar 2006 rookie season. Arizona couldn't trade away Drew, Chris Young or any of its other talented, young players for established vets, knowing they were the future of the franchise. The D-backs have clawed their way to first place thanks to their strong pitching (sixth in MLB in ERA) and in spite of their weak hitting (27th in runs scored). But Arizona's minus-29 run differential points to a team that's a bit lucky to be where it is. The Diamondbacks can't survive on one-run wins forever; Drew & Co. need to start earning their keep sometime soon.
9. Travis Hafner, Indians
The Indians have dropped six of their past eight games and nine of their past 13. But an even bigger slump by the Tigers has allowed Cleveland to sneak into first in the Central. With Detroit and the Yankees both well-armed to knock them out, though, the Indians need their stars to come through. C.C. Sabathia's been a Cy Young candidate and Grady Sizemore's been very good, if not quite spectacular. So when will Travis Hafner start hitting like the real Travis Hafner? Here are his OPS numbers since 2004:
2004: .993
2005: 1.003
2006: 1.097
2007: .814
The Indians' DH has gone from being one of the top 10 hitters in baseball to a poor man's Kevin Youkilis. That's not going to get it done.
10. Lastings Milledge, Mets
Carlos Beltran's out, Moises Alou is a stiff breeze away from the DL and Shawn Green is a shadow of his former self. With the Mets failing to bolster their outfield at the deadline, that leaves Milledge as their best offensive threat out in the pasture -- heavy stuff for a 22-year-old who hasn't played a full big league season yet. But Milledge has been up to the task, hitting for average and power after a slow start, including a three-hit performance under the game of the week spotlight Sunday night against the Cubs. The Mets' strong pitching and defense (second in the NL in ERA, first in MLB in defensive efficiency) might allow them to hold off the Braves and Phillies. But they'll need Beltran & Co. back and producing by playoff time to give Milledge some help.
HONORABLE MENTION
Adrian Gonzalez, Padres: 12 homers through May 27, just five since
Adam Jones, Mariners: Raul Ibanez's defense was killing the M's; superprospect Jones is an ace fly catcher who also could add pop to the lineup
Pat Burrell, Phillies: Ted Williams-like July and early August have rocketed him from goat to on pace for career year; are you ready to forgive, Phillies fans?
Torii Hunter, Twins: Minny's suddenly just 4.5 games out of first; can Hunter lead a playoff charge in his walk year?
Jonah Keri is a regular contributor to Page 2 and the editor and co-author of "Baseball Between the Numbers." You can contact him here.