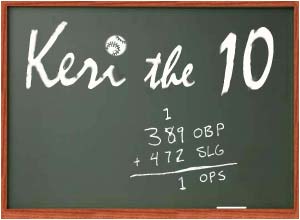 Josh Beckett, C.C. Sabathia and Chien-Ming Wang all won their 17th game of the season. Ryan Braun smashed four more homers, while Prince Fielder added three. Carlos Pena knocked in seven in one game. Meanwhile, A-Rod looked like he was playing his own personal game of "RBI Baseball," keying in left-right-left-right-up-down-A-B-B-A to reach Unstoppable Mode.
With so many of the game's best players having a great week, this seemed like a good time to handicap the major awards for both leagues. For each award, the candidates will be ranked both by who deserves to win based on year-to-date accomplishments, and who's likely to win.
Today, I'll cover each league's MVP and Cy Young awards, plus the MLB Executive of the Year. I'm also adding my own award, the Bust of the Year, for the player who's been the biggest disappointment. Then tomorrow, it's on to Rookie of the Year, Manager of the Year and Comeback Player of the Year. For tomorrow's bonus category, I'll run down the Fantasy Player of the Year award, otherwise known as "that guy who came out nowhere, won your league for you, and allowed you to enter 22 fantasy football drafts all on house money."
For position players, the numbers listed will be batting average/on-base percentage/slugging percentage, HR and RBI, plus Wins Above Replacement Player (WARP). Invented by Clay Davenport of Baseball Prospectus, WARP measures how many wins a player contributes to his team, above what a replacement-level player (roughly, a Triple-A lifer or 25th man on a major league roster) would be expected to produce. The benefit of using WARP instead of, say, batting average to rank players is that WARP takes all of a player's contributions into account: hitting for average, hitting for power, the position he plays, defensive value etc., then adjusts for park effects to balance out the Coors Fields from the RFK Stadiums. So for instance, Magglio Ordonez's line would appear as follows:
Magglio Ordonez (.355./.428/.590, 26 HR, 126 RBIs, 7.5 WARP)
For pitchers, I'll use Win-Loss record, ERA and Fielding Independent Pitching. FIP is a stat that appears at HardballTimes.com, invented by a baseball analyst who goes by the name Tangotiger. FIP measures only those events that a pitcher alone can control: home runs, walks and strikeouts. Quoting the Web site: "FIP helps you understand how well a pitcher pitched, regardless of how well his fielders fielded." The number expressed is calibrated to look like plain old ERA. Here's how Erik Bedard's line would appear:
Erik Bedard (13-5, 3.16 ERA, 3.31 FIP)
By combining both traditional stats and more advanced metrics, we can get a feel for what the voters are likely to look at, then see how a more thoughtful approach might provide different answers.
Finally, for each award, I've listed only the Top 3 for predicted voter results and my own choices -- no Top 5 or Top 10, no Honorable Mention. I don't have an army of oompa loompas banging out 30,000 words per column for slave wages like Gregg Easterbrook does, so I'm sticking to Top 3. So when you read this column and go insane with rage because I snubbed your favorite player, feel free to e-mail me and demand to know where your guy would've ranked. The more creative your insults are, the faster my reply will be.
Here's Part 1:
1. AL MVP (How the voters would rank 'em if the season ended today)
Alex Rodriguez (.318/.424/.672, 52 HR, 140 RBIs, 10.2 WARP): Some have speculated that other candidates could enter the discussion if the Yankees blow the wild-card lead. Considering A-Rod's early-September performance has him on pace for about 85 homers, 300 RBIs and a Nobel Prize for quantum physics, this seems highly unlikely.
Magglio Ordonez (.355./.428/.590, 26 HR, 126 RBIs, 7.5 WARP): Would the voters really pick Mags over A-Rod if the Tigers pass the Yankees, given Ordonez isn't even the most valuable player on his team? Considering these are the same voters that picked the third-best player on the Twins last year, anything's possible.
Vladimir Guerrero (.326/.404/.545, 22 HR, 110 RBIs, 5.6 WARP): Think the voters would just take a peek at the RBIs standings, see that A-Rod-Mags-Vlad are ranked 1-2-3 and that all three played for contenders, turn in their ballots as is and call it a day? I do.
2. AL MVP (How I'd rank 'em with my nonexistent vote)
Alex Rodriguez: His late-season barrage makes him my clear choice, even if the Yankees finished 8th in the East this year.
Curtis Granderson (.304/.359/.562, 21 HR, 69 RBIs, 8.9 WARP): Exactly the kind of candidate that gets missed by traditional stats. Take all those doubles and triples, that amazing stolen base success rate (20 for 21) and great defense from a premium position and you have a very deserving runner-up to A-Rod's Nintendo season.
Ichiro Suzuki (.351/.396/.436, 6 HR, 59 RBIs, 8.1 WARP): Very similar to Granderson (37 for 41 SB too), except with less pop and a higher average. WARP gives him an upward adjustment for playing in pitcher-friendly Safeco.
3. NL MVP (How the voters would rank 'em if the season ended today)
Prince Fielder (.288/.387/.613, 43 HR, 104 RBIs, 5.9 WARP): I'm convinced that if the Brewers make the playoffs, Fielder will win it, and if they don't, he won't. It's pretty crazy to think that Milwaukee could lose the division to the Cubs or Cardinals because Derrick Turnbow throws a meatball one day, and that that would be the reason Fielder isn't the MVP.
David Wright (.315/.410/.539, 27 HR. 93 RBIs, 9.3 WARP): I think he wins it if the Brewers don't make the postseason. Which is almost as silly as the notion that Wright is somehow less valuable because he plays with two other fringe MVP candidates in Jose Reyes and Carlos Beltran.
Chase Utley (.338/.417/.568, 18 HR, 91 RBI, 8.0 WARP): Do I dare give the voters credit for recognizing Utley's great season, when his teammate Ryan Howard's likely to go for 40 homers and possibly lead the league in RBIs? Yes, though it'll probably be because he won the batting title more than anything else.
4. NL MVP (How I'd rank 'em with my nonexistent vote)
David Wright (.315/.410/.539, 27 HR, 93 RBIs, 9.3 WARP): I was all set to pick Hanley Ramirez here, then write a 5,000-word dissertation on how the idea that a player is somehow less valuable because his general manager did a lousy job of picking his 24 teammates is completely meshuganeh. Lucky for you, Ramirez is a butcher defensively, which negates his offensive contributions just enough to knock him out of the running. I gave Wright the edge instead for his all-around play, ranking as one of the league's best hitters in one of its toughest parks, while fielding a tough position very well.
Albert Pujols (.321/.424/.562, 30 HR, 89 RBIs, 9.9 WARP): He's only won one MVP to date, despite hitting like Jimmie Foxx and fielding his position like Keith Hernandez every season. He finally gets a break, with no vintage Bonds performance and no 58-homer Ryan Howard barrage to wedge him out, and Pujols puts up the second-worst numbers of his career. Tells you how good the guy is, when those numbers are still worthy of a Top-3 vote.
Chase Utley (.338/.417/.568, 18 HR, 91 RBIs, 8.0 WARP): He'd almost certainly be my top choice if he hadn't missed 31 games this year, most of them with a broken hand. If the Phillies fall short again this year, with the seasons Utley, Howard, Jimmy Rollins, Pat Burrell, Aaron Rowand and the others are having, someone's going to have some explaining to do.
5. AL Cy Young (How the voters would rank 'em if the season ended today)
C.C. Sabathia (17-7, 3.15 ERA, 3.35 FIP): Got a stack of e-mails from Indians fans over the past few days asking why I hated their team so much. This confused the hell out of me, considering I've been singing their praises since March. At the time, I wrote that Sabathia had a good shot at 20 wins if he could shake off his spring training wrist injury. Five months later, we might see three or more pitchers get to 20 wins. The voters will choose C.C. for his edge in strikeouts and innings pitched on Beckett, Wang and the Angels' top two.
Josh Beckett (17-6, 3.30 ERA, 3.04 FIP): Can a pitcher really win 20 games, compete for the league ERA crown and help lead the media-saturated Red Sox to the best record in baseball, yet fail to win the Cy Young? In one of the most stacked classes of starting pitchers of the past 30 years, it looks that way, yes.
Johan Santana (15-11, 3.09 ERA, 4.02 FIP): This might've been Erik Bedard's spot if not for his season-ending oblique injury. Just a hunch that Santana finishes third, his strikeout total and track record trumping better performances by a few others.
6. AL Cy Young (How I'd rank 'em with my nonexistent vote)
C.C. Sabathia: In one of the closest races I can ever remember, I give the edge to the workhorse whose throwback style might get him to 250 innings.
Josh Beckett: He might be even better than conventional wisdom would suggest, overcoming a hitter-friendly park and an high .307 batting-average against (suggesting bad luck and/or so-so defense) to post the best FIP in the league.
Kelvim Escobar (16-7, 3.04 ERA, 3.36 FIP): This is what happens when a very good pitcher finally finds good health for an entire season. I know I said no Honorable Mention, but trust me when I say that Escobar didn't beat Fausto Carmona, Dan Haren, Chien-Ming Wang, Justin Verlander, Johan Santana, Erik Bedard, Mark Buehrle, John Lackey and others by much.
7. NL Cy Young (How the voters would rank 'em if the season ended today)
Jake Peavy (16-6, 2.43 ERA, 2.64 FIP): On pace to win the pitching Triple Crown of wins, ERA and strikeouts. You know you're having a season for the ages when you get shelled for eight runs and your ERA rises to 2.43.
Brandon Webb (15-10, 2.91 ERA, 3.21 FIP): Always a ground-ball machine, Webb went from an intriguing but erratic pitcher to a perennial Cy Young candidate when he cut his walk rate in half in 2005. As if he wasn't great enough, his strikeout rate has actually improved in the past two seasons.
Brad Penny (15-4, 2.81 ERA, 3.34 FIP): Webb's scoreless innings streak and higher strikeout and inning totals will likely win out over Penny's sparkling record. It'd be interesting to see what the voters would've done if a few of those 10 no-decisions had gone into the win column.
8. NL Cy Young (How I'd rank 'em with my nonexistent vote)
Jake Peavy: Petco Park is one of the friendliest environments a pitcher could ever hope to play in -- it's absolute death on left-handed power hitters. But pick any park-adjusted stat you want and Peavy's still the obvious choice.
Brandon Webb (15-10, 2.91 ERA, 3.21 FIP): Get ready for annual showdowns between Peavy and Webb for the next half-decade or so.
Brad Penny (15-4, 2.81 ERA, 3.34 FIP): Whaaat, I'm actually agreeing here? Yup. Chris Young doesn't have the innings, and Roy Oswalt, John Smoltz, Tim Hudson, Aaron Harang and company just haven't been good enough.
9. MLB Executive of the Year
These are simply my choices, since there isn't the same intricate balloting for this award as there is for others. My Top 3:
Kevin Towers, Padres: His obsession with the finer details -- the bullpen, the bench, the back of the rotation -- has turned a team with a modest payroll and few big stars into a strong bet to make the playoffs for a third straight season. Here are just a few of the players the Padres have added since the end of last year, and the way they were acquired:
Greg Maddux, top 15 NL starter, signed to a one-year deal
Heath Bell, a top-5 set-up man, acquired in minor offseason trade
Milton Bradley, .321/.428/.597 in SD, acquired from the A's for pennies on the dollar
Kevin Cameron, 2.19 ERA, 0 HR in 53.1 IP, acquired in Rule 5 draft;
(Tie) Josh Byrnes, Diamondbacks/Mark Shapiro, Indians/Bill Stoneman, Angels: Sometimes you just have to leave well enough alone. The Diamondbacks have succeeded by letting their army of young, talented players earn jobs, then leaving them be. The Indians believed the team that looked great on paper last year but finished below .500 would do well if given another chance and a couple of bullpen tweaks -- they were right. Bill Stoneman's the kind of guy who'd make you wait two hours before deciding if he'll trade his Almond Joy for your Twix bar -- the Angels have kept their nucleus of young, farm-raised talent intact with great results.
Brian Cashman, Yankees: How tough must it be to have every team offer you high-priced stars you could easily afford, asking only players who may not see the big leagues for three or four years in return, and turn everyone down? Cashman showed great discipline in holding tight to the team's best young talent, leaving a few holes on the roster to chance. Now with three weeks to go in the season, the Yankees look poised to make the playoffs again. Better yet, they'll have Joba Chamberlain, Philip Hughes and Ian Kennedy, along with Chien-Ming Wang, Melky Cabrera, Robinson Cano and a bunch more future major leaguers around to form the core of future winning teams.
10. Bust of the Year
Richie Sexson: When Sexson suffered a very minor hamstring tweak in late August, the Mariners seized on the opportunity and benched him for seven games. You would too if the guy expected to be your biggest run producer was struggling to stay above the Mendoza Line. On the plus side, only one more year to go on his ridiculous $50 million contract.
Jose Contreras: In a year full of disappointments for the White Sox, Contreras has been the biggest, going from one of the team's best starters to one of the league's worst (8-16, 5.91 ERA). He'd beat out Sexson if it weren't for bad luck being a big part of his struggles -- his FIP is nearly a run lower than his ERA.
Nick Punto: No one in the big leagues has had a season as bad as Punto's. He's only the third-biggest bust, though, given his already modest expectations. Still, the Twins infielder is hitting a scary .199/.286/.255. Punto has a chance to become the first major leaguer to hit below .200 with enough at-bats to qualify for the batting title since the immortal Rob Deer did it 16 years ago. The fact that the Twins have kept trotting this guy out there is 10 times more galling than Punto's performance by itself.
Jonah Keri is a regular contributor to Page 2 and the editor and co-author of "Baseball Between the Numbers." You can contact him here.