The term had been used in major league clubhouses for years. But no one dared discuss it in polite society, for fear of being branded too politically incorrect, or just too nasty. No one, that is, until Mark Grace appeared on "The Jim Rome Show" 10 years ago:
"A slump buster is when you have to take one for the team," Grace explained, elaborating on a player hooking up with the ugliest woman he can find.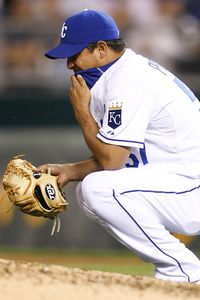 AP Photo/Ed Zurga
Royals pitchers have had plenty
of time to reflect while waiting for opponents to round the bases.
Whatever unspeakable acts Grace performed during his playing career, they seemed to work. The former Cubs and Diamondbacks first baseman hit .303 for his career, nine times topping the .300 mark in a season. The term slump buster gained traction in the years after his Rome revelation, so much so that Kevin Youkilis spent the offseason
marketing a new energy drink
called, yup, SlumpBuster.
This season, one team has taken the term to heart. The Kansas City Royals have lost 11 games in a row. They've scored fewer runs than any other team. They've driven sportswriters, from the Kansas City Star's Joe Posnanski to Baseball Prospectus writer and Royals blogger Rany Jazayerli to ESPN.com's own Rob Neyer into fits of despair. It's gotten so bad that the Royals demoted Billy Butler yesterday, sending down one of their two best (only?) major league-ready young hitters because … I dunno, they wanted to give Brodie Croyle a shot?
The Royals have done more than merely lose games, make bad decisions and look awful, though. Time after time this season, a struggling pitcher has hobbled into a game against Kansas City, looking like he's on the brink of collapse. More often than not, that pitcher has emerged with a dominant performance. Likewise, several down-and-out teams have limped into a series against the Royals and come out as winners, their seasons back on track.
In 2008, the Kansas City Royals have become the unattractive faces major league players must stare down to break a cold streak. They are baseball's slump busters.
A few examples of their slump-busting prowess:
April 12: With 2007 staff ace Johan Santana traded to the Mets and lefty phenom Francisco Liriano still recovering from injury, the Twins turned to Boof Bonser for their Opening Day start. The 26-year-old righty had shown signs of promise in his young career, mixing solid starts with some ugly blow-ups. Bonser lost his first two games of the '08 season, 9-1 to the Angels and 3-1 to, yes, the Royals. His 4.15 ERA through two starts didn't look too bad, despite his 0-2 record. But facing the Royals a second straight time on April 12, Bonser registered only the third scoreless outing of his career, shutting out Kansas City over six strong innings and briefly busting his slump. After a rough outing against the Rays, Bonser strung together two great starts in a row and looked like he might finally live up to his potential.
Since then, he's gone 0-2 with a 9.68 ERA. He's expected to start Saturday against the Yankees, get shelled again, and lose his spot in the rotation when Scott Baker returns from the DL next week. The last time Bonser pitched a shutout prior to this year's Royals whitewash? April 26, 2007. Against the Royals.
April 22: C.C. Sabathia's 2007 season was one for the ages. In 241 innings, Sabathia struck out 209 batters, walked just 37, went 19-7 with a 3.21 ERA and won the AL Cy Young award. But after four miserable outings to start the '08 season (0-3, 13.50 ERA), it looked like Sabathia might be cooked. Statistical analysts wondered if his huge workload from last season, which included a deep playoff run, may have finally burned out his arm. Mechanics experts scrutinized every minute detail of his pitching motion, looking for the smallest clue that might tell us where the big lefty was going wrong. Fantasy owners climbed to skyscraper roofs, preparing to end their misery over saying the words, "Sabathia, $30" just a few weeks earlier.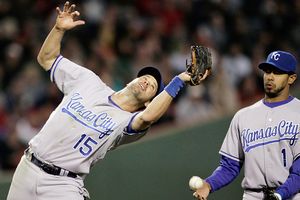 AP Photo/Charles Krupa
It's been that kind of year … decade … let's just say it's been a while since the Royals were good.
With the baseball world on the edge of its collective seat, Sabathia shuffled into Kansas City, prepared for another beating. Instead, he destroyed the Royals' lineup, tossing six shutout innings and striking out 11 en route to a 15-1 demolition by the Indians. Including that start, Sabathia has posted a 1.62 ERA with 56 strikeouts and 11 walks in 50 1/3 innings.
May 9: With an 8.82 ERA and a ridiculous two baserunners allowed for every inning pitched this season, Steve Trachsel may well be baseball's worst pitcher. In the two starts leading up to his May 9 outing against the Royals, Trachsel had posted an ERA of 15.00, failing to pitch more than three innings in either start. But Kansas City's largesse allowed Trachsel to put up his most impressive outing of the season: 5 1/3 innings, two runs allowed and a season-high 10 ground-ball outs.
The Orioles thought so little of Trachsel's accomplishment that they promptly skipped over two of his turns in the rotation. His team was so convinced that his solid performance against the Royals was meaningless that it didn't use him in relief even once during the 15 days he waited until his next start, all the while keeping him on the active roster. When he finally returned to the rotation on May 24, Trachsel struggled just a bit against the Rays, allowing nine runs in an 11-4 loss. To his credit, he did record five outs before getting pulled.
May 23-26: The headline in the National Post sports section on May 22 said it all: "Jays' hitters must do their job, GM Ricciardi says." After spending even more money and adding more bats in the offseason to try and push his Blue Jays team over the top, J.P. Ricciardi had instead seen his team's offense take a dive. After years of chasing the front-running Red Sox and Yankees, the Jays had watched the Tampa Bay Rays' young players blossom into a first-place team. At two games under .500, the Jays looked to be on the verge of disappointing their fans again, putting the jobs of everyone involved -- Ricciardi, manager John Gibbons, and the team's high-priced veterans -- at risk. The Jays managed four runs in beating the Angels that night. Still, critics wondered if the league-leading performance of Toronto's dominant pitching staff would all go to waste, flushed down the toilet by the team's punchless offense.
Then the Royals arrived at Rogers Centre for a four-game series. Led by their dynamic quartet of Roy Halladay, Jesse Litsch, Dustin McGowan and Shaun Marcum, the Jays allowed just four runs in the four-game set. Luckily for Toronto, the Royals were also one of the worst pitching teams in baseball, with Zach Greinke and the back of the bullpen looking great and a whole lot of Brett Tomkos behind them. The Jays scored 23 runs in the four-game series, sweeping the Royals in their most impressive performance of the season. Toronto went on to take two out of three from the A's and are now right back in the race, three games out of first with a 30-26 record.
Said Marcum after shutting down Royals hitters in his 7-2 win: "I kind of get up for it a little bit but it's more when we're in Kansas City, when I get to face the worst group of hitters ever assembled I've got all my friends and family there."
Since getting swept by the Jays, the Royals have lost three more games, one of them a 9-8, extra-inning loss in which they blew a five-run lead with two outs in the ninth, prompting Jose Guillen to unleash an epic tirade. Their streak could keep going for a while, with Gil Meche and Kyle Davies going up against two of the hottest pitchers in the league, Cliff Lee and Sabathia. If the Royals lose those two games to make it 13 in a row, they'll get Paul Byrd on Sunday. With three shaky starts in last four outings, Byrd is the only current Indians starter in a slump. You know what that means.
Given the Royals' struggles, maybe it's best to stop here and avoid piling on any more. Besides, they may not really be slump busters. As Jazayerli said just before the team's 11th straight loss: "Slump busters aren't this ugly."
Jonah Keri is a regular contributor to Page 2 and the editor and co-author of "Baseball Between the Numbers." You can contact him here.