CC Sabathia. A.J. Burnett. Mark Teixeira. Manny Ramirez. The big names on this year's free-agent list have teams, agents and fans salivating at the splurges likely to follow.
But a packed free-agent class also means something else: It's a chance to duplicate some of the most memorable signings in history.
This year's Barry Zito: CC Sabathia

Free agency coverage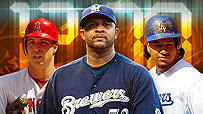 For a while, Zito was a very good pitcher with the A's. His first four seasons included a 61-29 record, season-by-season adjusted ERAs 25 percent to 72 percent better than league average, a top-10 rookie of the year finish, two All-Star games and a Cy Young Award. He tailed off in his next three seasons, tossing more than 200 innings in each while delivering good, but not great, performances. That was enough to entice the Giants to chuck $126 million for seven years at then-28-year-old Zito, a move that prompted 29 other GMs and countless fans to type three-letter text messages to each other simultaneously -- the first and last of those three letters being "L." Zito has been a huge disappointment in his first two years in San Francisco, including an abysmal 5.15 ERA in 2008.
Sabathia, 28, heads into free agency a more attractive commodity than Zito was two years ago. Sabathia won a Cy Young in 2007 and would have contended for another had he spent all of 2008 in one league. He strikes out more batters than Zito did at the same age, gives up far fewer walks and has the kind of knockout fastball Zito lacked. However, Sabathia has thrown 513 innings in the past two seasons, counting the playoffs. It's difficult to intuit much from such a small sample size, but he looked gassed in the postseason each of the past two years. Sabathia also weighs nearly 300 pounds. As much as history suggests that big power pitchers (Walter Johnson, Nolan Ryan, Roger Clemens) tend to age better, there's no precedent for a pitcher's pushing three bills to get a monster free-agent deal. Nevertheless, the bidding for Sabathia figures to be intense, with Hank Steinbrenner likely to shout in Brian Cashman's ear every step of the way. If the Yankees get Sabathia, they'll improve their playoff chances for 2009, maybe 2010, too. But if they shell out, say, $175 million over seven years to get their man, there could be $100 million of regret waiting on the back end. The really large back end.
This year's Darren Dreifort: A.J. Burnett

Tom Szczerbowski/US PRESSWIRE
A.J. Burnett's whirl in free agency has us pining for the Kevin Malone era in Los Angeles.
Ah, December 2000. A time when Monica Lewinsky jokes still were topical and deluded multimillionaires thought the stock market wasn't in a death spiral. Rubert Murdoch's News Corp. owned the Dodgers, and Kevin Malone made the personnel decisions. It was a match made in Page 2 heaven. There were so many epic gaffes from which to choose, but none beat the Dodgers' five-year, $55 million signing of Dreifort. Dreifort was barely above average, even at his best. He had lousy control, gave up too many homers and never made it to 200 innings in a season. Already injury-prone before the $55 million contract (he missed the entire 1995 season), Dreifort pitched just 205 innings over the life of the contract before washing out of the game. Ben Sheets seems the most likely candidate to go the Dreifort route, given his own injury troubles. But teams recognize Sheets' history and seem likely to place him behind Sabathia and several other pitchers on the open market.
So, this year's Darren Dreifort is far more likely to be A.J. Burnett. In 2003, Burnett missed nearly the entire season with Tommy John surgery. He has battled injuries on and off ever since, from cracked postsurgical scar tissue in his elbow to freak owies such as an appendectomy and a busted finger caused by a slammed car door. Burnett has put up two of his three best seasons on the eve of free agency, first by posting a 3.44 ERA and a then-career-high 209 innings pitched in 2005 (parlaying that into a five-year, $55 million contract with Toronto with an opt-out clause after three years), then by notching career highs in strikeouts (231), wins (18) and innings (221 1/3) in 2008 right before opting out for a second round of free agency. It's as if he pitches best when there's money on the line or something. Pray your team doesn't sign this guy. This isn't likely to be the last time you read the names Darren Dreifort and A.J. Burnett in the same sentence.
This year's Juan Gonzalez: None

JuanGone famously turned down an eight-year, $140 million contract offer from the Tigers, thinking he could do better elsewhere. He wound up making a small fraction of that total, playing just one more full season, then fizzled out of the game. Even a Scott Boras client after a case of Red Bulls wouldn't be that reckless now.
This year's Wayne Garland: Jon Garland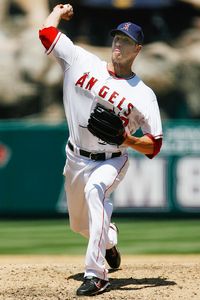 Jeff Gross/Getty Images
Jon Garland has benefited from solid defense for years. Proceed with caution.
Jon Garland has spent his whole career getting by on guile, with a lot of help from his friends. In seven of the eight seasons in which Garland topped 100 innings pitched, his defense ranked in the top half of all major league teams in defensive efficiency (the percentage of balls in play caught by fielders); in six of those cases, his team ranked in the top 10. That has helped him put up ERAs just barely above average despite underwhelming stuff and lousy strikeout rates. Still, some team is going to see a 29-year-old pitcher with 32 or more starts and double-digit wins in each of the past seven seasons and pay big bucks and too many years to get him.
After the 1976 season, Wayne Garland was a hot commodity on the free-agent market despite a similarly solid but unspectacular track record. After three decent seasons, Garland had broken out at age 25, going 20-7 with a 2.68 ERA. That one season triggered a feeding frenzy, resulting in the Indians' giving Garland an insane 10-year contract worth $2.3 million -- a king's ransom at the time. The deal showed that teams had a long way to go before figuring out the dos and don'ts of free agency. Garland went 28-48 in five years with the Tribe before Cleveland released him halfway through the deal.
The team that gives Jon Garland $50 million this offseason probably will wind up feeling just as queasy -- proving that teams still have a long way to go before they figure out free agency.
This year's Andre Dawson: Barry Bonds

Dawson was a superstar just past the prime of his career when his former team, the Montreal Expos, joined with the rest of baseball in a widespread case of collusion. Fed up with teams' miserly tactics, "The Hawk" showed up for spring training before the 1987 season and told the Cubs they could have him for any price they saw fit. Chicago happily obliged, filling in $500,000 on a blank contract and adding a franchise player. Robbed of his speed and great center-field defense by 10-plus seasons of wear and tear on Olympic Stadium's harsh turf, Dawson still had enough in the tank to lead the league in homers (49), RBIs (137) and total bases (353), earning MVP honors for a last-place team.
Bonds, 44, is more than a decade older than Dawson was in 1987 but not much further past his prime, given his shady late-30s peak. The owners deny collusion against Bonds today just as they did against all free agents more than two decades ago. Still, whether it is a concerted effort or simply a desire to stay away from bad publicity, all 30 teams have shunned the player who led his league in on-base percentage and finished sixth in OPS in 2007, the last time he played. With so many feckless designated hitters collecting paychecks, you'd think Bonds could walk into some AL's team spring training camp, hand over a blank contract and get back on the field.
On second thought … nah! There's no way any team would let a presumed steroids user put on a major league uniform.
Jonah Keri is a regular contributor to Page 2 and the editor and co-author of "Baseball Between the Numbers." You can contact him at jonahkeri@gmail.com.