By John Kruk
Page 2
EDITOR'S NOTE: John Kruk's 10-year major-league career? Just an apprentice-ship. All that time with the Padres, Phillies and (briefly) White Sox, Kruk, one of baseball's most colorful personalities, was prepping for his true calling: Page 2 columnist. Today, the newest member of ESPN's "Baseball Tonight" crew debuts his column with a down 'n dirty look at the Yankees' first showdown with the Red Sox this weekend.
The baseball season is only a few weeks old and the Yankees are dominating the headlines once again.
Of course, it's all their offseason moves and their annual "retooling" that get all the press. But there are still tons of questions about this lineup.
First of all, they got A-Rod. Great work, George. Reigning MVP. One of the best players in the game. But Alex might want to go over his notes with his agent next time he has a press conference.
When A-Rod put on the pinstripes for the first time, it didn't take long for someone to ask him about his switch to third base.
"At this point in my career, winning is the most important thing," stated Rodriguez.
Whoa! What? So, the first 10 years you spent in the majors, I guess that was just about making money? Sure, that's a great thing to say when you're in the middle of a $250 million deal. I mean, come on. If he needed a couple bucks before he signed that deal, I would have loaned it to him.
I'm sure the fans in Seattle and Texas didn't miss that one. I sure hope that was a mistake; because if A-Rod is the fan of the game he says he is, he might want a do-over on that statement. A-Rod always has been a class act and I'm sure that's not the way he meant it. Still, I'm sure the people in Seattle and Texas really don't care -- he said it.
Here's the problem: There are way too many guys today who say they love the game, but act like robots.
It's still supposed to be fun, right? With these guys, you ask them something like, "Hey, how was the game?" and you get a response like this: "Oh, I don't know, let me ask my agent."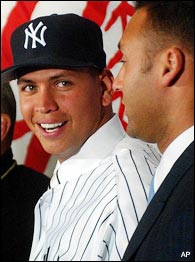 Now that A-Rod has his $250 million, he can finally concentrate on winning.
I don't know how these agents got all this power. Most of them are frustrated athletes who couldn't play the game, and this is their "in." How many agents do you think really care about players when they're in the minor leagues? And then when they cut a deal like A-Rod's, they take all the credit. How tough is it to negotiate a big-money deal for one of the best players in the league? It didn't take a genius to work that contract out.
Give me a break. Isn't it amazing? The more money someone makes, the dumber they become. It's like they can't make a decision on their own: "Uhh, talk to my agents, reps and PR guys ... "
Dude, you're not curing cancer. You're playing baseball. Make the call yourself and be quiet.
If my agent ever spoke for me on TV or radio or anything like that, he would be gone. Period. They only one who should speak for you -- is you.
I'm not trying to rip apart A-Rod. He isn't the only star the Yankees grabbed in the offseason, and that isn't always a good thing.
You don't think these guys have egos? People have been telling them for years how great they are; and when people like that get together to share to spotlight, it can get ugly.
Who knows when that "me first" mentality will creep up. Put it this way. It's late September. Tight game. No outs. Jeter's on second base. A-Rod and Giambi are tied for the league lead in RBI. Does A-Rod sacrifice himself to advance Jeter to third, and give the easy RBI chance to Giambi? Or does he swing away, hoping to knock him in on his own -- risking the win in the process? Who knows?
That's months away. But right now, with the Yankees slumping on offense, I'm telling you -- if this keeps up, one of these guys will snap. Sure, when you're winning, everyone loves everyone. But the Yankees have put themselves in a position where anything else just won't be tolerated by management, the fans and especially the media.
Througout spring training, people were writing how this Yankee team could be the best offensive team ever. Better than the '27 Yankees. I'll tell you, though -- in a short series, if the Yankees face Pedro, Schilling and Lowe? All those hitters become pretty average.
Now, all that crap might never happen. If Torre can hold this team together, it's going to be pretty damn special.
I'll tell you the truth -- I watched these guys in spring training and it didn't seem like they were having fun. It looked more like they're business men going out to a job. George is paying through the nose for them. You'd think it would be more fun.
Seems like they're punching a timeclock. Put in your four or six hours a day and go home.
Forget about all the all stars, the hype and the pressure of playing in New York. You want to know the one thing the Yankees have been missing the last few years? They're missing those guys who aren't going to start in the All Star Game -- the guys who aren't going to sign a $20 million deal but who treat this game like it's life or death and will do anything, absolutely anything, to win.
When they won those four rings, they had those guys -- guys like Scott Brosius, Paul O'Neill, Tino Martinez and Joe Girardi.
I talked to Torre last year, and he said the player he misses the most is O'Neill. Here's a guy who would go crazy if he ever made an out or the team lost.
Right now, they have too many "ho-hum guys." You know, "Ho-hum, I struck out with the bases loaded. Ho-hum I grounded into a double play. Ho-hum, we'll get 'em tomorrow."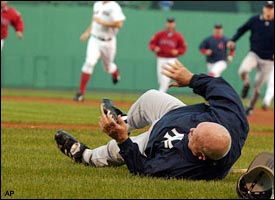 Zimmer has the Yankees back? Someone else needed to step up.
Anyone who ever say's "We'll get 'em tomorrow" should quit the game.
If you want to know what I'm talking about, just look at Game 3 of last year's ALCS.
Sure, the Yankees ended up winning the game and the pennant, but they lost some of their lustre that day.
That whole situation with Pedro telling Jorge Posada he was going to drill him, and then throwing Don Zimmer to the ground the next inning? I mean, what the hell is a 70-year-old coach doing having to defend his players?
If you think that's how it would have gone down with O'Neill, Tino and Girardi on the Yanks, you're crazy. There's no etiquitte for baseball fights, but guys on the team talk. Someone, not Zimmer, should have been watching for Pedro to leave the dugout.
When the dust settled, the Yankees were going to the World Series. Great. But everyone in the AL East watched New York let four more games go by without taking any shots at Boston. No doubt the guys on those teams are thinking, "Hey, these guys aren't so tough anymore."
Like I said, they won the series. But they lost the intimidation factor, and that's bigger than you think if you want to have an edge.
Still, there's no bigger rivalry in sports. Does anything even come close? Flyers-Devils? Lakers-Kings? Yeah, right. Give me a break.
Seriously, nothing can touch this. Last time two teams went at it like this were the Lakers-Celtics showdowns of the '80s, and that only lasted a few years. Yanks-Sox? This thing has been an all-out war since they traded Babe Ruth 84 years ago!
Still, no matter who you root for, it's fun to watch and it's great for baseball. Best part is, it doesn't matter what time of year it is. Doesn't matter what the records are or who is on the field. Every time these guys face off, it's a hardcore playoff atmosphere. And rarely does a game go by where something out of the ordinary doesn't happen.
Bottom line, the rivalry makes both teams better, and you wish everyone could be a part of it. They should call a couple guys up from the minors, just so they can feel what it's like. It's more like World Series baseball than anything else.
Combine last season's ALCS with all the offseason drama that these teams seem to provide every year, and you have the makings of yet another great series.
---
Winning is everything
You want to know who's out there who has the killer instinct? Who has the swagger and the ability?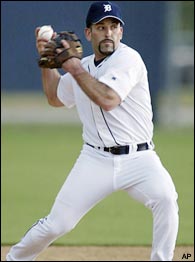 He won't be on a Wheaties box, but Vina will take you out to win the game.
Here are a few guys that everyone in the league would love to have on their team:
Fernando Vina: When this guys comes to the plate, there's definitely an attitude. Sure, you can pitch high and inside to shut him up. He'll let it hit him, then he'll trot to first base and stick it to the pitcher by stealing second. Base hit and he's home, and that's all he wanted. It's all about winning.
Carl Everett: I tried to convince the Phillies to get this guy. Sure, he's got some problems, but you need that attitude on a team. You can call Carl plenty of things, but he is out there to win the game every night. Not everyone who steps on the field can say that.
David Ortiz: You look at David in the dugout, and he's joking around with everyone. Smiles at everyone. Different handshake for each guy on the team. People don't know how huge that is. He keeps the whole damn team relaxed and loose. Then he steps up to the plate and hits a three-run bomb. Guys like that, you can't put a price tag on.
---
That's entertainment
OK, I love wrestling. Can't get enough of it. But when I'm in Bristol, CT, I'm screwed. They don't have Spike TV where I stay, so I have to go with Plan B: "American Idol."
Fine, I said it. I watch "American Idol."
Why? First of all, everybody hates Simon Cowell. But you know what? He's the only one out there with any b---s. Not just on this show, but anywhere else in TV.
If someone can't cut it, tell them.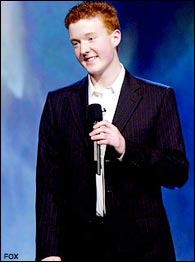 Time for John to go back where he belongs -- high school.
That dude John Stevens? Hey, Paula, why don't you just tell him he's not good enough? I mean, giving this guy praise like he's going to be some pop icon? Come on.
By the way, that other dude, the one who always dances -- Jon Peter Lewis. Thank god we'll never have to see that again, on TV anyway. Even though he's terrible, thanks to "American Idol," he's still going to be a millionaire. America, what a country.
I think the judges see 1,000 crappy people sing for them, and they get totally de-sensitized and end up thinking, "You know what? I don't care. Fine, you can come to L.A. Just everyone shut up. Let's end this now."
I mean, how many pop stars are there a year? And this show is trying to spit out a new one every few months? No thanks.
Still, I'll tell you: That girl La Toya London is good. I think she should win the whole damn thing.
---
Life at the Kruk house
Now that I'm retired from playing baseball, I can do some pretty cool things.
A few years ago, I had the honor of playing at Augusta National. Even eagled the 15th hole. I framed the scorecard, and my brother got me a picture of the hole. Really cool. Perfect thing to start a guy's golf shrine in his basement, right?
Wrong.
See, at my house, the basement is where my two-year-old is king. No fake putting green. No photos of all the tournaments. But about 1,000 toys. And it seems like "The Wiggles" are always on.
That's the kind of stuff I know now. Like this weekend, the weather is going to be great. Let's play 18, right?
Nope. More like, let's go see "Sesame Street Live!" in Trenton. No, seriously. That's what's going on.
But when I do come home and that kid comes running at me, shouting "Daddy's home! Daddy's home!" ... Come on, no one would trade that for anything in the world.
John Kruk is an analyst for ESPN's "Baseball Tonight"