By John Kruk
Page 2
OK, we need to get right into this ...
Do you people out there see how many players are standing and watching their home runs?
I know some players think this is a job, but it isn't. It's a game. And everyone who plays this game is taught at a young age to respect your teammates and your opponents.
Barry Bonds watches home runs. But Bonds has over 600 home runs and he's breaking records. So the rest of you put your head down and take your bases.
Guys like Karim Garcia on the Mets, Orlando Cabrera of the Expos and Matt Lawton of the Indians -- they're not bad players, but they're not good enough to stand there and watch home runs. With today's smaller ballparks and the watered-down pitching, you don't need to be a home run hitter to hit a home run. So relax, you're not as special as you think you are.
For years people got pissed off at pichers like Antonio Alfonseca and Brad Leslie for yelling and screaming when they got people out. Lots of hitters said these guys were showing them up -- but what's the difference between a pitcher staring you down after a strikeout and a hitter watching a homer? Is that what baseball is coming to now? Just another "me first" sport? Hey, everybody, look at me! Look what I did! I thought part of sports was sportsmanship? I don't see much of that anymore.
Now, the other problem -- pitching inside.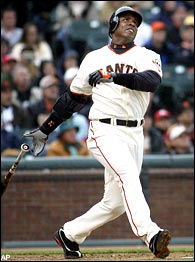 Barry Bonds is allowed to admire his home runs -- but nobody else should.
A guy can watch a home run, but a pitcher can't pitch inside? Come on, everyone is a home run threat now. Still, I hear guys talking about pitchers coming inside and threatening their livelihood, their career. What? So a pitcher should end his career by throwing it out over the plate everytime so you can hit homers?
Hitters today think they are invincible. Someone hits a home run one inning. The next time he's up, the pitcher sends one high and inside on him. What happens next? You guessed it -- the batter throws off his helmet and the benches clear. You know what? If that's what a hitter wants to do, then he better go after the pitcher. Just go get him. Don't stand there screaming and finger-pointing while you wait for 10 guys to come in between you. I understand these guys don't want to get suspended, but do you really think that's what's on their mind while they are getting all upset?
I understand the sensitivity of guys not wanting to get hit in the face or the eye. But if you're worried about that -- then don't show these pitchers up.
When I was with the Padres, I hit a homer off Nolan Ryan. I ran around the bases so fast I don't think my feet touched the ground except to hit the bases. And when I got back to the dugout I told people not to shake my hand. I was kind of hoping Nolan would forget who hit it. The last thing you want is one of Ryan's famous bowties next time you face him.
Now, I'm not saying that pitchers should throw at someone's head. There's an unwritten rule -- you hit someone, get them in the back or the butt -- don't try to end their career by hitting them in the head. But taking away a pitcher's right to go inside for effect is wrong, especially if they had been shown up by the guy the inning before. That has always been a part of the game.
The strike zone is what it is, and to say a pitcher can't try to use every inch of it because it might upset a couple of guys is stupid.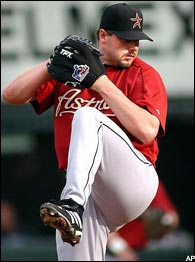 The Rocket has to pitch inside to be effective.
Ask Roger Clemens if he's trying to hit someone and he'll tell you, "Yeah, I throw inside. It's their job to get out of the way."
Thing is, today's players don't even know hot to get out of the way. Did you see Derek Jeter against the Red Sox Monday? Bronson Arroyo threw one inside and Jeter turned the wrong way. I hope Don Mattingly caught that one and set him straight. If that pitch was a little more in, and he turns like that -- it gets him right in the face. And with the velocity of today's pitchers, you don't even want to think about how that would turn out.
---
Pudge won't budge
Now, what went down between the Tribe's Matt Lawton and Pudge Rodriguez last week. That's a totally different story.
When Lawton flipped his bat back at Pudge after hitting a home run off Jeremy Bonderman -- well, Pudge didn't take it too well.
After throwing the bat away, he had a few words for Lawton as he crossed home.
OK, now did Lawton try to throw the bat at Pudge? Probably not. Did Pudge think he did? Probably not. But this was Pudge's way of being a leader. Not only was he protecting Bonderman, a 19-game loser last year, but he was showing the league that the Tigers weren't going to be pushed around anymore.
This attitude fits right in with manager Alan Trammell and bench coach Kirk Gibson. Those guys won't take any crap either.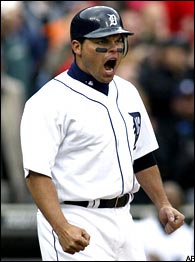 Maybe I-Rod can have a big impact in Detroit after all?
I'll be the first to apologize to Pudge. I was with everyone else that thought once he was out of his contract year he would sit out games with minor injuries and more or less just collect his money.
So I'll say it -- anyone who thinks Pudge's play and leadership on the Marlins last year was a one-time thing is dead wrong.
---
Winning is everything
Isn't it about time the utility player got some respect?
Take a look at Ryan Freel. This guy can play anywhere. He'd probably even catch if they asked him to.
He played center field when Ken Griffey Jr. was out, then he started against the Cubs at third. Freel wrapped things up by putting in some time in right field.
Guys come up at one position and say, "Hey, I'm not movin'." Great, then you might be playing in the minors for your whole career.
But when a young guy like Freel comes in with no ego and just wants to play? That attitude is contagious.
If you ask the guys on the Reds who their MVP has been in the first few weeks of the season, no doubt they'll all pick Freel.
The Brewers' Brooks Kieschnick is another one.
The guy can DH when they play AL teams, and he can pinch-hit for the pitcher for the rest of the season. After that, you can leave him in and he'll grind out some innings as a reliever.
How valuable is that?
---
All Hail Lefty
I know this is a bit overdue, but I owe a huge apology to Phil Mickelson -- Masters Champion.
When I was on FOX a while back, I said Phil would never win a major because he doesn't have the heart to win one.
Well, from one athlete to another -- you should never question anyone's heart. Man, was I wrong.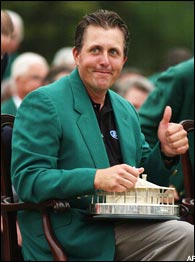 Phil Mickelson answered all of his critics at Augusta.
First of all, what Phil did was nothing like baseball or basketball or any other sport. You have an off day in baseball, you come back the next day and start over. In golf, you have to be close to perfect for four days in a row. One bad round at Augusta and you're done. Look at Tiger Woods. He put himself in a hole on Thursday that he never got out of.
Hell, now that Mickelson's won a major, he's likely to win them all. Tiger Woods? Vijay Singh? Ernie Els? Hey, Phil's the top dog now -- you go on and see if you can catch him.
Everyone looks at him different now. Take Ernie Banks. Here's a guy that is arguably the greatest shortstop of all time, but because he never played in a World Series his resume is tarnished.
Bottom line, I respect people like Phil. People that play to win -- instead of playing to not lose. I don't think Phil has ever played to tie. Did that cost him before? Yup. Did it win it for him at Augusta National? Yup.
---
That's Entertainment
You can all admit it now, too. You watch "American Idol."
What the hell happened with the vote this week? How can America screw up a vote that badly? Well, they voted me onto an All-Star team, so I can sort of understand what they are capable of, but this a joke.
They kick off Jennifer Hudson after she kicks butt with that Barry Manilow song -- but Big Red John Stevens gets to stay? Forget that, he's not even in the bottom three! What's wrong with this country when people can't tell the difference between a great singer and a horrible one?
Man, that's pretty ugly.
Here's a Jon Peter Lewis update, for those who care. I saw an entertainment show this week and Lewis informed his fans, whomever they are, that he has decided to stay in L.A. for a while because he's confident he'll sign a record deal.
Oh, in other news, you won't be reading this column for the next few weeks. I'm heading down to Houston to help my rocket scientist colleagues at NASA build the next space shuttle.
I have a better chance of getting that built than this guy does of getting a record deal.
John Kruk is an analyst for ESPN's "Baseball Tonight"