By John Kruk
Page 2
Baseball is, at the very least, a numbers game. Hitting .300, knocking in 100 runs -- sure, who wouldn't want that?
But at the end of the day, it's all about winning.
That's why the comments Bret Boone made last week don't make any sense.
Boone said it's been a pretty rough year for the Mariners. Why? Because last year at this time, he had about 60 RBIs, and now he only has 20-something.
What?
How about this? It's been a tough year because your team is 13 games under .500 and it's only June and it's already pretty much over for the Mariners.
Boone comes from a baseball family. His grandfather played, his dad played, and his brother Aaron ... just ask any Red Sox fan if he plays.
Coming from a family like that, you'd think he'd have a little more sense. Now, I'm sure it was just a passing comment that someone decided would look great in the morning paper -- but the guy still said it.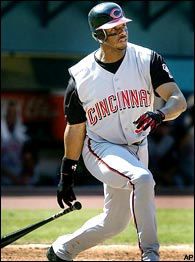 Ken Griffey Jr.'s accomplishment should be applauded -- but winning comes first.
What I'm saying here is that this whole obsession with personal stats is getting a little out of hand.
Take Ken Griffey Jr. The guy is about to hit his 500th home run. Let me tell you, that's a big deal. Think of it this way: Of all the people who have ever suited up for a major league team, there are only 19 who have hit 500 homers. And Griffey is about to become the 20th. That's pretty amazing. You talk to most guys in the league, and they'll tell you that they picture themselves winning a World Series before they picture hitting 500 homers.
OK, all congratulations to Griffey. The guy certainly deserves some praise. However, what is he thinking, telling people he wants Marty Brenneman and Joe Nuxhall to call his 500th? It seems the Reds have a new guy on the mic, and that's just not good enough for Ken.
So that's what this moment has come to? What's next? Is Griffey going to request a certain pitcher to face him? Maybe a minor leaguer who's up for a spot start isn't good enough? He's got to get 500 against a former Cy Young winner or a potential 20-game winner? It all sounds a little ridiculous, doesn't it? Maybe he should just think about hitting the home run first. It's bad enough he has all his friends and family traveling with him so they can witness history.
Once again, don't let me take away from this. It is history. But let's keep our eyes on reality. Griffey isn't the only story in Cincinnati this year.
How about the fact that the Reds are in the hunt in the super-competitive NL Central?
Whatever you do, you have to congratulate Griffey. And when you do, don't forget about Fred McGriff. He's seven shy of his 500th.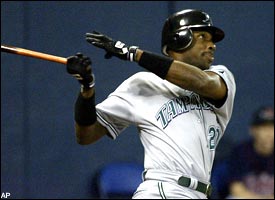 And don't forget about Fred McGriff -- he should be applauded, too.
Right now, McGriff is being used sparingly in Tampa Bay. Sure, he's not in his prime; but when he was, he was the quietest superstar in the league, and one of the most consistent, too. Talk to a few of his managers and they'll tell you. Being able to pen a guy into the lineup every night who you know is going to knock 30-to-40 homers, drive in over 100 runs and hit right around .300 ... I know the pitchers on my teams were never too pleased to face him. He's a feared hitter.
So with all that, any discussion that Fred McGriff shouldn't be in the Hall of Fame is ridiculous. One of the bigger complaints I hear is that he's only sticking around to reach a personal record. Well, did you ever think that he just loves the game? That he wouldn't know what to do with himself if he wasn't playing?
Hey, and if he is hanging on only for records ... well, who didn't do that? You think Hank Aaron and Willie Mays were great players at the end? When Mays played for the Mets, the guy could barely stand up; but he added a few homers to his total. What about Gaylord Perry? That guy stayed around way too long, just so he could get 300 wins.
If they can still produce, and someone is going to pay them? Let me tell you ... it's good work if you can get it. Whether your game is good, bad or ugly, you'd be crazy to turn down that contract.
SPENDING SPREE
Even though it's only June, there are a few free agents that everyone is talking about because their play this season is killing their market value.
Here's a couple of examples: Red Sox pitcher Derek Lowe and Phillies pitcher Kevin Millwood.
Most people had big plans for these guys; and so far, they haven't delivered this season.
Some people look at these guys and feel badly that they aren't going to get the money they want. Stop. Let's not be so naive. These guys are going to get paid. Why? Because this league is full of players who've had a couple of great years, and it's full of owners who think their guys can turn them back into staff aces.
Don't get me wrong: I'm not saying Lowe and Millwood aren't good pitchers. They are. Lowe pitched seven shutout innings in Coors Field on Thursday. But the fact remains that they are in contract years, and they aren't living up to the lofty expectations everyone had.
Let me go back to my point: These guys will get their money, and that's what's wrong with baseball. That's how these contracts get out of control. Agents market guys like this as if their presence in a rotation will decide the pennant.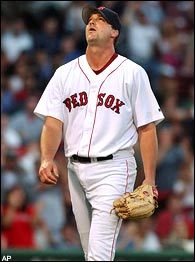 Derek Lowe's having a down year -- but someone will still show him the money.
I don't fault anyone for trying to get a long-term deal. So where does the blame fall in all this? With the teams.
No one put a gun to Tom Hicks' head and told him to pay A-Rod $80 million more than anyone else offered, but he did.
Yeah, we all know that was a mistake. But look at someone like Carlos Beltran. He's already told the Royals that he wants $16 million a year, so they said, "Thanks, it's been great having you around. Good luck." But you know some team is going to come pretty damn close to giving him what he wants. And that's a pretty big risk. It wasn't too long ago that Beltran was so depressed that he was thinking about quitting the game. You want to sign a guy to a five-year deal at $16 million per, knowing he might want to walk away from the game? I don't know what would make you do that.
Actually, I do know. These owners have egos. They want to out-do each other -- especially with a guy like Beltran. They want to sign a guy the Yankees want so they can look like they got the better of George Steinbrenner.
Come on, guys. Let's not try to compete with George. He's in a league of his own, even if he does get hammered for it.
The fun never stops with the baseball critics. On one hand, you have someone like the Reds, a team that qualifies to receive luxury-tax money. Everyone thinks they're cheap and they should be forced to spend their tax money on their team. Then you have a guy like Steinbrenner, who spends his money on his team and gets killed for it.
See, Steinbrenner does it the right way. He has the YES Network and all his marketing partners bringing in enough money to keep him happy for a long time. You might think he's a bad businessman; but once again, the numbers don't lie. Steinbrenner bought the Yankees in 1973 for about $10 million. Well, now the team is worth at least $600-$700 million.
Still think he's a bad businessman?
THE LAKE SHOW -- CANCELED
First off, congratulations to the Detroit Pistons for winning the NBA title. Like everyone else, I didn't think they would win it.
Thing is, I feel bad for Shaq. And there aren't many times when you should feel sorry for a 7-foot-1, 350-pound man. But Shaq looked like the only guy out there who wanted to win. Kobe? Forget it. In the press conference after the Lakers were down 3-1, he's laughing and joking around. Are you kidding me? You're in the championship!
Granted, the Lakers had won three of the past four NBA titles, but does that excuse a bunch of guys who looked like they'd rather have root canal than play?
I don't care what anyone says, Shaq is the only guy who stepped up. If I were a Lakers fan, I'd be pretty ticked off right now -- so much so that I wouldn't care at all if Kobe walked away. The only time he seemed to care is when he hit that shot at the end of Game 2. And then it wasn't because the team won. It was more of the "Hey, look what I did!" variety.
Look at Game 3. These guys could have turned the series around; and at one point, it looked like they might. They toss it to Shaq and he scores four times in a row. No big deal, that's what they're supposed to do, right? Right. But what happens on the fifth time? Kobe shoots some fade-away, off-balance three.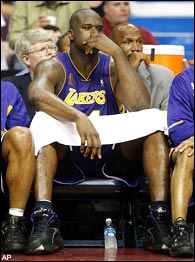 Kruk feels bad for Shaq.
Ah, Kobe. He just can't let Shaq run away with it, can he? He'd rather lose than let the big guy win another Finals MVP.
Kobe wants his own team. He wants to be the man. Well, good luck, pal; and be careful what you ask for. I'll tell you: After a few games with some other team, he's going to be looking for that guy in the middle. He's not going to know what hit him when the defense knows that all shots go through Kobe.
Man, if I had a chance to win a title, I'd give it to Shaq every time. Let him score 100. Who cares if you get your shots, your "touches." You're playing for a championship!
Back in 2001, you think Randy Johnson told Bob Brenly that he's a starter? That he doesn't come out of the bullpen? Hell, no! Why? Because the World Series was on the line, that's why!
Go ask Yankee fans how that worked out.
Hey, as a fan, I'm glad the Lakers lost. I've always hated them -- even when fellow West Virginian Jerry West was running the show.
I'm not saying I love the Pistons, but the Lakers got what they deserved.
I'll tell you, though -- I still feel bad for Shaq.
John Kruk is an analyst for ESPN's "Baseball Tonight."