By John Kruk
Page 2
I, like many other people, was pretty perplexed by the moves the Dodgers made before the trade deadline.
Yes, they got Brad Penny. Is he a front-line starter? Absolutely -- he's a fantastic pitcher, and I think he'll be great in L.A. His biggest problem in Florida was that he didn't pitch deep into games. But when you watch Penny's motion, you see that he exerts so much energy on every single pitch. And the humid, muggy air in Miami couldn't help either. Los Angeles has the perfect climate for him. And look what he did in his first start there -- he gave up only two hits in eight innings of work.
Is Steve Finley an upgrade in the outfield? Yes. The problem is, he only wanted to come to L.A. if he could play center field. Milton Bradley was playing a great center field, and suddenly he had to move to left. So far, there hasn't been a big problem. But sometimes Bradley isn't on the same page as everyone else. He can snap. He has a temper. What happens if he makes a couple errors in left field, and starts complaining? Then you've got a major problem brewing in your clubhouse.
And what do you do when you have a problem in your clubhouse? You go to the team leader. Except the Dodgers' leader is no longer in L.A., he's in Miami. Paul Lo Duca was without question the leader of this team. And not having him anymore is a serious loss.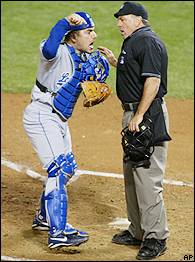 You can replace a bat, a pitcher and a fielder. But never a leader.
I know from experience, from when I was with the Phillies. If Darren Daulton was ever traded, we were done. Our team chemistry would have gone by the wayside. He was the glue that kept the team together. It's especially important when your leader is your catcher, because he has the respect of the everyday position players AND the pitchers. Now, I'm not saying that Brent Mayne can't step in and fulfill that role. But you don't trust anyone else for a while after you lose your leader.
Plus, the Dodgers' whole game plan was getting to Eric Gagne. But they decided to give up Guillermo Mota, who in my opinion is the best set-up man in the National League. Darren Dreifort has a history of arm injuries, and doesn't have a history of holding leads in the eighth inning. Since the trade, Dreifort has already blown a lead late in a game. And Gagne had to pitch three innings in one outing. Gagne has said he'll pitch more innings, and do whatever is asked of him. But he hasn't pitched more than one inning very often, and the results could be disastrous.
I've always thought you build your team around your leader. Look at the Yankees. They've built their entire team around Derek Jeter. We built our Phillies teams around Daulton. The Dodgers were built around Lo Duca.
In my book, Lo Duca and Mota are two guys you simply can't replace, no matter who you get in return. Beyond that, why break up a team in first place? It's beyond me.
You watch, these moves will hurt the Dodgers in the long run.
BAD DREAM TEAM
Speaking of team chemistry, let's talk about the U.S. Olympic men's basketball team for a minute. Larry Brown named Allen Iverson and Tim Duncan the team's captains. Soon enough, Iverson shows up late for a team meeting, and is suspended for an exhibition game.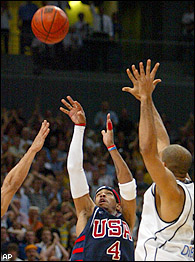 Iverson's attitude wouldn't have lasted 10 seconds on the original Dream Team.
Nothing ever changes.
There's just no excuse for this -- especially when you're a captain. As a captain, you should be the first one at that meeting. You should be there when your teammates arrive, to say, "Let's go to work. Let's get it done. Let's go get that gold medal." And everyone else will then fall into line.
How many chances do you give a guy to show that he can be responsible, a team leader, a guy you can build a team around. Tim Duncan has been a class act his entire career but they pick Iverson as a co-captain? A guy who thinks practice is something everyone else does but him?
Does Iverson give everything he has on the court? Yes. But there's more to leadership than that. Accountability is something he's never learned. He wants to be The Man -- well, part of being The Man is standing up and saying, "Hey, I screwed up." Living in Philadelphia, I've seen his act for too long -- his disdain for practice, his disdain for authority.
Is this a person we want representing our country? Remember back in 1980, when the U.S. hockey team's captain, Mike Eruzione, called up all his teammates to join him on the medal stand? Do you honestly think Iverson would ever call the rest of his teammates up to the stand with him?
I hope the U.S. team wins, regardless of who is on the team. But I really don't want Iverson representing me, as an American. To be honest, I was sort of hoping they would lose on Wednesday to Germany -- and that's sad, when you're rooting against your own country. I'm not anti-American, in any way, shape or form. But I just have a hard time rooting for guys who are only out for themselves.
I love what Larry Brown did, sitting out Iverson, Amare Stoudemire and LeBron James (the other two guys that were late for the team meeting). But then the team goes out and gets beaten by Italy. How did that happen? I mean with all those NBA stars they have -- oh wait, they have none.
I definitely wouldn't call this squad a Dream Team.
HOW YOU LIKE THEM COWBOYS?
So Quincy Carter was cut by the Dallas Cowboys. Reports are that he failed a drug test, and that led to his release. Some people are being critical of the Cowboys, if drug abuse is indeed the reason they let Cater go.
I have to disagree.
Professional sports teams are corporations. And just like any other corporation, they should have the right to make decisions about their employees. Of course, they should try to get them help first, if they do indeed have a drug problem. But if the probem persists, they should have every right to fire him. If I had a business and one of my employees was on drugs, I'd fire him, no questions asked.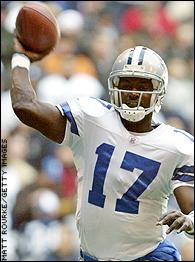 Carter's demons wrote his ticket out of Dallas.
If the Dallas Cowboys cut Quincy Carter because of drugs, I think they did the right thing. They have every right to do what they want to make their team better. Maybe this will serve as a wake-up call to other players, to walk the straight line.
Some people say Carter can sue the Cowboys for a wrongful release and collect millions. Heck, if I had it, I'd give him the money just to get out. There's no place in sports for that.
Jerry Jones has every right to demand that his players don't do drugs. He's paying them millions of dollars. And Jones has put up with a lot of crap with the Cowboys. He's kept players like Michael Irvin and Nate Newton around, despite their struggles with drugs.
I've talked with Irvin about this -- he views Jones like a father. He's told me that if not for Jerry Jones, he'd probably be dead. Jones is not intolerant. Cutting Quincy Carter tells me that this had to be an on-going problem, and that Jones and the Cowboys had simply had enough. It may seem like a rash decision. But I bet it wasn't. Otherwise, how would Irvin have lasted there so long?
I love the move. I love that the Cowboys took a stand. It's about time someone did.
I also loved when Jerry Colangelo traded Jason Kidd out of of Phoenix after Kidd's spousal abuse troubles. Is Kidd a bad guy? No. Did an incident occur which he regrets? Yes. Colangelo decided he just didn't want something like that hovering over his team, and he shipped Kidd out. More teams should do things like that.
If you want to try to take care of a troubled guy and send him to rehab, do it. Get him all the help you can get. But if a player doesn't want help, and won't take responsibility for his actions, get rid of him. He doesn't deserve any more than that.
John Kruk is an analyst for ESPN's "Baseball Tonight."