Commentary
LeBron James hits the big screen
Originally Published:
September 29, 2009
By
Laura Lane
| Special to Page 2
LeBron James knew his place in history at a young age. As a 17-year-old high school student at St. Vincent-St. Mary's, James surrounded himself with photos of players he would later compete against and be compared to. During a scene in the film "More Than A Game" (opens in select theatres on Oct. 2), James returns with his mother, Gloria, to his childhood home, a humble low-income apartment. As memories flood to the surface, James pauses and looks around, pointing out each wall that was covered from floor to ceiling with Kobe Bryant pictures, Michael Jordan on another, Allen Iverson on a third and a collage of other basketball greats on the fourth.
James had already become a star in his own right during high school, gracing magazine covers, signing autographs for fans and being followed closely by the media. While it's easy to feel like James has been an open book since he was a teen, the unprecedented access and footage in "More Than A Game" shows an intimate glimpse into the young superstar's life and those around him.
[+] Enlarge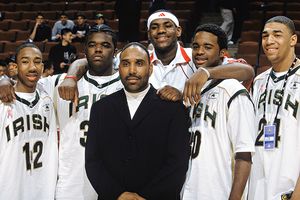 Garrett Ellwood/Getty ImagesLoyalty, not necessarily blood, made you part of the LeBron James family.
The film, which feels more like a heartfelt coming of age sports movie than a documentary, started out as writer/director Kristopher Belman's college project and turned into what would become a seven-year venture for the Akron, Ohio, native. After much hesitation, Belman got the OK from James' coach, Dru Joyce II, to film a closed practice one day. One day turned in to two, and then three.
"They never said 'hey, you gotta stop coming,' but they never said you can come either and then after awhile I was kinda like an unofficial member of the team that couldn't play basketball," Belman says. "In a lot of ways I felt like that kid in 'Almost Famous.'" Soon Belman realized he had stumbled on a larger and much more compelling story than a 10-minute student project, a story of friendship, childhood struggles and the journey of future NBA superstar LeBron James' national-championship winning senior season of high school, which became riddled with controversy as the expense of unmatched fame.
James spent much of his childhood moving from place to place with Gloria, a single mother, who had him at 16. James never knew who his biological father was. "It definitely made me who I am today not having an in-house father because I had to really grow up," James says.
James talks candidly in the film about the adversity in his childhood and his relationship with his mom. "I think his mom's the most influential person in his life by far," Belman says. "They're very open about their relationship and the struggles they went through. He's pretty open about how that affected him. It allows him to take things in stride. He's one of the guys that sees the big picture."
In place of a father figure, James found comfort in Joyce and support from the "fab five," high school teammates Sian Cotton, Dru Joyce III, Willie McGee and Romeo Travis. Together they bonded over their struggles and common goal, to win basketball games.
"It was our getaway at the time really," McGee says. "It was our escape. Coach Dru echoed earlier it can be a vehicle out."
Says James, "It just made us become young men faster than maybe we wanted to but at the same time it helped us throughout our lives."
LeBron's life experience, success and hardship have made him wise beyond his mere 24 years of age. And while it's easy to chastise LeBron and dwell on his seemingly amateur behavior of refusing to shake hands with the Orlando Magic players following his Game 6 loss in the Eastern Conference Finals last season, James seems to have learned from the incident and already moved on.
"In the NBA now if there's criticism going around, he's been through so much at a young age, all these other things are never going to affect him in a way that's all that detrimental," Belman says. "He sees beyond that."
James, who is an executive producer on the film and provided family photos, home videos and hours of commentary, was hesitant at first about being involved. Belman also found other challenges along the way. "Everyone wanted the same thing," Belman says. "'Hey, we're going to write you a check and buy the LeBron footage off of you and do our own thing.' Or 'we'd love to pay you to direct a LeBron movie.'" But once Belman was able to get a 12-minute extended trailer to LeBron and connect with producer Harvey Mason Jr., the film was officially a go.
"So many times you see the finished product," Belman says. "You see this year's reigning MVP or a guy that's one of the best players in the world. You don't know what it took to get there. I think that's one of the reasons LeBron wanted to help promote it and he's doing all these things as well."
In just six years in NBA, James' success includes NBA rookie of the year, an MVP award, a gold medal at the 2008 Beijing Olympics and leading the Cavaliers to the NBA finals. But his career is still without the ultimate test of true star, an NBA championship. "Ultimately I think he wants to win," Joyce says. "I think that's what's driving him now. In his short six years, what else is left?"
While James may never find the same chemistry he had playing with his childhood friends, he seems to be getting closer.
"He's getting some guys around him that he can relax and be who he is with," Joyce says. "That's what was always kind of missing. Mo Williams for sure; I think J.J. Hickson. Those guys are guys he really relates to. Now you add [Shaquille O'Neal] into the mix and Shaq's a guy who's very personal, gregarious and outgoing and those are the kind of people LeBron wants to be around."
With the addition of Shaq, it appears James has found the missing piece he was looking for, which has quieted rumors and uncertainty that LeBron wants to leave Cleveland. Whatever happens this season, LeBron is just living out his dream.
"Kids always have dreams," James said. "Sometimes they feel like the dream is unreachable but as kids we had dreams and Coach Dru gave us a way. There were a lot of obstacles but we did make that dream become a reality. I think it's important for kids to understand that."