Commentary
Long Beach Poly subject of reality show
Originally Published:
May 18, 2011
By
Laura Lane
| Special to Page 2
Long Beach Polytechnic High School -- a school that boasts the bragging rights of having sent more players to the NFL than any high school in the country -- will gain more fame with the new docu-reality series on Current TV, "4th and Forever." The show, premiering on May 26, chronicles the high school's 2010 football team. While the students may be excited about the prospects of insta-fame, no one is more eager about the series than the school's famous alumni.
"When the flier came, I actually printed it out and walked around to my fellow coaches' offices showing them the flier and saying, hey, this is how we roll," said Mark Carrier, a Poly alum and former Chicago Bears safety who is now the defensive line coach for the New York Jets. Carrier attended an early New York screening of the first episode and said the theme was similar to his time at the school: "For me, the moms embracing the sons and telling them how hard they have to fight and being the strong figure without the male figure, brought back tons of memories."
WHO'S WHO AT POLY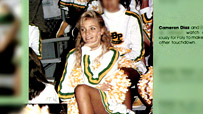 Look back at the yearbook photos of some of Poly's famous alumni, like Cameron Diaz, DeSean Jackson and Snoop Dogg.
Gallery: Poly's celebrities

Carrier is just one name on the long list of NFL players who came out of Polytechnic, which also includes Willie McGinest, DeSean Jackson, Darnell Bing, Winston Justice and Pago Togafau.
"I thought it'd be a pretty good reality show because it has a lot of drama," said Justice, a 2002 graduate who now plays for the Philadelphia Eagles. "The whole community has a whole bunch of drama."
McGinest couldn't agree more.
"It's about time," said McGinest, a 1990 graduate who was selected fourth overall in the 1994 NFL draft by the New England Patriots. "Poly has been a powerhouse for years, dating back to the '70s, as far as putting out talent."
Aside from success, the series is also about overcoming hardships.
"I think the closest analogue for me was 'The Blind Side,'" producer Brian Graden said. "That's what was always in my mind for the storytelling."
The show has also been compared to "Friday Night Lights," but as the graduates know, Long Beach is a rough-and-tumble area.
"It's the inner city," McGinest said. "It's tough just because of the gangs and other stuff they have going on around. You've got to be able to deal with that growing up. It's just a part of life. Sports is a big, big way to get out of there. If you go to Poly, you know you'll have an opportunity."
The show, which explores the struggles of the 2010 football team -- from the coach choosing between quarterbacks (one who happens to be his son) to pressure from the community after a difficult 2009 season -- will bring back memories for many who were able to overcome the temptations of street life and use football as their ticket out.
"I know I viewed it that way, and that's one of the reasons I started playing football was to get that ticket to college," Justice said. "At Poly, you kind of expected to win."
The list of famous faces who have come out of Poly doesn't just stop at the football field. Former high school cheerleader-turned-actress Cameron Diaz, Snoop Dogg (who used the pre-rap name Calvin Cordozar Broadus Jr.), tennis icon Billie Jean King and Baseball Hall of Famer Tony Gwynn also graduated from the school in downtown Long Beach.
"I had a lot of fun at Long Beach Poly," Snoop Dogg said via email. "'Home of Scholars and Champions,' that's what it definitely is to me, as well as a lot of fun times growing up."
"4th and Forever" premieres on May 26 at 9 p.m. ET on Current TV.
Laura Lane is a contributor to Page 2 and ESPN The Magazine.