By Richard Lapchick
Special to Page 2
May 17 is the 50th anniversary of Brown vs. the Board of Education, the landmark Supreme Court decision that led to the integration of America's schools. Just two weeks prior to this anniversary, the Georgia Supreme Court struck down a prior decision involving an African-American high school student-athlete, which showed that, while we have made progress on racial issues, we still have a long way to go. I wondered if the case of Marcus Dixon would even have been heard if the young African-American was not a gifted football player.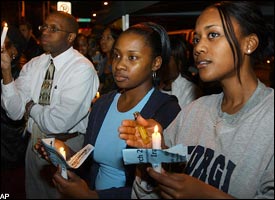 A candlelight vigil was held for Marcus Dixon while he was in prison.
As a civil rights activist, I am often asked if I think that there is still racism in sport or if there is more or less racism in society in 2004. I often answer with an extensive statistical analysis to show where we are and where we still have to go to create a truly equal playing field in both sport and society.
Statistics, with accompanying analysis, can be powerful. However, over the years I have found nothing to be more persuasive to get people to understand than telling stories about athletes to make the point.
When it comes to racism, it is easier to be in denial than to accept the reality that many people still learn to hate on the basis of skin color.
All we have to do is to look at the case of Marcus Dixon. Dixon was a teenager whose star was rising in Rome, Georgia, with a football scholarship to Vanderbilt and a 3.9 high school grade point average. Smart, handsome, he had it all until a white girl, who was 15 years old, accused him of rape.
Dixon admitted to having sex with her, but said it was consensual. According to Dixon, the girl told him that if her father found out she had sex with a black person he "would kill us both." The jurors apparently believed Dixon, and weighed the evidence in the case for only 20 minutes before delivering a not guilty verdict on the rape charge. However, they convicted Dixon of statutory rape and aggravated child molestation since he was 18 years old, legally an adult, and the girl was a minor.
According to legal sources in Georgia, the aggravated child molestation charge had not been applied in any other case. Several jurors said they assumed Dixon would receive a light sentence or simply be released that day. However, the judge invoked a 10-year mandatory sentence without parole. So instead of playing football at Vanderbilt last fall, Dixon went to prison. Bryant Gumbel did a "Real Sports" segment on HBO. Dixon's case ultimately became a cause for Oprah Winfrey and leaders like NAACP president Kweisi Mfume and Children's Defense Fund president Marian Wright Edelman. After Dixon spent a year in jail, the Georgia Supreme Court threw out the aggravated child molestation and freed Marcus just two weeks before the 50th anniversary of the Brown decision.
But what if Dixon was just another African-American male who was not a football star? According to the CDF, 1,139 African-American children are arrested each day. Studies show that, if trends persist, one in three African-American males will be imprisoned before they die. While African-American males make up 6 percent of the total population, they account for 48 percent of the prison population. According to the Census Bureau, 30 percent of African-American children live below the poverty line. The unemployment rate for African-American males is 31.9 percent, triple the national average. Some don't have much to celebrate 50 years after Brown.
Edelman, the nation's leading advocate for children, has said, "This case is about saving Marcus Dixon's life and future. But it is also about taking a stand to stop the unjust incarceration of young black males. If we don't stop this dangerous trend of black males being fodder for a growing prison industry, the black family and black political and economic strength will be destroyed. It's time to fight for our children."
Dionte Hall, a 14-year-old African-American basketball player at Florida's Largo High School in Pinellas County, was on his way to Wendy's with two white teammates. Hall was confronted by John Giannola, a local white boy known for his love of the "old South." According to the St. Petersburg Times, Giannola asked Hall, "Want me to show you what I can do with this rope?" Hall moved past him into Wendy's, where minutes later Giannola entered with a rope tied as a noose which he slipped around Hall's neck. Giannola reportedly left saying, "I hate all you n------." It made Hall think of the horrible murder of James Byrd, who was dragged to death in Texas in 1998.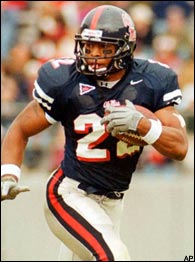 Deuce McAllister starred at Ole Miss, but he wasn't comfortable with the Confederate flag.
Giannola has been charged with a hate crime. According to the government's Uniform Crime Reporting Program, there were 8,832 hate crimes in 2002 -- a typical yearly total. Rarely do any get national attention, but Hall's case did. The town of Largo honored Hall when mayor Robert Jackson gave him a proclamation and a letter of commendation. Hall won a Giant Steps Award for courage on National Student-Athlete Day in April. I am convinced Hall's case got noticed because he is a basketball player.
In the aftermath, Hall took a look at the past and was shocked to learn that there have been 4,000 known lynchings in American history. Stories about him now often mention that total, enlightening others in Florida and Pinnelas County who did not know the number was so large, or that, Florida has the highest ratio of per population of any state. Or that Pinellas County had a historic reputation for racial intolerance. According to the St. Petersburg Times, "Three lieutenants have left the fire department in less than 15 months amid allegations of offensive comments at work." Bias against people of color in housing was documented in a 2002 study. Incidents involving athletes like Dionte Hall have helped shed light on the state of race relations in America.
We still read about controversies over the use of the Confederate flag. Opponents of the flag talk about the symbolism of the South's racist past. Proponents say it only represents tradition. The debates are fierce where the flag is still flown, but discussions persist even where the "tradition" has been terminated. But in many ways, we have heard it all for decades.
I recently spoke on racism in sport on the campus of the University of Mississippi. New Orleans Saints star Deuce McAllister, who played at the university, also spoke. Someone in the audience asked McAllister what it was like to be a black athlete at Ole Miss. He said it was a great experience, and that he would not trade it even though some friends told him he shouldn't go there because of the segregationist history of the university back in the 1960s before James Meredith smashed down the schoolhouse door so closely guarded by then-governor Ross Barnett.
McAllister went on to say, for the first time in public, that the exception was a profoundly painful one. The first time he stepped into the Ole Miss stadium in 1997, full of cheering fans, all he could see were the dozens of Confederate flags blowing in the warm Mississippi breeze. McAllister told the audience that all he could think of was the devastating effects of racism on his family through the generations of his father, grandfather and great-grandfather. I watched the stunned people in the audience, who were overwhelmingly white. Most were natives of Mississippi. Their faces told me that for many it was the first time they truly understood why the university banned the flags in 1998. A genuinely beloved athlete, who happened to be African-American, brought real light to the issue.
Hopefully stories of athletes will continue to inform America that, when it comes to whites and people of color, justice is not equal, hate crimes still occur, and symbols of racism can inflict real and enduring pain even 50 years after the Supreme Court's historic decision in Brown vs. the Board of Education.
Richard E. Lapchick is the Chair of the DeVos Sport Business Management Graduate Program in the College of Business Administration at the University of Central Florida. The author of 10 books, Lapchick also directs UCF's Institute for Diversity and Ethics in Sport, is the author of the annual Racial and Gender Report Card, and is the Director of the National Consortium for Academics and Sport. He has joined ESPN.com as a regular commentator on issues of diversity in sport.