Commentary
Payton 2.0 returns home to Chicago
Originally Published:
May 27, 2010
By
Matthew Lindner
| Special to Page 2
HOFFMAN ESTATES, Ill. -- His football career has taken him from Amsterdam to Nashville, Montreal to Miami, but after seven years and thousands of miles, Walter Payton's son Jarrett is at long last home.
"It's actually a good feeling to be home," says Jarrett Payton, 29. "It's a lot easier to wake up and get ready for a game, drive in your car and be able to go home. It's nice to be around friends and family."
It's been 23 years since a star running back wearing "Payton 34" on his back brought Chicago football fans to their feet, and these days Jarrett Payton is doing just that -- albeit in a slightly different fashion than his Hall of Fame father did.
[+] Enlarge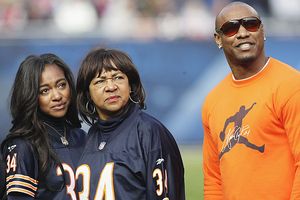 AP Photo/Charles Rex ArbogastBeing closer to his family was the only reason Jarrett needed to return home.
Jarrett stars for the Chicago Slaughter, an indoor football league franchise that plays in a gleaming new arena 40 miles northwest of Soldier Field. His mom, Connie, attends all of her son's games, a constant smile on her face as she watches from her seat just a few rows behind the Slaughter's bench. Once Jarrett's locker room tormentor, Bears legend Steve McMichael is now his head coach and says he has made his father proud both on and off the field.
"He's got a burst, he's just as fast as his daddy was," McMichael says. "His personality is a lot like his dad. He's a little jokester, lighthearted and smiling all the time. It's hard not to love guys like that."
Equal parts showman and star athlete, Jarrett was 7 years old when his father hung up his cleats for good. His father's influence on his son's game is unmistakable. Jarrett says he spends hours each day watching game film of his dad, trying to pattern his game and his life after the man he grew up idolizing.
"Being able to block, being able to catch, even throw, too, if I have to," he says. "I just try to pride myself on being just like him, because to me he was the best all-around football player I've ever seen."
Instead of a traditional 100-yard field, this Payton's place is a 50-yard AstroTurf-covered hockey rink, surrounded by padded walls that players slam into on nearly every play. The crowds are significantly smaller, and so are the paychecks. But at this point in his life, Jarrett says there's no place he'd rather be.
"I'm in a cool place, and this to me is better than playing for the Bears," he says.
Shades of his father, who died in 1999, were evident on Saturday night in the first quarter of the Slaughter's game against Green Bay. Jarrett found a hole in the secondary on a pass pattern and caught the ball on the run, bowling over every last thing in his path for a 47-yard touchdown. The 4,900 in attendance let out a roar loud enough to shake the arena, the same kind of roar his father used to hear so many years ago.
"I never thought it'd happen," he says. "I never thought I'd be playing indoor football, either, so it's truly a blessing, and people in Chicago really have taken to it."
Off the field, he works for his father's foundation and hopes to have his own radio show in the near future.
One opportunity that hasn't come his way is a chance to play running back for the Bears. The team hasn't come calling, nor does he expect it to. But although he's earning only about $250 per game playing for the Slaughter, he's having fun doing it, which is exactly what his father would have wanted.
"I'm not getting rich, but inside my heart it feels like it's the right thing, and I can say this is the most beneficial football I've played in my entire life," he says. "You do something until you don't love it anymore, so I'm gonna keep playing 'til I can't anymore."
Matthew Lindner is a freelance writer for Sports Media Exchange, a national freelance writing network.