Commentary
Baseball a family matter for Guillens
Originally Published:
August 4, 2010
By
Matt Lindner
| Special to Page 2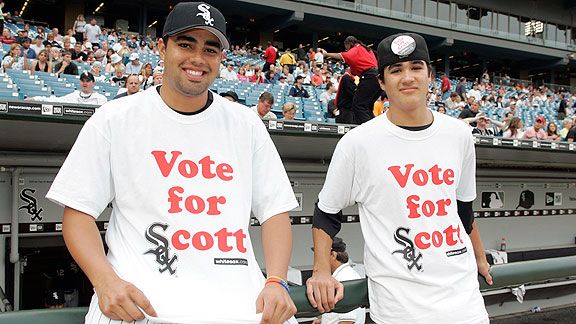 Ron Vesely/Getty ImagesOzzie Guillen Jr. (left) and Ozney Guillen show off "Vote for Scott" Podsednik T-shirts in this '05 photo.
CHICAGO -- When Ozzie Guillen popped off Sunday about how poorly he thinks Latin players are treated by Major League Baseball and its teams, it was, well, just Ozzie being Ozzie.
Guillen's rant about how he thinks Asian players receive preferential treatment as compared to Hispanic players was the same Ozzie who his family sees every day.
"I think he's a bit more calm off the field, but always very straightforward," Ozzie Jr. said. "My Dad's always been a straight shooter. Just be honest and face the facts. For me, [that attitude] was normal. I liked that it was very honest -- no illusion."
That direct nature is something that Ozzie Jr. knows plenty about. As the play-by-play broadcaster for the Spanish-language station WRTO 1200 AM, the 26-year-old Ozzie Jr. will broadcast approximately 50 of his father's games while also working as a public relations intern for the White Sox.
When he's broadcasting, he'll take his Dad's advice -- say what you mean, no matter who you are talking about.
"In the beginning of his broadcasting [career], he was calling me 'Dad' and he wasn't calling me 'Ozzie Guillen,'" the elder Guillen said. "I told him, 'When you're in broadcasting, we're not family.'"
Said Ozzie Jr.: "When the game starts, he's just another manager. He was the first one to tell me, 'You're going to have to critique me.'"
But before the game starts, Ozzie Sr. can often be seen joking around in the clubhouse with Ozzie Jr. And the pair has no shortage of memorable moments together since Ozzie Jr. joined the team's broadcast booth five years ago. In fact, Ozzie Sr.'s World Series win as manager in 2005 coincided with Junior's first season in the booth.
"This job is hard enough already because we don't have time to spend with our kids," Ozzie Sr. says. "I always share my happiness and my sadness with my family and [for Ozzie Jr.] to be there in that moment with me is something we'll never forget about."
But this past weekend, Ozzie Sr. had another moment he'll likely never forget. Though he says the quote was taken out of context, Guillen told the Associated Press that, "We bring a Japanese player [in] and they are very good and they bring all these privileges to them. We bring a Dominican kid ... go to the minor leagues, good luck. Good luck. And it's always going to be like that. It's never going to change."
Because of Guillen's perception, he has insisted that his own children do not expect or receive preferential treatment just because they're Guillens. In fact, Guillen's middle son, Oney, resigned from the White Sox organization earlier this year after a controversy over social media. His youngest, Ozney, is now playing at the University of South Florida, after being drafted in the 22nd round (which Ozzie didn't think was high enough) by the White Sox.
"Believe me, the only thing the last name has done for my kids is maybe a free vodka tonic," Ozzie Sr. says. "They never got anything for free. Not in my house."
Matt Lindner is a freelance writer for Sports Media Exchange, a national freelance writing network.