6. Dale Davis, Golden State Warriors ($10,068,750)
Davis signed his current deal when he was at his peak ... nine years ago, when he was putting up 10 points and pulling down 10 rebounds a game. He wouldn't be making this kind of cash if not for the generosity of the Blazers, who extended his contract two years ago, for reasons only billionaires like Paul Allen can comprehend.
The highest-paid Warrior has been on a four-year slide, and, despite a recent hot streak, is usually uneffective when playing. Which doesn't happen often, unless -- like now -- the Warriors are desperate for able bodies. Davis is averaging 2.7 points and 4.2 rebounds, and shooting .388 from the field, off-the-charts bad, especially considering his career average of .531.
5. Anfernee Hardaway, New York Knicks ($14,625,000)
Penny's played only nine games since Dec. 1, hobbled most recently by an ankle injury. But even when he's on the court, for his average of 23 minutes a game he's ineffective, averaging 7 points and 1.8 assists. Here's the kicker: as his productivity declines, his salary increases.
4. Allan Houston, New York Knicks ($17,531,250)
The rich man's Dell Curry, Houston's best post-retirement move would be as an original player in the new hit reality series, "Overpaid in the Apple." It's a perfect gimmick -- a bunch of young guys (and a gal or two), with multi-multi-million take-homes, on the loose. Here's the twist: put 'em to work in Pittsburgh. Who will be the first to discover their true mediocrity? Will it be the Wall Street Boiler Room sharks? The fashionistas who design clothes for anorexic catwalkers? Or the Knicks? The tiebreaker: take a snap from Steelers center Jeff Hartings in the face of a Pats blitz. Everyone loses. And Big Ben -- who actually earned his salary -- is one of the stretcher-bearers.
3. Dikembe Mutombo, Houston Rockets ($18,760,000)
We don't like to knock Dikembe, but still. The Rockets only pay him $4.49 million, but he's also banking $14.27 million from the Nets. Meanwhile, the old man plays only 13 minutes a night, averaging four points and four rebounds a game. Not a bad deal for Houston, but that's not the point.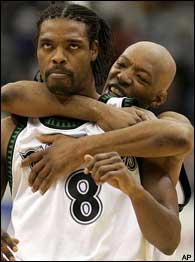 "Yo Spre! We're goin' to Sizzler after the game! You're buyin'!"
2. Brian Grant, Los Angeles Lakers ($13,233,434)
What a wonderful world it must be ... to play 15 minutes, score three points and grab three rebounds, and collect a cool $161,383.34 for your night's work.
Let's break that down:
$10,750 per minute
$53,800 a point
Wow.
Two positive notes: Grant plays especially well on Friday nights, when he averages 18 minutes, 5.7 points, 4 rebounds, and 0.5 assists. And he's the most efficient shooter on the Lakers.
1. Latrell Sprewell, Minnesota Timberwolves ($14,625,000)
What do you do when you're overpaid, barely make enough to feed your family, are getting old in a profession where that's not an asset, and are on the last page of your juicy contract?
After you get your foot out of your mouth, you play. It's your contract year, Latrell and you are being found out. You can put in the minutes, and you can dazzle, still. But, bottom line: 12.5 points, 2.45 rebounds, 2.2 assists. Terrible shooting. And a rapidly declining hairstyle.