Sanders played well for the Skins, but didn't come close to earning his keep, and his side of the field was no longer off-limits. He was ineffective in his secondary role as a punt returner. After the season ended he made it clear he didn't want to play for Marty Schottenheimer, the new head coach, and that he wanted to make it in baseball.
Sanders retired from football in July 2001, and his baseball career ended, too, as he batted a meager .173 for the Reds in 32 games.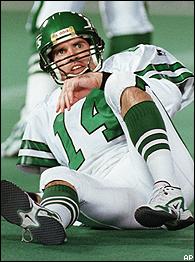 O'Donnell can be seen wandering the streets of Jersey in this outfit.
2. Neil O'Donnell (Jets, 1996)
O'Donnell seemed like a decent pickup when the Jets signed him to a five-year, $25 million deal in 1996. Under his guidance, the Steelers had made the playoffs four years in a row, and won the AFC title in 1995. But in his first Jets season he separated his shoulder, and started only six games; the Jets went 1-15. In 1997, Jets head coach Bill Parcells benched him in the middle of several games – including dreadful mid-season performances against the Pats and the Bears – and O'Donnell watched as his backup, the immortal Glenn Foley, turned those games around.
O'Donnell and Parcells never hit it off, and the Jets let O'Donnell go in June 1998.
1. Scott Mitchell (Lions, 1994)
Mitchell was a hot property in the spring of 1994, courted by the Rams, Vikings, Saints and Lions. Everyone wanted the former Dolphins backup. The Lions lost by winning the sweepstakes, signing Mitchell to an $11 million, three-year deal. "I can't believe all these teams lining up to overpay a guy who's started seven games," one AFC scout told SI's Peter King at the time.
The scout knew of what he spoke. Mitchell was sub-mediocre from the get-go, ending the first half of the 1994 season as the 24th-ranked QB in the NFL. His four full seasons as a Lion were lousy, and in his fifth, he lost his starting job to Charlie Batch. Twice the Lions made the playoffs, and twice they bombed out in the first round thanks, in large part, to Mitchell's terrible performances. If Mitchell had been simply above average, the Lions' offense – featuring Barry Sanders and wide receiver Herman Moore – could have been hard to beat.
Footnote: Before Brian Billick became a genius, he was thrilled to pick up Mitchell for the Ravens in 1998. He played a grand total of two games in Baltimore, completing 24 of 56 passes with 1 TD and 4 INTs.
Also receiving votes:
Sean Gilbert, DE, Panthers, 1998
Bert Emanuel, WR, Buccaneers, 1998
Alvin Harper, WR, Buccaneers, 1995
Warren Sapp, Raiders, 2004
Kerry Collins, Raiders, 2004
Gabe Wilkins, DE, 49ers, 1998
Desmond Howard, WR/KR, Raiders, 1997
Yancey Thigpen, WR, Titans, 2000