Single page view
By Jeff Merron
Page 2
Every once in a while, Page 2 goes global – for example, in this, our periodic, unscientific, apples-and-oranges "Power Rankings" of the best teams in the world right now.
The criteria are simple: Are you great now, or have you been recently, or will you be very soon? The Pistons, for example, can't ride on last year's championship fumes, nor can the Red Sox. The Patriots' Super Bowl victory came two months ago -- ancient history.
Let's go:
10. U.S. women's hockey
Take that, Canada! Finally, after eight straight championship game losses to our northern neighbors, the U.S. women beat Canada for the women's hockey world championship. The win on Saturday night came with the Yanks outshooting the Canadians, 3-1, in a penalty shootout following a 0-0 deadlock after a 20-minute overtime period.
Krissy Wendell was the tournament's leading scorer with nine points and received MVP honors. Teammate Angela Ruggiero was named best defender and U.S. netminder Chanda Gunn top goalie.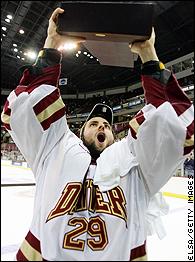 Peter Mannino stopped 44 shots in leading Denver to the title.
9. Denver Pioneers men's hockey

The Pioneers beat North Dakota 4-1 before 17,155 fans Saturday night in Columbus to win their second straight NCAA hockey title and finish the season with a 32-9-1 record. Among the five Pioneers on the six-man All-Tournament team: frosh goaltending phenom Peter Mannino, who got Most Outstanding Player honors after stopping 85 shots in two Frozen Four games, and 19-year-old freshman Paul Stastny (son of Hall of Famer Peter Stastny), who tallied two goals and one assist in the Pioneers' win.
8. Boston Red Sox
Hey, did you hear? Kevin Brown's on the DL! Which sums up the Yankees' major problems in a nutshell: They're a bunch of old guys. Given, they're a bunch of great old guys -- but Gary Sheffield, Bernie Williams, Jason Giambi, Jorge Posada and the Sunshine Home Starting Five are all slowly sunsetting. The Sox have a younger ballclub, one that's still hungry and ambitious and fun. Eighty-six years, then two straight World Series wins? It's gonna happen.
7. Miami Heat
They're winning at home. They're winning on the road. They're dominating the East. They're winning against the West. Shaq and Dwyane Wade mesh like the best English lavender shaving cream on a wet hot badger-hair shaving brush. They're going to the NBA Finals.
6. Chelsea
The English Premiership, Italian Serie A, Spanish La Liga -- ask what's the best soccer league in the world, and it's a toughie. But most give the Premiership the edge. And Chelsea sits on top of that league. It has been 50 years since Chelsea won the Premier League title, but the Blues are 11 points ahead of 2004's defending champs, Arsenal, and 14 ahead of the not-so-mighty Man United, with six games to play. Behind the success: Frank Lampard, John Terry, Damien Duff, Claude Makelele and Petr Cech, ranked 2-6 in the league's Actim Index.
5. Oak Hill Academy Warriors
After going undefeated in 2003-04, the top-ranked prep hoops squad in the country just finished a 34-2 season. This is a high school roster? In any case, All-American guard Jamont Gordon (18.9 points, 8 rebounds) is graduating (he hasn't committed to a college yet); McDonald's All-American guard Eric Devendorf has signed with Syracuse; and K.C. Rivers is Clemson-bound. But 6-foot-9 junior forward Kevin Durant (17.8/9.2) will return. And O.J. Mayo, only the second soph in history to be named Ohio's Mr. Basketball (LeBron was the first), might be on his way to Oak Hill for his junior season. But that's just a rumor.