By Jeff Merron
Page 2
We bathe in the benefit of hindsight, looking back at the smartest, boldest, and classiest moves of 2004.
10. Fans, teammates, Sisler's daughter honor Ichiro
Amidst all the talk about sports rage, let's give a nod to some classy behavior. When Ichiro Suzuki broke George Sisler's single-season hit mark, set in 1920, he was feted big time in Seattle, and Sisler's daughter, 81-year-old Frances Sisler Drochelman, was there at Safeco Field to congratulate him. "My father would have been delighted," Drochelman said. "He would be so happy to know such a fine young man was doing so well."
9. IOC gives humanitarian award to Vanderlei de Lima of Brazil
Vanderlei de Lima of Brazil, leading the Olympic marathon by 20 seconds about six kilometers from the finish, was attacked by a defrocked priest who pushed the stunned runner into the roadside crowd. De Lima, shaken, returned to the course, but lost at least 10 seconds and a lot of momentum, and finished third for the bronze medal.
The IOC recognized de Lima's extraordinary graciousness -- he believed he would have won if not for the attack, but displayed no public bitterness -- and awarded de Lima the Pierre de Coubertin Medal at the closing ceremony.
8. Mike Krzyzewski stays at Duke
There were lots of temptations in La La Land for Coach K -- including a $40 million offer and a chance to play under the biggest spotlights in the NBA. But by staying at Duke he continues to honor his lifetime contract and commitment to the university (and at the same time he'll never have to worry about feeding his family).
7. Eagles acquire Terrell Owens
It required weeks of maneuvering, but the Eagles got Owens after completing a three-way deal that saw defensive end Brandon Whiting going to the 49ers and a fifth-round draft pick to the Ravens. To Owens, of course, they gave up a big chunk of change -- $10 million up front in a 7-year, $42 million deal. But what have they gotten in return? An enormous lift at wide receiver, instant karma with Donovan McNabb, and, I predict, that ever-elusive Super Bowl appearance (and victory).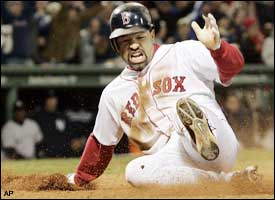 Roberts' swipe of second was the Steal Heard 'Round the Nation.
6. Dave Roberts steals second
Was it the greatest stolen base in baseball history? With the Red Sox three outs away from an ALCS sweep, Kevin Millar walked, and Dave Roberts came in to pinch-run. He managed to distract Mariano Rivera in a big way, drawing three pickoff attempts before taking off and stealing second on the first pitch to Bill Mueller. When Mueller stroked a single to center, Roberts scored to tie the game, and send it into extra innings.
Credit GM Theo Epstein for picking up Roberts from the Dodgers at the trading deadline, Roberts for studying up on Rivera and pledging to make the most of his bit role, and Bosox manager Terry Francona for giving Roberts the green light in a risky situation.
5. Steelers draft and play Ben Roethlisberger
The Steelers were planning on drafting Arkansas tackle Shawn Andrews after Philip Rivers and Eli Manning went with the high picks, but when the Browns passed on Big Ben, they plucked him like ripe fruit from the draft tree. Pittsburgh knew that starter Tommy Maddox wouldn't be happy with the choice (he wasn't), but it didn't matter: Bill Cowher immediately began talking about Roethlisberger possibly starting as a rookie. When Maddox backup Charlie Batch went down for the season in August, Cowher moved Roethlisberger up to No. 2 on the depth chart and Ben was ready to go when Maddox got hurt.
4. Pistons pick up Rasheed Wallace
The Pistons were very good (34-22) before Joe Dumars traded three reserves and two first-round draft picks for Rasheed Wallace on Feb. 19; after they got him, they were great, winning 36 of their final 49 games (including the playoffs).
Wallace made the difference in the regular season, was huge against the Lakers in the finals, and quickly became a fan favorite in Detroit.
3. Michael Phelps withdraws from 400-meter medley relay final
In an act of pure generosity, Phelps, who had already won five gold medals, could have gone for more glory by being on the victorious team in the finals. Instead, he gave his spot to Ian Crocker, the world-record holder, whom he had beaten in the 100 butterfly by a scant .04 seconds.
"I'm speechless," said Crocker, "It's a huge gift, but difficult to accept. It makes me want to just go out there and tear up the pool tomorrow."
He did, with Phelps leading the cheering from poolside. Crocker's blazing leg contributed to a U.S. triumph and world record. Both he and Phelps, who swam in the 400 IM preliminary rounds, got gold medals.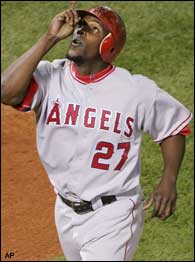 With the stroke of Vlad's pen on his new contract, the Angels were contenders again.
2. Angels sign Vladimir Guerrero
At the last minute, the Angels swooped in to sign Guerrero, grabbing the outfielder at the peak of his career for $70 million over five years. Angels owner Arte Moreno, by opening the pursestrings, immediately made the Angels contenders again. Guerrero, voted AL MVP, was the difference maker as the team won the tough AL West. He was completely clutch, crushing the competition in September, and he finished the season with a .337 batting average, 39 homers, 126 RBI, and a league-leading 124 runs and 366 total bases. The best part? Vlad's only 28.
1. Red Sox grab bag
The Bosox made such good moves that we're going to lump almost all of them together. GM Theo Epstein traded Nomar -- an icon who'd become a drag -- to the Cubs. Curt Schilling got his ankle sutured before Game 6 of the ALCS, then shut down the Yankees. Terry Francona stuck with the slumping Mark Bellhorn in Games 5 and 6 of ALCS when Red Sox fans everywhere wanted him benched -- and Bellhorn came through with a three-run homer in the fourth to give the Red Sox a 4-0 lead. When asked if he would replace Bellhorn with Pokey Reese, Francona said, "No. Why? He drove in 80 runs. That's a lot of runs. That's a lot of RBIs. We'll do it like we usually do it ... Bellhorn is a very underrated, very underappreciated player. We have more confidence in him than you guys [reporters] do. He's a pretty good player."
Also receiving votes:
Astros sign Clemens, trade for Beltran
NASCAR adopts "Chase for the Championship" playoff system
Yankees acquire Sheffield
Tigers acquire I-Rod