By Jeff Merron
Page 2
Our favorite lists which appeared on Page 2 in 2004 ... with some second thoughts.
10. The greatest NFL coaches ever
On second thought, Tuna gets canned, George Allen gets the 10-spot all to himself, and Chuck Noll moves up.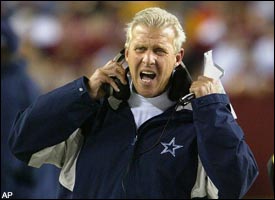 Bill Parcells hasn't helped his legacy with a dismal 2004 in Dallas.
9. The best rookie quarterbacks
Slim pickings. But, should Joe Willie be higher? Is Greg Cook the most forgotten shoulda-been in modern NFL history?
8. The strangest World Series moments
"The One With ..." intros gave the mistaken impression that I was suffering "Friends" withdrawal -- not true. That jumped the shark the seventh time Ross and Rachel got hitched ... and it needs a "bloody sock" update.
7. The best QB/receiver combos
Manning to Marvin should have made it. But who to leave off?
6. Great feats we'd like to see
Couple of second thoughts: 50 by Eli in 2010? The future is now and fraternal. Barry Bonds .400? Not without his "flaxseed oil."
5. 100 Greatest Super Bowl Moments
Compiled before the Panthers-Pats matchup, this one needed an update within weeks. I'd slap Tom Brady's 17-yard pass to Deion Branch and Adam Vinatieri's 41-yard figgie somewhere in the top ... 10? But not without consulting Super-Savant Kevin Jackson, who got this list rolling by rattling off about 70 of 'em in one idle Sunday evening hour.
4. The greatest collapses in sports history
Inspired by the 2003 Vikings, this January list needs an update: the Yankees' October demise has some serious juice to be ranked very, very high.
3. The most memorable anthems
Second thought: We'll never, ever, ever forget "We Are the Champions." It sticks like the "Gilligan's Island" theme. It's not a national anthem (so officially wasn't qualified), but it is an anthem, it is awful, and the more you try to forget it, the stronger it sticks.
2. The best all-around athletes
Solid, but maybe a few tweaks: move Bo up a slot or two, move MJ up a slot or two.
1. 100 Biggest Innovations
Second thoughts galore: Air Jordans lower. Sports talk higher. Instant replay lower. Sabermetrics higher. And so on.