By Jeff Merron
Page 2 staff
Stanford's miracle finish to beat Arizona on Saturday kept the Cardinal undefeated in men's college hoops, matching Saint Joseph's perfect 20-0 start. On the women's side, there are no undefeated Division I teams in the top 25. And in college football, we had a season with no perfect Division I records.
We haven't seen an undefeated top-level men's college team since the 1976 Indiana squad. As the seasons get longer and top players leave early for the pros, we see fewer and fewer truly dominating teams. Will the Cardinal or Hawks complete the 2003-04 season undefeated and then win the NCAA Tournament? It's seems unlikely. If they do, they might be able to elbow their way onto Page 2's list of the top 10 undefeated teams of all time: 10. 1956 San Francisco basketball (29-0)
The Dons starred future Hall of Famers Bill Russell and K.C. Jones, and were coached by future Hall of Famer Phil Woolpert. Along with Hal Perry, Mike Farmer (who played seven NBA seasons), and other vets, they ran their undefeated streak to 55, even though Jones was ineligible for the postseason. This was a truly great team, not only because of the players, but also because of Woolpert's implementation of the full-court press for the entire game. With the aggressive defense, the Dons played a fast game for the time, averaging 71 points per game while holding opponents to just 52. USF won every game by seven or more points and beat Iowa 83-71 for its second straight title. 9. 1945 Army football (9-0)
The 1945 Army team, starring Mr. Inside (Felix "Doc" Blanchard) and Mr. Outside (Glenn Davis) was, in its time, a football dream team. A huge part of the dream: World War II ended before the 1945 season began, and Army obviously had a whole lot to celebrate no matter what. The team was coming off a perfect 1944 season and a national title, and the question was whether the Black Knights could repeat. The early games were runaways -- 32-0, 54-0, 28-7, etc. The last three games of the season -- against Notre Dame, Penn, and Navy -- would be the true tests. Army passed (no pun intended) in flying colors. crushing Notre Dame 48-0 at a sold-out Yankee Stadium. They followed with a 61-0 pasting of Penn, that school's worst loss since the late 1880s. And two weeks later, in what would be the national championship game, Army blew out undefeated Navy 32-13 before 103,000 fans in Philly. On the season, Blanchard scored 19 TDs, ran for 718 yards, and won the Heisman Trophy; Davis was runner-up. Four other Army players were first-team All-Americans. And it was a giddy time: The usually sober New York Times ran this subhead over a report on the Army-Navy game: "Army-Navy Grand Spectacle a Sample of Super-Colossal Things to Come in Sports."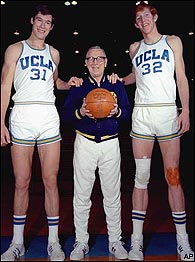 Bill Walton (right) and Swen Nater provided a Twin Towers for John Wooden.
8. 1972 UCLA basketball (30-0)
The best of all the undefeated UCLA teams under John Wooden, the Walton Gang won its regular-season games by an NCAA record 30.3 points. How'd they do it? Think Bill Walton, Keith Wilkes, Swen Nater, and Henry Bibby. Bibby and Walton would both be named first-team All-Americans.
After UCLA beat Florida State 81-76 to win the national championship, Walton sounded almost disappointed -- he and his team didn't play well. "I'd have to say it was one of my worst games," Walton said. "We should have beat these guys with ease. I guess I should be happy that we won, but, in all honesty, I'm not." 7. 1972 USC football (12-0)
Keith Jackson called the 1972 Trojans the best college football team he has ever seen, and it could be so -- they beat five ranked teams. After this performance, they became the first team ever to get a No. 1 vote on every ballot in the coach and media polls. The Trojans, starring QB Pat Haden, running backs Sam Cunningham and Anthony Davis, wide receiver Lynn Swann, and All-America linebacker Richard Wood, outscored opponents 467-135 and never trailed in the second half. USC boasted an awesome defense, never giving up a run longer than 29 yards, and picked off 28 passes. In the Rose Bowl, the Trojans clobbered Ohio State 42-17. Cunningham scored four TDs, and Davis racked up 157 yards on the ground. USC's closest call all season: a nine-point win over Stanford. 6. 1971 Nebraska football (13-0)
Many people consider this Nebraska team to be the best college football team of all time. Coached by Bob Devaney, the Huskers never won by fewer than 24 points -- except for the "Game of the Century," which we'll get to in a moment. Six Huskers -- Rich Glover, Willie Harper, Johnny Rodgers, Larry Jacobson, Jeff Kinney and Jerry Tagge -- were named All Americans, and in 1972, Rodgers would win the Heisman, with Glover finishing third in the voting. The Huskers' closest call came in what was one of the
greatest games in college football history
-- a 35-31 victory at Oklahoma on Thanksgiving Day. Five members of the 1971 Nebraska squad would be first-round NFL draft picks: Kinney, quarterback Jerry Tagge, Jacobson, Rodgers, and tackle John Dutton.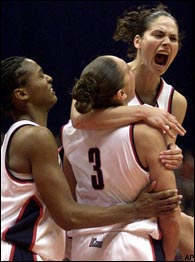 Sue Bird and the Huskies beat Oklahoma 82-70 in the title game.
5. 2002 Connecticut women's basketball (39-0)
Geno Auriemma's Huskies didn't just go unbeaten -- they dominated in a fashion unmatched in college basketball history, winning by an average of 35.4 points per game. The UConn women led the nation in both scoring offense (87 ppg) and defense (51.6 ppg).
A few typical scores: UConn 88, St. John's, 28; UConn 112, Pittsburgh 43; UConn 106, Providence 41. The three players who led the Huskies -- Sue Bird, Swin Cash, and Diana Taurasi -- were named All-Americans; Bird and Taurasi might have been the best backcourt combo of all time; and the entire starting five, including Asjha Jones Tamika Williams, averaged double figures. Four of those five were seniors, and one mark of their greatness was that year's WNBA draft: Bird was picked first overall, Cash second, Jones fourth, and Williams sixth. Closest call: a 59-50 win on Jan. 29 at Virginia Tech. 4. 1992 North Carolina women's soccer (25-0)
The 1992 UNC squad, featuring Mia Hamm, remains the best team in NCAA women's soccer history. Along with Hamm, the Tar Heels had two other team members who'd be named national player of the year -- Kristine Lilly and Tisha Venturini. Throughout the entire season, North Carolina trailed only twice and outscored opponents 132-11. Hamm finished the season with 32 goals, including a hat trick in the NCAA title game, a 9-1 laugher over Duke.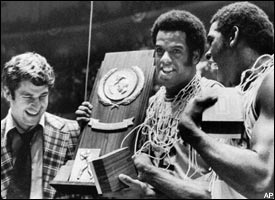 Scott May (center) scored 26 points in the NCAA title game.
3. 1976 Indiana basketball (32-0)
In winning the 1976 national title, Bobby Knight's Hoosiers completed a two-season 63-1 run. Indiana's starting five included three All-America selections: Scott May (the Player of the Year), Kent Benson, and Quinn Buckner, a combination largely responsible for Indiana's huge average margin of victory -- 27 points a game. In the NCAA Tournament final, the three combined for 67 points in an 86-68 victory over Michigan. And after college, each would be a first-round NBA draft pick.
The Hoosiers began their season by trouncing the defending national champs, UCLA 84-64. Their closest call: A 66-64 victory at Ohio State on Jan. 3. 2. 1995 Nebraska football (12-0)
Tom Osborne's Cornhuskers steamrolled through their season, finishing it off by trouncing second-ranked Florida 62-24 in the Fiesta Bowl for the national championship. The key to the Huskers' dominance was their running game. They led the nation in piling up 399.8 yards per game. They led the nation in scoring, averaging 52.4 points a game, and outscored opponents 638-174. Among the team's stars: QB Tommie Frazier, who was second in the Heisman voting; freshman RB Ahman Green, who rushed for 1,086 yards and 12 TDs; C Aaron Graham, first-team All-American; and LB Jared Tomich, first-team All-American. Closest call: A 35-21 victory over Washington State in the fifth game.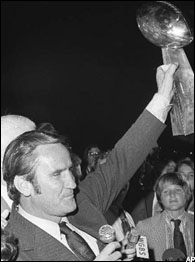 No NFL team has been able to match the perfect season of Shula's Dolphins.
1. 1972 Miami Dolphins (17-0)
Yes, we give a pro team the top nod. The Dolphins' undefeated season -- 14-0 in the regular season and 3-0 in the playoffs and Super Bowl -- remains a singular accomplishment. No other team in the Super Bowl era has gone undefeated, and you have to go back to the 1930s to find any other unbeaten NFL team.
The Dolphins top this list for that reason, and a few others. They led the NFL in offense. They had the best defense in the league. Their running game was one of the best of all time, featuring Larry Csonka, Mercury Morris, and Jim Kiick. And Earl Morrall did a great job filling in for an injured Bob Griese most of the season. Some argue the Dolphins aren't even the best NFL team ever -- that they had one of the easiest schedules in modern NFL history. This is true -- they faced only one winning team before the playoffs. But the fact is that there's no way to know how Miami would have done against a tougher schedule, except to look at the playoffs, in which they beat the Steelers 21-17 for the AFC Championship, and the Redskins 14-7 in the Super Bowl. Another measure of their greatness: nine Dolphins were Pro Bowlers -- DB Dick Anderson LB Nick Buoniconti, Csonka, Morris, linemen Norm Evans and Larry Little, DB Jake Scott, DT Bill Stanfill and WR Paul Warfield. Closest call: Playing against the Bills in Miami in Week 6, Miami slid by with a 24-23 win.
Also receiving votes:
1956 Oklahoma Sooners football (10-0)

1957 North Carolina Tar Heels basketball (32-0)

1967 UCLA Bruins basketball (29-0)

1974 Oklahoma Sooners football (11-0)

1998 Tennessee Lady Vols basketball (39-0)

2001 Miami Hurricanes football (12-0)

2003 North Carolina Tar Heels women's soccer (27-0)