Single page view
By Jay Lovinger
Page 2
It's the first anniversary of when I hit the road for my poker-playing journey. So, theoretically, the odyssey, which was billed as "yearlong," should be over.
Fortunately – or unfortunately, depending on your perspective – this particular poker year, officially measured from the 2004 World Series of Poker through this year's WSOP, is 14 months, plus a smidgeon.
So instead of the customary What I Learned wrap-up, here's my first annual How My Hopes and Dreams Have Shifted column.
When I first started out, back in April of 2004, my "Over the Rainbow" dream was to appear on TV – not as a poker commentator, or an MSNBC expert on the play of Ben Affleck (astute readers will remember that I already "accomplished" that rare feat), but as a member of a final table ... any final table, even of a WPT "Bad Boy" event.
My more realistic goal was not to lose too much money. Getting acquiesence from my long-suffering wife to be away most of the year while she was basically single-handedly raising our two teenage daughters involved some sophisticated groveling – namely, I had to promise to limit my losses to my book advance, which, after taxes, agent fees, etc., came to about $50,000. My worst fear was that I would lose all the money during my first trip to Vegas, and then would have to spend the rest of the year playing online (play money only) trying to accumulate free gifts that I could sell to unsuspecting ESPN employees to raise money to get back into the game.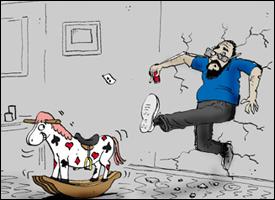 Luckily, it never came to that.
In fact, thanks to a great run of Act III cashes at Foxwoods – four in all, which, given how the rest of my year has gone, competitively, is beginning to look like the biggest stroke of luck since James Gandolfini got the lead role in "The Sopranos" – I managed to win a seat in the $10,000 buy-in WPT event at the world's largest casino in November, not to mention running my bankroll up to almost plus-$40,000.
This, of course, required a whole new set of hopes and dreams, the most fantastic of which was that I could actually "make a living" at this game. More to the point, I actually came to believe I could do some damage in the WPT tournament. Was I really that delusional? Judge for yourself: I actually got irritated when I had to sign a non-disclosure agreement to play in the tournament, because I resented the fact that I would not be able to write about it if I won until after the event aired on the Travel Channel months later.
<!––––––––––-INLINE TABLE (BEGIN)––––––––––->
The ESPN Poker Club!
Now you can visit the Poker Club, a brand new section of ESPN.com that includes content, coverage and analysis of the poker world. And when you're feeling lucky, join in our new Poker Game, which provides poker fans a new way to play. Check it out!
<!––––––––––-INLINE TABLE (END)––––––––––->
(I guess I'm a slow learner on this front. Back in the late-'50s, when I first began – underage – to attend harness races at Monticello Raceway in upstate New York, I made my first parimutuel wager, a $2 place bet on a cheap claimer whose name I've long forgotten. Soon after the nag, a heavy favorite, staggered across the finish line in second place, the tote board lit up, showing a $3.20 payoff to place on my pick. Theoretical mathematicians among my faithful readers will immediately recognize this as a 60 percent profit for little more than two minutes of labor and worry, which, extrapolated into an average work week of 40 hours is roughly the equivalent of almost $150,000 in annual compensation. My tempered reaction? I turned to my equally underage companion and shouted, "Hey, they're giving money away here!" Needless to say, in the subsequent four-plus decades, I've paid dearly for that remark, returning that $1.20 many thousandfold to horse racing ovals throughout North America.)