The operative number in sports this month has been 42, as dozens of MLB players have paid tribute to Jackie Robinson by donning the forty-deuce.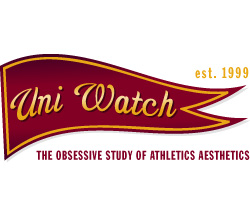 And that got Uni Watch thinking. Because let's face it, wearing Jackie Robinson's number, even if only for a day, is a pretty obvious gesture. But it's a little more subtle to wear, say, 37 because you were the 37th pick in the NBA draft (as
Nick Van Exel
once did), or to wear 49 because your last name matches the state capital of Alaska, the 49th state (that would be
Joe Juneau
). And those are just two of the countless explanations for why players have worn particular numbers.
So Uni Watch recently decided to create a roster of athletes, past and present, who've worn specific numbers for specific reasons. The idea was to document at least one example for every number from 0 to 99 -- no easy task, as it turned out (let's see you come up with someone who felt strongly about wearing 63). But thanks to a big research assist from the readership of the Uni Watch blog, the project was a success -- proof positive that even the most seemingly oddball number can carry symbolic weight, at least to somebody.
OK then, without further ado, here's Uni Watch's "By the Numbers" roster (including examples for a few uni numbers you might not have thought of):
Number
Worn by
Because
0
Al Oliver,
Rey Ordoņez
Their last names started with O.
0
Gilbert Arenas
Arenas was told that's how many minutes he'd get to play at Arizona.
00
Jim Otto
Double-zero mimicked his last name, and sounded like it too ("Aught-oh").
1/8
Eddie Gaedel
Tiny number for a tiny player.
1
Tracy McGrady
Grew up idolizing Penny Hardaway.
2
Kelly Johnson
Born on 2/22/82.
3
David Wells
In honor of Babe Ruth.
4
Lou Gehrig
The first uniform numbers were based on a player's place in the batting order, and Gehrig batted cleanup.
5
George Brett
In honor of fellow third baseman Brooks Robinson.
6
Jolbert Cabrera
He was the sixth MLB player from Colombia.
Johnny Neves
His last name was "seven" spelled backwards.
7
Chris Redman
Born on 7/7/77.
8
Gary Carter
As explained in an old episode of "This Week in Baseball": "I was born on April 8, I was married on April 8. Eight's always been my lucky number and I wouldn't give it up for anything."
9
Drew Brees
A salute to his childhood hero, Ted Williams.
09
Benito Santiago
He was originally wearing 9, but he didn't like how the number was covered up by his chest protector's vertical strap, so he added the zero to create a double-digit number.
10
Tony La Russa
To symbolize the Cardinals' quest for a 10th World Series championship.
11
Jimmy Rollins
At 5-foot-8, Rollins jokes that the two vertical strokes make him look taller.
12
Eddie Perez
Splitting the difference between Venezuelan heroes Luis Aparicio, who wore 11, and Dave Concepcion, who wore 13.
13
Edgardo Alfonzo, Ozzie Guillen and several other Venezuelan ballplayers
In tribute to fellow Venezuelan Dave Concepcion.
14
John Buck
As explained on Royals.com: "My little brother passed away when I was in A-ball. When we were growing up, I was 11 and my brother was 44, so I put them together and came up with 14. I've been 14 ever since then, except when [Tony Graffanino] had it when I first came over here. So I took 2 until 14 opened up."
15
Sandy Alomar Jr.
A memorial tribute to fellow catcher Thurman Munson.
16
Pau Gasol
As explained on NBA.com: "16 was the number they used to give to young players becoming professionals back in Spain. Until a couple of years back you could only choose from number 4 to number 15 … [and] 16 and 17 were the additional numbers for the young players when somebody got hurt. … They gave me the 16 in my first year with F.C. Barcelona."
17
Plaxico Burress
He signed his free-agent contract March 17.
18
Peyton Manning
18 was the number worn in high school by his older brother, Cooper, who later was diagnosed with spinal stenosis.
19
Steve Yzerman
In honor of Bryan Trottier.
20
Evgeni Nabokov
and Ed Belfour
A tribute to Russian goalie Vladislav Tretiak (who served as Belfour's goalie coach with the Blackhawks).
21
Sammy Sosa,
Ruben Sierra,
Carlos Delgado,
and many others
In honor of Roberto Clemente.
22
Roger Clemens
Clemens had worn 21 with the Red Sox and Blue Jays, but that number wasn't available when he joined the Yankees. So he reversed the numerals and wore 12. But when he didn't pitch well, he switched to 22 because his son's favorite football player was Emmitt Smith.
23
Michael Jordan
23 is half of 45 (well, roughly), which was the number worn by his older brother, Larry.
23
Don Mattingly
He originally was assigned 46. But when he became the team's everyday first baseman, clubhouse manager Pete Sheehy thought 46 was an unseemly number for a Yankees starter, so they agreed to cut the number in half.
23
Chris Drury
In honor of Mattingly.
24
Barry Bonds
In honor of his godfather, Willie Mays. (He couldn't wear 24 upon joining the Giants because it had been retired for Mays, so he switched to 25 in honor of his father, Bobby Bonds.)
25
Jason Giambi
The numerals add up to 7, which is his way of paying tribute Mickey Mantle.
26
Petr Cajanek
and several other Czech players
In honor of fellow Czech Peter Stastny.
27
Motonobu Tanishige, Atsuya Furuta,
and many other
Japanese catchers
In honor of Carlton Fisk.
28
Mitch Williams
Williams had worn 28 with the Cubs. He wanted to keep the number when he joined the Phillies because his wife had lots of 28-themed jewelry. So John Kruk, who was wearing 28 for the Phils at the time, famously sold the number to Williams for two cases of beer.
29
Marc-Andre Fleury
In honor of Ken Dryden.
30
Ken Griffey Jr.
Griffey had worn 24 with the Mariners, but he switched to 30 upon joining the Reds, in honor of his father. (More recently, he has switched to 3 because that's the number all three of his kids wear in their various youth leagues.)
31
Jarron Collins
In honor of Reggie Miller.
32
Charles Barkley
Barkley usually wore 34, but he switched to 32 for a time after Magic Johnson announced that he had contracted HIV.
33
Justin Morneau
Morneau, a native Canadian, grew up idolizing Patrick Roy.
34
Kerry Wood
A tribute to Nolan Ryan.
35
Samkon Gado
In honor of fellow Nigerian running back Christian Okoye.
35
Tony Esposito
From the Hockey Hall of Fame's Web site: "When he got to Chicago, he wanted a non-traditional number. The standard issue 1 and 30 [the usual goalie numbers at the time] were taken, so he asked for 35. 'I wanted something different,' he said, 'something to make me stand out and for people to notice.' "
36
Royal Ivey
Wore 12 in high school, then wore 24 in college (to symbolize "taking it to the next level") and chose the next multiple of 12 upon going pro.
37
Deion Sanders
He was 37 years old when he joined the Ravens.
38
Jan Hrdina
Number previously worn with the Penguins by Jiri Hrdina (no relation).
39
Steven Jackson
Chose 39 because he felt there hadn't been any other big-name players wearing it so he could be "the" 39. (Apparently Jackson has never heard of Larry Csonka.)
40
Joe Forte
Say his last name out loud.
40
Mike Ricci
In memory of Pat Tillman.
41
Charles Nagy
In honor of boyhood idol Tom Seaver.
42
Mo Vaughn, Butch Huskey and many others
In honor of Jackie Robinson.
43
Brad Daugherty
In honor of Richard Petty.
44
Reggie Jackson, Eric Davis, Willie McCovey and many others
In honor of Hank Aaron.

44
Pete Maravich
He originally wanted to wear 23, which he'd worn at LSU, but Lou Hudson was already wearing that, so Maravich chose 44 because it was his LSU scoring average.
45
Mark Carreon
Same number worn by his father, Camilo Carreon.
46
Dave Righetti
Righetti wore 19 throughout his playing and coaching career until last summer, when he gave up 19 to rookie Kevin Frandsen (a longtime family friend) and instead took 46 in honor of former Giant Kirk Rueter.
47
Andrei Kirilenko
His initials plus the number create "AK-47," like the assault rifle (which, coincidentally, was first manufactured in Izhevsk, Russia, which is Kirilenko's hometown).
48
Jimmie Johnson
Johnson's car is owned by teammate Jeff Gordon, whose car is No. 24.
49
Tim Wakefield
Same number worn by fellow knuckleballers Charlie Hough and Tom Candiotti.
50
Sid Fernandez and Benny Agbayani
They hail from Hawaii, the 50th state.
51
Bernie Williams
In honor of his homeland of Puerto Rico, the "51st state."
52
Eric Piatkowski
As explained on NBA.com: "Heading into my junior year of high school, they had the twenties, thirties, forties and fifties for us to choose from. The fifties were the largest size uniform, and that was the only one that would fit me. So I ended up with 52."
53
Orel Hershiser
Hershiser wore 55 for most of his career, but that number wasn't available when he played for the Giants, so he took 53 as a tribute to Don Drysdale.
54
Tedy Bruschi
As explained on PatriotWorld.com: "Five and four add up to nine and my mom told me in numerology that nine is the perfect number. I was born June 9, my anniversary is the 27th, and 2 and 7 are 9, and 54 is the actual number of sacks I had in college, because I had 52 and then two in an all-star game."
55
Dikembe Mutombo
Mutombo wanted to wear 15 in college, but coach John Thompson didn't like his big men to wear low numbers. So they gave him 55 instead, and he has stuck with it ever since.
56
Jim Bouton
As explained in "Ball Four": "The year I was given 56 was the year I made the club. Toward the end of spring training … the clubhouse man said, 'Listen, I got a better number for you. I can give you 27.' I told him I'd keep 56 because I wanted it to remind me of how close I was to not making the club. I still wear 56. I'm still close to not making the club."
57
Steve Heinze
Heinz(e) and 57 are a natural pairing.
58
Dan Hinote
The numerals add up to 13, the number he previously wore with the Avalanche.
59
Don Zimmer
Zim increases his number by one each season to match the number of years he has been in baseball (hence his progression from 53 in 2001 to 54 in '02, 56 in '04 and 58 in '06). This year, he's up to 59.
60
Scott Schoeneweis
A reminder of the hurdles he's overcome.
61
Josh Beckett
Wanted to wear 19 but it was taken by Mike Lowell, so he rotated it 180 degrees to get 61.
62
Martin Rucinsky
Wanted to wear 26, as he'd done in several earlier stops in his career, but it wasn't available, so he reversed the numerals.
63
Mike Ribeiro
As explained by The Dallas Morning News: "Ribeiro said he chose 63 because he wore the numbers 6, 3, and 9 when he was younger (and 6 and 3 add up to 9)."
64
Jason Bonsignore
A shout-out to his father, who wears 64 as a professional motorcycle racer.
64
Dwight Gooden
In spring training of 1993, Gooden chose to wear 64 (instead of his usual 16) because that was the number he'd worn during his first spring training camp in 1984 and he wanted "to feel like a rookie again." He switched back to 16 when the regular season began.
65
Mark Napier
During the 1985-86 season, Napier was honorary chairman of Edmonton Cystic Fibrosis fundraising campaign known as the 65 Roses Sports Club. He changed his number to 65 in the charity's honor.
66
Mario Lemieux
Upside-down tribute to Wayne Gretzky.
67
Francisco Cordova
In the 1990s, the Pirates instituted an unusual policy: If a non-roster spring training invitee made it to the big league club later in the season, he would have to wear the same number he'd worn during spring training. This is how Cordova made his MLB debut in 1996 wearing 67, a number he chose to keep until 2001, when he switched to 32.
68
Jaromir Jagr
In recognition of the Prague Spring rebellion in his native Czechoslovakia, which took place in 1968.
69
Bixente Lizarazu
As explained here: "Lizarazu wore [69] at Bayern Munich. Despite rumours to the contrary, this was apparently because: he was born in 1969, his height was 1.69m and he weighed 69kg. Any link to other reasons for wearing this number is entirely coincidental, or so he said."
70
Joe Maddon
Used to wear 20 while coaching for the Angels but had to give up that number when the team acquired Don Sutton. So he decided to wear 70 -- a safe number, he figured, because nobody else would ever want it.
71
Evgeni Malkin
As explained on the Penguins' Web site: "When I started to play hockey, I had number 11. It was a prominent number for many, many years. When I got to Magnitogorsk, it turned out that the number was given to somebody else. So, I gave it some thought and decided to get a number close to 11 and that's how I came up with 71."
72
Carlton Fisk
It's the reverse of 27, which he'd worn with the Red Sox.
73
Dennis Rodman
The numerals add up to 10, which is the number he would have preferred to wear, but it was unavailable. (He also wore 91 for the same reason.)
74
Ugueth Urbina
Born in 1974.
75
Barry Zito
Wanted to wear 12, but it was taken, so he took 75 because the numerals add up to 12.
76
Shawn Bradley
He was 7-foot-6, and he played for the 76ers.
77
Ray Bourque
Bourque originally wore 7 but switched to 77 when the Bruins retired 7 in honor of Phil Esposito.
78
Marc-Antoine Pouliot
From NHL.com: "I wear 78. I wore that when I was young. It's my favorite because I've had success wearing it."
79
Alexei Yashin
Yashin had worn 19 with the Senators, but he couldn't wear that number when he joined the Islanders because it had been retired for Bryan Trottier. So he chose 79 -- in part because it looks like 19 and in part because that's how many points he'd scored in his rookie season.
80
Kellen Winslow Jr.
In honor of his father.
81
Amani Toomer
It's the reverse of 18, which he wore in high school and college.
82
Marian Gaborik
Gaborik has worn 10 for most of his career. But for a few games in 2000, he switched to 82, to mark his birth year of 1982. The experiment lasted only a few games; he switched back to 10 because he wasn't having good luck with 82.
83
Jason Tapp
In honor of his sister, Jessica, who suffers from curvature of the spine and was born in 1983.
84
J.T. Snow
In memory of his father, former Los Angeles Rams receiver Jack Snow.
85
Petr Klima
He defected to the West in 1985.
86
Marlin McKeever
McKeever and his twin brother, Mike, wore flip-flopped versions of each other's numbers while playing for USC. Mike, an offensive guard, wore 68, so Marlin, an end and fullback, wore 86.
87
Sidney Crosby
Born on 8/7/87.
88
Rene Gonzales
Gonzales wanted to wear 8, but that was already spoken for, so he took 88 instead.
89
Alexander Mogilny
He defected in 1989 and was also the 89th pick in the draft.
90
Drew Gooden
He'd previously worn 9 with the Magic and 0 with the Grizzlies.
91
Ron Artest
A shout-out to fellow Defensive Player of the Year Dennis Rodman.
92
Rick Tocchet
Tocchet wore 22 during his first stint with the Flyers, but that number wasn't available when he was traded to the Penguins in 1992, so he switched to 92, and then flip-flopped between 22 and 92 for the rest of his career.
93
Doug Gilmour
The reverse of 39, which he'd previously worn with the Flames.
94
Ryan Smyth
He was drafted in 1994.
95
Danny Markov
Markov has worn 55 through most of his career (as seen here, here, here, here and here), but that number wasn't available when he joined the Red Wings, so he switched to 95 because he was drafted in 1995.
96
Tomas Holmstrom
Made his NHL debut in 1996.
96
Bill Voiselle
His hometown was Ninety Six, S.C.
97
Joe Beimel
His first child was born in 1997.
98
Brian Lawton
Lawton was the overall top pick in the NHL draft and was given 98 -- one less than Wayne Gretzky's number -- to signify his lofty potential. This eventually was considered to be too presumptuous, and he soon switched to 8.
99
Wayne Gretzky
He originally wanted 9, which had been worn by his idol, Gordie Howe. But that wasn't available, so he tacked on another 9.
99
Turk Wendell
Very superstitious about the number 99 (he once signed a free agent contract valued at $9,399,999.99).
Spirit of '33
NFL teams often time their new uniform announcements to coincide with the draft. Wednesday, it was the Eagles' turn as the team unveiled a 75th-season patch and some circa-1933 throwbacks that should ignite many a drunken debate among Iggles fans. Full coverage here.
Paul Lukas likes odd numbers better than even numbers, and prime numbers best of all. His Uni Watch blog, which is updated daily, is here, his answers to Frequently Asked Questions are here, and archives of his columns are available here, here, and here. Got feedback for him, or want to be added to his mailing list so you'll always know when a new column has been posted? Contact him here.