Commentary
Uni news all over the sports world
Originally Published:
September 24, 2009
By
Paul Lukas
| Page 2
We're in one of those weird crossover periods now, when two of the major team sports are in full swing, another is in the midst of its preseason schedule, and the fourth is about to start training camp, all of which makes for quite the smorgasbord of uni-related storylines. Here's a sampling of what's been going down.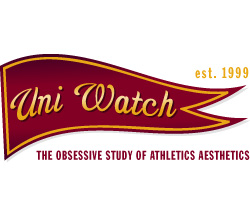 MLB
After all the fuss about Rawlings' fancy-schmancy S100 batting helmet -- with some of said fuss coming from Uni Watch -- the new lid has been mostly MIA on the field. By Uni Watch's count, only three players have worn it: Ryan Dempster (for one game), David Wright (two games, including a pinch-hitting appearance in which he tried a double-flap version), and Shane Victorino (two at-bats). All three have gone back to their regular helmets, and all have said pretty much the same thing: They think the S100 is too big and too heavy, plus they were all sick of being ridiculed for wearing it.
"There's part of me that's disappointed, but we kind of expected this," said Rawlings marketing executive Mike Thompson. "The thing is, if you want the safety, the size has to be a part of it."
But what if you don't want the safety? Or what if you want, say, more safety than you can get from a standard helmet but not quite so much safety as to look as if there's a watermelon perched on your very safe head? Thompson said Rawlings' engineers are working on a compromise version, which would be a bit smaller and lighter but probably would be able to withstand something in the neighborhood of a 90 mph pitch, instead of the S100's 100 mph standard.
"That 100 mph mark has a lot of sex and sizzle to it, but we should still be able to come up with something that's a quantum leap forward from the standard helmets," Thompson said. If all goes well, this latest helmet should be ready for players to test-drive in time for spring training.
Update!: Uni Watch has just been informed that a fourth player wore the S100: Carlos Guillen, who wore it on Sept. 3 and endured the same riducle as the other players. And just like the others, he quickly went back to his usual helmet. Big thanks to reader Guy Serumgard for the info.
NFL
Were those Falcons throwbacks the bomb or what? Throw in those two amazing AFL throwback games from Week 1 (best-looking "Monday Night Football" action in decades, right?), and we've got the makings of the tastiest-looking old-school season ever. And that's with Tampa's and Denver's throwbacks still to come, among several others.
The season's most interesting retro element, however, hasn't been on the field -- it's been on the Vikings sideline, where coach Brad Childress has traded in his standard-issue Motorola headset for a rinky-dink rig that looks like the old-fashioned headsets of yesteryear. Is this a shout-out to a coaching mentor? Nope -- turns out Childress has a hearing deficiency, and the headset he's wearing has been specially designed to compensate.
College football
Moments after Washington defeated USC on Saturday, this photo appeared on ESPN.com's home page. And that's when the e-mails started pouring into Uni Watch HQ inquiring about that dark square on Morgan Rosborough's belly.
And he wasn't the only one -- that same dark patch appeared on lots of UW jerseys on Saturday. Similar blemishes have been showing up on other teams' jerseys, and there are several additional teams whose jerseys have exhibited odd two-tone patterns.
What do all these jerseys have in common? All are made by Nike, and all have unusual tailoring patterns that mix and match different fabrics, some of which absorb moisture differently than others. (You can see the different fabric on the UW jersey here.) So when a player sweats, some of the fabric zones end up looking darker. Let's call this phenomenon the sweatbox.
You might wonder why the Nike crew didn't take steps to eliminate this color shifting. And after a minute or two of research, the method to the madness becomes clear: Nike has its eye on a lucrative sponsorship tie-in. Gotta hand it to those Nike folks -- always thinking!
NHL
MONEY MAN: MADDUX FAN?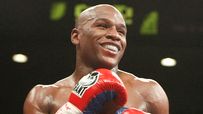 In addition to all the team sports currently generating uni-related news, Floyd Mayweather Jr. made his return to the boxing ring Saturday. And he did it in style, wearing fuzzy-trimmed trunks while picking apart Juan Manuel Marquez. But the more interesting detail was on his feet. Do you see what Uni Watch sees there? Mayweather was wearing two-in-one baseball socks, best known as the signature hosiery for Greg Maddux. Not bad, but imagine the possibilities if Floyd got hip to the sock stylings of players such as Josh Outman or Cory Wimberly. Or he could go with a sock logo, like Aaron Heilman. The mind fairly boggles.
-- Paul Lukas
Nothing says preseason hockey like the Red Wings' straight, block-lettered nameplates. The Wings use that style every September, but they'll revert to their standard vertically arched player names when the regular season starts Oct. 1. It's one of the sports world's nice little annual rituals, like Mike Hampton having arm surgery.
Another preseason NHL rite: Goalies are unveiling their new mask designs. The most interesting one is being worn by Ray Emery, who's now with the Flyers. Emery is a longtime boxing fan who previously has worn images of famous fighters on his mask (including Mike Tyson, although that experiment didn't end well). So now that he's playing in Philadelphia, his new mask showcases Philly boxing legends Joe Frazier, Bernard Hopkins and Rocky Balboa.
Two other masks feature nods to goaltending history: Carey Price's new design pays homage to the Canadiens' netminding heritage, and Nikolai Khabibulin's has a shout-out to Grant Fuhr. Cool, right?
Uni Watch will have a complete rundown of all the new masks, along with the rest of this season's NHL uni changes, next week.
NBA
Training camps are about to open, with the preseason schedule due to tip off next week, but one uni trend is already making news: Just like their NFL brethren, NBA teams are now permitted to sell advertising space on their practice jerseys. The first team to tap into this revenue stream was the Nets (yes, the Nets were actually first at something, amazing but true), followed by the Suns (further info here) and the Mavericks. Expect lots of other teams to follow with similar deals soon.
There's also lots of NBA news regarding game uniforms, but Uni Watch isn't yet at liberty to talk about any of that. Soon, soon.
College basketball
The college hoops season is still nearly two months away, but there's already been one noteworthy uni-related story: On Aug. 27, North Carolina State used the team's Twitter feed to unveil a new uniform. Fans immediately began posting comments -- most of them negative. Within two days, the harsh response had led to a small item in the Charlotte Observer, and two days later the story went national. By the end of that day, the new design had been scrapped.
This wasn't the first time a uniform had been unveiled on Twitter (more and more teams are doing that now), but it appears to be the first time a uni has been killed via Twitter -- and only five days after it was born.
Paul Lukas' favorite season is autumn (and not just because of all the different uniform stories floating around, although that helps). If you liked this column, you'll probably like his Uni Watch blog and Uni Watch glossary too. Want to learn about his Uni Watch membership program, be added to his mailing list so you'll always know when a new column has been posted, or just ask him a question? Contact him here.
Sports journalism's foremost uniform reporter
ESPN.com columnist since 2004
Also blogs at uni-watch.com
MOST SENT STORIES ON ESPN.COM