Commentary
This Sporting Life: Upside/downside
Eighteen horses lost the Kentucky Derby on Saturday. A few hours later, 42 cars did not win the NASCAR event at Richmond, Va. Ricky Hatton lost that night, too. (I'm sure someone will tell him all about it once his ears stop ringing and he regains basic motor function.) On Sunday, 155 golfers lost the Quail Hollow Championship.
Sixty-four college teams recently lost the NCAA men's basketball tournament; more than a hundred others didn't win the national football title last winter. Thirty-one teams didn't win the Super Bowl, either, and 29 teams didn't win the most recent World Series.
[+] Enlarge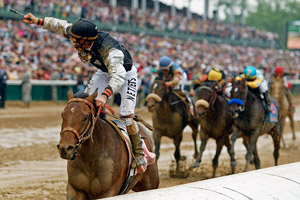 AP Photo/James CrispMine That Bird captured the headlines … but isn't it sports' losers who capture our hearts?
Twenty-nine hockey teams won't win the Stanley Cup this year, and 29 basketball teams will not be champions of the NBA.
In fact, if your teams didn't miss them entirely, they're probably already out of the playoffs. Mine are.
So a few words this week about winning and losing.
One of which is our natural state, our default setting in all things and a constant of the human condition, like gravity or death. The other is winning, and fairly unusual.
Is it easier to love a loser? I think it is. If we accept what our mothers and the advice columnists and those Hollywood screenwriters have always taught us -- that the state of true romantic "love" means embracing someone despite her flaws and shortcomings and bad habits; despite his fears and prejudices and neuroses -- then why wouldn't the same be true for the teams we hold dear?
It's hard to get your arms and your mind and your heart around perfection. Perfection is admirable, certainly; maybe even desirable. It's also cold and unapproachable and a little inhuman.
But there is a glorious human warmth to losing.
The sporting embodiment of this ideal over the years has been the Chicago Cubs. A woeful franchise in terms of mere results, but one of our most beloved. One of our most cherished after 100 years of futility. How else but love and empathy to explain that Wrigley Field still stands? That it hasn't been burned to cinders by a mob surging up Addison Street carrying torches and pitchforks?
Like the Cubs, the Boston Red Sox were a much warmer, more interesting story when they were losers, too. They were more embraceable, more accessible, more human when the Curse still held. It was easy, almost necessary, to love them even as fate pulled them under year after year after year.
Now no longer a bracing Greek tragedy, like a lot of other franchises they're just a pretty good baseball team. A great source of regional pride and uplift, sure. But they'll win another World Series or they won't, and folks in New England will have a lot less to talk about either way. Success just isn't as rich a medium for emotion or imagination.
[+] Enlarge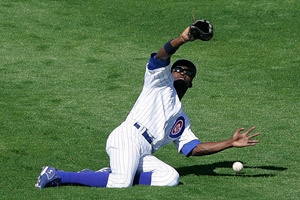 AP Photo/Morry GashIs it really any wonder the Chicago Cubs are so lovable?
In that same way, it's always been nearly impossible to love the New York Yankees. Too much success. Too much perfection. Too much reliance on results. They're easy enough to admire and to respect. To take great pride in. And winning, like lust, can arouse some very passionate feelings. Devotion, ardor, even obsession. But they're hard to feel simple and genuine affection for; hard to really love.
Weirdly, the Yankees would probably have a much longer line of emotional credit this year with their fans if those fans felt less passion for the team and more honest affection. The messy move to the new stadium with all the civic misery over ticket pricing and tax abatements and empty seats and absent enthusiasm would likely be a footnote now if New Yorkers really held the team dear. A little more heart and a lot less wallet would make the Steinbrenners better owners and custodians of the local public trust.
Truth is, 50 years after they've gone, the Brooklyn Dodgers still inspire more romance, more true love, in the five boroughs than the Yankees.
Over the years, I've found that results mean less and less to me. I'm here to watch the process, to see the sporting moment unfold, to feel the feelings that moment inspires. As a fan, I'm more energized by the prospect of success than by success itself.
As the outpouring for Mine That Bird reminds us, upsets and long shots are just wonderful anomalies, losers who jumped categories.
Most of the rest of us, fan and athlete alike, persist in our lifetime categories, and in a steady state of lukewarm despair.
I've got a story coming out in ESPN the Magazine in the next few weeks, for example, about a mixed martial arts fighter. He's not the greatest fighter of this or any age. In fact he fights in armories and dance halls and small municipal arenas for the short money from struggling local promoters. On any given night in any given match, he's the second-best fighter in the ring. It's a 50/50 proposition that he'll get his ass kicked. Like most of us, he loses as often as he wins. Lately, he loses more often.
So there's something admirable about his persistence, of course. Something noble in his tenacity. Something worthy of our genuine respect.
But there's also something somehow lovable in his struggle against himself and against the odds. Something that inspires warmth and fellow feeling and a sense of the common condition. He is us.
I feel none of those things when Tiger takes up his 3-wood. I felt nothing like love or warmth when Jordan had the ball. It's easy enough to show up when an outrageous natural gift means you're likely to win. Those guys don't need me to succeed. The losers do.
So raise your glass. Here's a toast to hope. And to frailty and loss and imperfection. And here's to love and here's to success, and here's to you and me.
All of it, and all of us, made great by failure.
Losers buy, of course.
Jeff MacGregor is a senior writer for ESPN.com and ESPN The Magazine. You can e-mail him at jeff_macgregor@hotmail.com.
Senior Writer for ESPN.com
Has written for Sports Illustrated and The New York Times
Author of the acclaimed book "Sunday Money"
MOST SENT STORIES ON ESPN.COM