Commentary
This Sporting Life: It's always something
This is what happens.
I had a whole thing worked out for this week. A whole big thing, and it made all the sense in the world. Because the major sports headlines (Wimbledon, Tour de France) were going to be coming out of Europe on America's most American holiday (Fourth of July), I was all set to compare and contrast those two cultures.
[+] Enlarge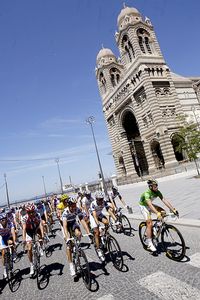 AP Photo/Bas CzerwinskiThe eyes of the sports world were on Europe over the weekend, between Wimbledon and the Tour de France.
And because I had just returned from Europe, this would have involved all sorts of qualitative throwdowns judged firsthand, e.g., Nutella versus peanut butter. (Spreadable hazelnut/chocolate? For breakfast? Sorry, Skippy, Nutella takes it in a walk.) Interstate versus autobahn. (Autobahn, natch: No speed limit.) Our horny politicians versus their horny politicians. (Sanford squeaks past Berlusconi using accumulated frequent flier miles as the tiebreaker.)
I'd have compared the infield at Daytona to the Champs-Élysées; ketchup to mayonnaise; their little cars to our big cars. I would've mentioned their high-tech windmills, super trains and immaculate public toilets -- while ruing our utter lack of the same. And I was going to point out that the 8 a.m. airport buffet in Dusseldorf seems to consist entirely of brats and beer.
And although Europe obviously would have done well in my informal survey, it doubtless would have lost some points after Formula One series owner and world-girdling nut job Bernie Ecclestone channeled the demon spirit of Marge Schott last week and was quoted as saying that before he went too far, Hitler generally got "things done." Nobody doesn't like a motivated self-starter, after all.
Thus: Nutella; nut jobs; windmills; Andy versus Andy; Williams beats Williams; Federer defeats Roddick; the Tour de France kicks off in gaudy Monaco. Simple.
That is what I was going to do.
Instead, it's yet another week overtaken at the last possible moment by comedy and by tragedy and by loss, by news of the stupid and the terrible. By life reminding us once again that it is as altogether complicated and impenetrable and unsympathetic as a German sports magazine.
Alaska governor Sarah Palin chose the patriotic holiday weekend to announce (while at the same time nearly burying) her upcoming surprise resignation. I take no position on the matter politically, but at the heart of her address late Friday afternoon lay a sports metaphor, which brings her statement into the jurisdiction of the sports pages.
Here I quote the transcript of her remarks as I found it on the Web site of the Miami Herald: "Let me go back to a comfortable analogy for me -- sports … basketball. I use it because you're naive if you don't see the national full-court press picking away right now: A good point guard drives through a full-court press, protecting the ball, keeping her eye on the basket … and she knows exactly when to pass the ball so that the team can win. And I'm doing that -- keeping our eye on the ball that represents sound priorities -- smaller government, energy independence, national security, freedom! And I know when it's time to pass the ball -- for victory."
Pass the ball for victory!
[+] Enlarge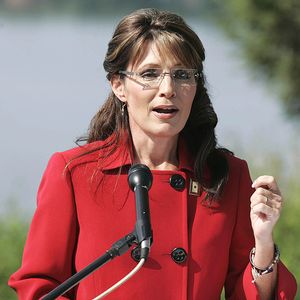 AP Photo/The Mat-Su Valley Frontiersman/Robert DeBerrySarah Palin shocked many people with her surprise announcement on Friday.
Or, in this case, take your ball home entirely. To extend the governor's tortured sports analogy, resigning her office in the middle of her first term is the practical equivalent of that plucky point guard driving through that elitist full-court "press" (get it?) to about half court, deciding it's altogether too much work to continue, then handing the ball to the ref and walking out of the gym.
A parody of statesmanship.
The rest of the weekend was swallowed up in tabloid tragedy, of course. Steve McNair and Sahel Kazemi shot to death in mysterious and compromising circumstances in Nashville; this both the first and last chapter of what would be considered a scandalous story if America were still capable of feeling anything like shame.
This awful case will get more complicated before it's solved, I'm guessing, and the moralizers and the scolds and the civic hysterics will get louder and more combative. But no matter how convoluted the rest of the story becomes, no matter who shot whom, or why, the sadness and the base stupidity of these deaths will persist. As will Steve McNair's ruined memory, I believe, his reputation squandered on a parody of desire. His life and career now a punch line.
It's been a tough couple of weeks on the front page, and the sports page has been cold comfort. Sorry. Our human madness persists and endures across all fields of endeavor. This is what happens.
Next week we'll follow up on who's to blame for soccer, for unsweetened peanut butter, and ask again what sports are for.
Jeff MacGregor is a senior writer for ESPN.com and ESPN The Magazine. Please continue to submit your answers to his question: "What Are Sports For?" You can e-mail him at jeff_macgregor@hotmail.com.
Senior Writer for ESPN.com
Has written for Sports Illustrated and The New York Times
Author of the acclaimed book "Sunday Money"