Commentary
This Sporting Life: Baseball (Babylon)
I was hoping for ghosts. I will not get them.
(That's just a writer's selfishness, of course, pulling for a Dodgers-Yankees World Series. No knock on the Phillies, but invoking the long-gone spirits of Ebbets Field and raising Da Bums' metaphorical dead for a Halloween return to New York is the better story -- assuming we even get the Yankees, which remains in doubt at this hour. As it is with all writers at all times, I root for my own self-interest. I root for the better narrative. And the shorter subway ride.)
With that in mind, I rode the No. 4 train up to 161st Street in the Bronx last week with my mentor and good friend Robert Stone, gray-bearded Great American Novelist, to watch the New York Yankees play some baseball against the many-named Angels of our frontier West.
(Bob is routinely referred to as one of America's greatest living writers, which is undoubtedly true, although he is not stuck up about it. Across the long shelf of his novels and nonfiction, the universe of his work is a challenging place, emotionally charged and intellectually complex, bracing and fearful and sometimes morally crippling, and which can be summed up -- maybe, if I had to -- as one man's lifetime search for decency in dark and comic times. He has a new collection of short stories coming out in January.)
Despite Bob's literary achievements, he is a funny, regular guy; a baseball fan and a football fan; and a generous, gregarious New Yorker, born and bred. He'll always take the Giants and the points, thank you. When he was a kid growing up in Hell's Kitchen, he ran high school track uptown, around the corner from Yankee Stadium. He went into the Navy in the same 1956 induction group as Dodgers ace Johnny Podres. The arc of Mr. Stone's relationship to baseball begins and ends in New York, from Coogan's Bluff to Bedford Avenue, but travels across time and history a distance of seven decades.
Neither of us had been to this new ballpark yet, and to enter that poorly proportioned atrium (too tall to be so narrow and too narrow to be so tall) at the brand-new Yankee Stadium is to enter George Steinbrenner's marble-clad tomb.
(Having said the same of self-congratulatory pharaoh Jerry Jones, it's only fair to call out Commodore Steinbrenner, his partner in crappy commissary services, on the same account. This ballpark is a magnificent crypt, subsidized by the living taxpayer. Has anyone called it yet the "Roy White sepulcher"? I'll guess not.
The Mets new ballpark on the other hand, Citi Field, memorializing two teams half a century gone from New York and clad everywhere in orange and blue, is not a graveyard, but rather a constant and hopeful sťance. It is the sports world's biggest Ouija board.)
From the $9 beers and the stale $6 dogs to the bitter wind and wet and cold, the crowd here on this night -- depending on how you cock your head and turn your eye and on how fiercely you squint -- is as much like something out of Hieronymus Bosch as it is like something out of Norman Rockwell.
(And this is the part where Bob Stone -- great gray-bearded America novelist and thinker, etc. -- and I were going to talk. In that hour from 7 to 8, during warm-ups, having seated ourselves in the grandstand, Section 411, we were going to discuss baseball and life itself and the questions asked and answered and reflected in both.
But we could not.
[+] Enlarge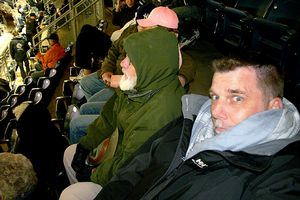 Jeff MacGregor A trip to Antarctica or to Yankee Stadium?
I report almost no dialogue here for two reasons. The first is that we were too cold to talk. You'll note in the accompanying photo that Bob and I are both as bundled up and grim as two Inuit elders set adrift on their last ice floe.
Our second problem was the unending torrent of video highlights and 25-year-old rock-and-roll that poured from the speakers everywhere around us. Pointing at our ears, we mimed that it was TOO LOUD TO TALK. Lest all 50,000 of us grow bored and restless and wander off, the fans weren't allowed a single moment's rest from the pregame multimedia assault.
Bob, always a gamer, shouted out a question during the guitar break of "Where the Streets Have No Name."
"Have you read the Borges short story 'The Lottery in Babylon'"?
I nodded.
"It reminds me of that," he shouted, indicating with a gloved hand the rest of the crowd.
I nodded again, as Bono continued.
The story's a better fit for baseball and sportswriting and the madness of the fans than one might first expect. Here's an excerpt:
Our historians, the most discerning in the world, have invented a method for correcting chance. It is well known that the operations of this method are (in general) trustworthy; although, naturally, they are not divulged without a measure of deceit. In any case, there is nothing so contaminated with fiction as the history of the Company. …

A paleographic document, unearthed in a temple, may well be the work of yesterday's drawing or that of one lasting a century. No book is ever published without some variant in each copy. Scribes take a secret oath to omit, interpolate, vary.
Please don't confuse this story with "The Lottery" by Shirley Jackson. Although both are small and nearly perfect, beyond a single pivotal plot point the only attribute they share in common is a detached sense of moral horror at the things of which we're all capable.
Jorge Luis Borges specialized in stories like this, stories set in a kind of parallel reality. Stories that unfold in a world like this one but not this one. Which, when you think about it, is the same sort of parallel reality occupied by baseball itself.)
Outside the stadium someone somewhere is fighting about abortion or Afghanistan, arguing taxes or bailouts or corruption.
Not in here.
In here there are only red caps and blue caps. The game and the playing of the game. Those outfield walls aren't there just to keep the line drives in; they're also there to keep the real world out.
But tonight the game seems small and far away, and we watch most of it, as we are so clearly meant to do, on the huge television in center field.
On the subway home, in the relative quiet, Bob asked whether I remembered an opinion piece from The New York Times. "About cricket," he says, "by some fatuous cricket fathead."
I did not, and we said our good-nights at 86th Street.
(A couple of nights later, I received this e-mail from him:
During the baseball season a few years ago a New York Times op-ed by a gentleman from India irritated many readers by its extremely unfavorable comparison of baseball to cricket. The article was one example of a familiar international genre; the moral-psychiatric deconstruction of American spectator sports.

In this mode of what might be called "the higher sportswriting" an overseas observer equipped with some sort of intellectual credentials explains traditionally American games like baseball and American football. Such think pieces, which always contain the phrase "short attention span" explain the games in terms of American failings. These are seen as very many. The article in question seems to start out as jolly ribbing and gradually works its way beyond patronizing and complacent toward the curled lip of hate speech. Besides requiring a shorter attention span, American sports were presented as "easier and quicker" -- more available, that is, to a limited mentality -- less "adult," less "virile" (the effete padded gloves) and other disagreeable things.

I have a problem with American baseball too but it doesn't have to do with being smart or stupid. Or maybe it does.

My problem goes back a long way -- to 1957, when the Brooklyn Dodgers (and inevitably the New York Giants) were moved to Los Angeles and San Francisco respectively. It seemed very devious and brutal at the time, in its apparent suddenness and the way it was disguised from the public by the owners who engineered it. I get reminded of it whenever some young player signs for a sum greater than what ten generations of most American families made in their combined lifetimes. But who finally can blame them?

One might also think of it looking at the thing that is now called Madison Square Garden and stands in place of the finest public building in America, Pennsylvania Station. There was supposed to be a plan to build a playing field there, on the ruins of the station, to keep the Giants in New York. It never happened, probably was never really meant to. There is an exemplary lesson for the learned or the unlearned, in all that. It is a reflection in American sports of a profound American failing. The attitude that prevailed then is the one that dictates the rules now: there is nothing Americans do that is more important than money.)
Maybe we'll try football next.
Jeff MacGregor is a senior writer for ESPN.com and ESPN The Magazine. Please continue to submit your answers to his question: "What Are Sports For?" You can e-mail him at jeff_macgregor@hotmail.com.
Senior Writer for ESPN.com
Has written for Sports Illustrated and The New York Times
Author of the acclaimed book "Sunday Money"