"Becoming Manny" -- Farewell, Boston
Editor's note: Excerpted from "Becoming Manny: Inside the Life of Baseball's Most Enigmatic Slugger", by Jean Rhodes and Shawn Boburg. Copyright © 2009 by Jean Rhodes and Shawn Boburg. Reprinted with permission by Scribner, an imprint of Simon & Schuster, Inc.
Chapter 29 -- 2008: 500 Home Runs in Dodger Blue
Manny was coming off perhaps his best month as a pro, but there was little time to enjoy it. He was entering the last guaranteed year of his contract, and to him it seemed unlikely the [Red] Sox front office would exercise its option to bring him back in 2009 for another $20 million. He would turn thirty-six in the coming season, he had missed chunks of the last two seasons with injuries, and he had just finished his worst statistical regular season since his rookie year. When healthy and motivated, he was still a great hitter, but the Sox had legitimate questions about how often both those conditions would be met going forward.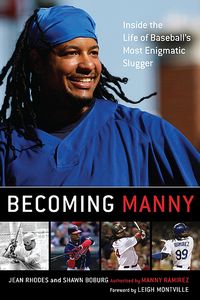 Simon & Schuster, Inc
"Becoming Manny" follows the slugger from his arrival in the United States to his arrival in L.A.
Aware of how pivotal the 2008 season would be for him, Manny joined [Dustin] Pedroia and [Kevin] Youkilis at Athletes' Performance, a training center in Tempe, Arizona. [Nomar] Garciaparra had trained there before, but Manny had never been interested in the center's tough regimen. In one of his more loquacious periods with the press, Manny was willing to discuss his contract status, leading to some hilariously inconsistent statements. It started in February, when reporters arrived at a charity event -- Manny was donating his 1967 Lincoln Continental to the Franciscan Hospital for Children in Brighton, Massachusetts, the same car he had tried to auction in Atlantic City. Asked about the upcoming season, Manny replied: "It's going to be fun -- I'm looking forward to 2009." It might have been an innocent slip, but Manny had skipped over the 2008 season and gone right to his potential (if the Sox declined his option) free agency.
Two weeks later, Manny fired Greg Genske and Gene Mato (who had worked for [former agent Jeff] Moorad's agency) and signed with Scott Boras. The move had an obvious meaning. Boras was legendary for wringing the highest price from teams. He handed executives thick binders filled with optimistic statistical projections for his clients, who included [J.D.] Drew, [Jason] Varitek, [Daisuke] Matsuzaka, and [Jacoby] Ellsbury. The tactic had worked often before, and it had worked for Boras's most famous client, A-Rod, who had landed the richest deal in history with Texas the same off-season Boston had signed Manny.
Meanwhile, Manny had started reading inspirational books, including The Secret, by Rhonda Byrne, the controversial but popular book that told readers they could change their lives for the better just by thinking positively. [Manny's friend Carlos Ferreira] Macaco and [Manny's sister] Clara laughed off suggestions of Manny's scholarly side. "He keeps saying he's reading books; I've never seen him with a book," Clara says. "Maybe he'll read the one you're writing about him," joked Macaco.
Manny said that he had started doing Mantra yoga, a form involving prolonged meditation and chanting. His mother's cousin Rico had taught him in the off-season, and Manny believed it helped clear his head of negative thoughts. He was meditating February 27 when the rest of the Sox were meeting with President Bush for the usual champions' ceremony. Bush joked about Manny's absence. "I guess his grandmother died again," Bush said. Manny appreciated the joke. "The president is thinking about me. I like it. It makes me feel important to be mentioned," he told reporters. The rest of his family was less amused. The eighty-year-old Pura does, in fact, suffer from a chronic condition, amyloidosis, which causes abnormal deposits of proteins in her organs and tissues and required an extended hospitalization in March 2004.
Manny started the season on fire and stayed hot throughout April. That was crucial, because after a 4-3 win against the Yankees on April 12, [David] Ortiz was batting .070. In the fourth, Manny homered off [Mike] Mussina in yet another clash between the two marquee free agents the Sox had chased in 2000. When Manny came up again in the sixth with runners on second and third and two outs, everyone expected new Yankee manager Joe Girardi to walk him intentionally. Girardi's predecessor, Joe Torre, had done so twenty-three times in his tenure. But Girardi elected to have Mussina pitch to Manny instead. Manny stroked a two-run double to give Boston the lead for good.
Two days later, in Cleveland, Manny crushed a two-run, ninth-inning shot off Joe Borowski to break a 4-4 tie and give Boston another win. At that point, through fourteen games, Ramirez was hitting .309 (.974 OPS) with 3 homers and 14 RBIs. He homered twice more off Mussina on April 17, as if the Sox and Yankees needed any more confirmation of who had made the better signing in 2000. He now had 495 career homers and had just passed Lou Gehrig on the all-time list.
But by mid-May, Manny was slowing down, and reporters questioned whether he was quaking under the pressure surrounding his 500th homer. By May 14, his average was down to .308 (.937 OPS) and he'd hit only two homers since April 26. But with one defensive play seldom seen in the game's history, Manny's drought was forgotten and he added to his odd legacy. With runners on first and second and one out in the fourth inning of a game at Camden Yards, [Kevin] Millar, the former Sox first baseman, lined a shot over Manny's head in left. Manny sprinted back to the wall. It appeared he would not reach the ball, and the runners began to advance.
But Manny stretched his left arm to the limit and snagged the ball on a dead sprint. His momentum took him running into the wall, and he jumped into it feet-first to bounce himself back onto the field. But as he jumped, he saw a lone Red Sox fan just over the wall. Manny reached up his right hand and high-fived the fan in midair. He landed, pivoted, and fired to the cutoff man, Pedroia, who in turn threw to first to double up Nick Markakis and end the inning. Manny grinned broadly as he ran back to the dugout, where he gathered around a television to watch replays. He re-enacted his high-five as teammates erupted in laughter. "It was fun," Manny said after the game. "I love it." The surreal play was fodder for sports highlights shows for days.
Manny had 498 home runs at this point, but the next two would be long in coming. As the days without a homer turned into a week, then nearly two weeks, reporters began asking whether Manny's "turn the page" attitude was faltering as the pressure of 500 built. He had hit only two homers between April 19 and May 20, a span of ninety-seven at-bats. He batted just .203 during that twenty-one-game span. "Maybe for the first time in a long time, Manny is feeling pressure as he approaches the milestone," wrote Sean McAdam of the Providence Journal.
He finally smacked number 499 on May 27, an opposite-field three-run homer in Seattle off Miguel Batista. He went homerless the next night, joking that he did so on purpose because the postgame press conference would have delayed the team's trip to Baltimore for their next series. Number 500 came in the second game at Camden Yards. Manny came up with the bases empty against a former teammate, side-armer Chad Bradford. He swung at Bradford's first pitch. It was classic Manny. He extended his arms to reach a ball on the outside part of the plate, made solid contact, and smoothly followed through, bringing the bat behind his head. It was, fittingly, a shot to right-center, the power alley that had always defined his greatness and made him so difficult for pitchers.
Ultimately, only seven players reached 500 home runs in fewer at-bats than Manny: [Mark] McGwire, [Babe] Ruth, [Harmon] Killebrew, [Jim] Thome, [Sammy] Sosa, [Jimmie] Foxx, and A-Rod. He admired the shot, then trotted around the bases at his usual pace, stepped on home, and pointed to heaven. Teammates circled around him, jumping and shouting, as he walked back to the dugout.
Juliana [Ramirez] told the Globe of a "big weight lifted off his shoulders." [Terry] Francona said the thing that made him happiest was watching [Julio] Lugo, Ortiz, and [Mike] Lowell crowd around Manny and celebrate with him. When Manny homered in each of the next two games, it looked as if he might be set to start hitting for power again. He was also spared playing the outfield, because Ortiz was out with a wrist injury -- so Francona slotted Manny as the designated hitter and employed a defensively exquisite outfield of Ellsbury, [Coco] Crisp, and Drew from left to right.
Manny homered against the Tampa Bay Rays on June 5 -- his 13th at the game 63 mark -- and also had 5 RBIs (45 for the season). But there was an ominous sign: He said his hamstring hurt again. "It's weird because I haven't had my hamstring like this for how long, four years, three years?" he asked Boston Herald columnist Michael Silverman. "And now, with this one, every time I run, it bothers me." Manny sat out June 6 but came back the next day and homered again. At that point, he was hitting .303 with 14 homers and 47 RBIs.
But he homered just twice in the next nineteen games and sat out three of them because of what he claimed was lingering pain in his hamstring. Two troubling incidents that also took place around this time added fuel to speculation over whether the hamstring ailment was authentic. In the June 5 game, the Sox and Rays got into a bench-clearing brawl when Rays hurler James Shields hit Crisp on the right hip with a fastball. Crisp charged the mound; Shields wound up and threw a right hand that Crisp ducked before firing back with his own blows. Tampa's catcher, Dioner Navarro, sprinted after Crisp and tackled him. The dugouts and bullpens emptied.
Two innings later, cameras caught Manny in the dugout delivering a backhanded chop to Youkilis's head at the end of the fourth inning. Teammates rushed to separate them. Ortiz said it was the "first time" he'd ever seen anything like it.
Manny was one of many teammates frustrated with Youkilis's overreactions to poor at-bats, even when the team was winning. Youkilis tossed some equipment during an outburst in the dugout after he flew out to center in the fourth. According to Rob Bradford in the Boston Herald, Manny made his thoughts about Youkilis's behavior known. The two argued briefly before Manny backhanded him.
But the dugout altercation seemed like small beer after Manny's inexcusable behavior on June 28 in Houston. McAdam reported that Manny had asked Jack McCormick, the Sox traveling secretary, for complimentary tickets for family and friends to attend the game that day. McCormick, who was sixty-four at the time, balked, and, according to family members, insulted Manny, who shoved him to the ground and shouted, "Just do your job."
The incident was a blow to Manny's reputation among Boston fans. To this day there are fans who stand by him because of his productivity and because he has never gotten into any "serious" trouble -- that is, crimes or steroid accusations. But after the McCormick incident it was harder for fans to dismiss Manny's immaturity as mere eccentricity. Once again Manny fell silent, providing none of the clarification or explanations that might have helped to at least attenuate the fallout. Juliana explains that the request was for fewer tickets than reported and adds that "Jack's response was very rude. And Jack had a history of insulting Manny in front of the other players." Gene Mato concurs. "Jack disrespected Manny for many years, and on many occasions."
Of course, none of this excuses Manny's shoving the man, and fans ripped Manny on comment boards at ESPN.com and the Boston papers' websites, calling him a spoiled bully who demanded free tickets despite his $20 million salary. Then Globe columnist Gordon Edes noticed the sea change. As he recalls, "Fans were furious with me for questioning Manny in 2006. One even called my home. But by 2008 there was very little backlash." The reaction got worse when the team did nothing, at least publicly, to punish Manny. "When things happen with us, we take things very seriously and hopefully we deal with things respectfully to all parties," Francona told the press the next day. "But we also do it internally." Manny refused to talk about the incident. "Whatever happens in the clubhouse stays in the clubhouse," he told reporters. "I talked to [McCormick] and everything is fine. He's going to continue to be my friend. It's over with."
McCormick told reporters he couldn't remember the exact details of Manny's ticket request, but that he accepted Manny's apology. "I just want it to die," McCormick said. "It's over. He apologized. That's it. I just want us to get back to our winning ways." This did little to offset some fans' perceptions of Manny as a selfish, violent slugger allowed to run amok because of his prodigious talent. Rob Neyer, an ESPN.com baseball columnist, summed up a common reaction to the incident during an online chat. "What's that old saying?" he asked. "If you can hit a curveball you can get away with murder?"