Commentary
Get your hoops highlights right here
Originally Published:
January 11, 2010
By
Cam Martin
| Special to Page 2
Welcome back to the College Hoops DVR, where -- depending on whim -- we look backward or forward or just let things play, always in quick succession.
PLAY: For those just tuning in to college hoops after a riveting college football season, here are some things to know right off the bat: (1) John Wall of Kentucky is the greatest basketball player of all time; (2) Wall will probably be playing for a very bad NBA team next year, so allow him his fun, it'll soon be over.
[+] Enlarge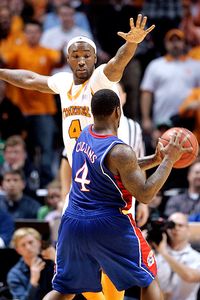 AP Photo/Lisa Norman-HudsonTennessee knocked Kansas from the ranks of the unbeaten, and from their No. 1 national ranking.
FF: In lieu of the success of the NHL Winter Classic, not to mention the collegiate hockey game between Boston College and Boston University on Friday at Fenway Park, the NCAA plans to hold an outdoor men's basketball game next winter in warm, sunny Los Angeles -- with Wesley Snipes and Kadeem Hardison taking the winning team to Sizzler.
REW: Short-handed by the recent suspension of four players, the University of Tennessee Volunteers suited up several surprising walk-ons for Sunday's upset victory over No. 1 Kansas.
STOP: The Texas Longhorns (15-0) say going 16-0 was never their goal this season, so they're benching their starters this week, in the hope of avoiding injuries.
FF: In an effort to save money, the Ivy League is considering the possibility of dismissing all its referees and allowing players to call their own fouls. Two league coaches struck on the idea after visiting something called "a playground."
STOP: In light of recent developments, USC's men's basketball players have been asked to return their luxury cars as soon as possible.
PLAY: College players lose their eligibility if they hire a sports agent. But now that he's been kicked off the Tennessee team following an arrest on drug and gun charges, senior Tyler Smith is free to hire a representative in advance of the NBA draft.
STOP: Until the normally inept Kansas State Wildcats got off to their best start in many years, coach Frank Martin had been in talks to star in a reality show called "Frank the Entertainer in a Basement Affair."
STOP: Washington guard Isaiah Thomas is tired of being blamed for the downfall of the New York Knicks.
REW: Impressed with his hands and looking to add depth, the Red Sox signed Kansas' Sherron Collins to play third base next year. Afterward, Collins released a statement sympathizing with Adrian Beltre, Mike Lowell and "whomever else the Sox sign to play third between now and spring training."
PLAY: During long, boring road trips, college basketball players have started playing "Six degrees of Alex Legion," in honor of the former Michigan, Kentucky and Illinois player who recently transferred to Florida International.
FF: Stymied in its efforts to expand to 12 teams, the Big Ten is taking it another direction, telling Northwestern and Iowa their services are no longer needed. Conference officials will announce the advent of the Big Nine conference as soon as those two schools take a hint and hit the bricks.
PLAY: In an effort to turn around its season and confuse its opponents, Marist (1-14) intends to dribble less, pass less and tackle more.
PAUSE: Unhappy with the direction of their pro careers, J.J. Redick and Adam Morrison are returning to college basketball next season.
PAUSE: "The Secret" is the book-of-the-month selection for the Syracuse basketball team, though none of them knows it.
PLAY: At 6-foot-5, Duke's Jon Scheyer (pronounced "Shire") is the tallest person in his hometown.
PLAY: As a public service announcement, the University of Idaho Vandals are reminding fans to always pillage before they burn.
STOP: Admitting that it's no longer interesting to watch NBA players wax foreign countries in international competition, Team USA coach Mike Krzyzewski says the 2012 Olympic team will feature only Duke players -- assuring that most Americans will be rooting against the United States in 2012.
LEGEND:
REW: A look back at a recent sporting development
PAUSE: Where things are on hold
PLAY: Where things are ongoing
STOP: Where things have come to an end
FF: A look ahead at a possible sporting development
Cam Martin is a contributor to Page 2. He previously worked for the Greenwich (Conn.) Time and The (Stamford, Conn.) Advocate, and has written online for CBS Sports and Comcast SportsNet New England. You can contact him at cdavidmartin@yahoo.com.