Commentary
The Weekly Best for 1/19
Originally Published:
January 19, 2010
By
Cam Martin
| Special to Page 2
Welcome to The Weekly Best, a look at the best in sports, pop culture and Jets cheerleaders.
Best job in sports: Place-kicker.
Best place- kicker in the AFC: Nate Kaeding.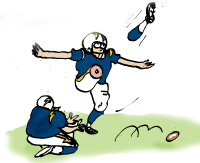 Best solution when your place-kicker is having an off day: Score touchdowns?
Best lead to a story about the Cowboys-Vikings game: "Mall of America Field was the site. Maul of America's Team was the result." -- Tim Cowlishaw of the Dallas Morning News.
Best fans coming out of the woodwork in Connecticut: Jets fans.
Best news for fans of the NBA slam dunk contest: It's now a two-day event.
Best thing that can be said about the slam dunk contest: There'll be highlights, so you don't have to watch it live.
Best exhibition of frustration: Keith Brooking called the Vikings "classless" for scoring a late touchdown in their defeat of the Cowboys.
Best-dressed person at The Golden Globes: Ahh, who cares.
Best punishment for Patrice Cormier for this brutal hockey hit: Criminal charges.
Best hustle play: Pierre Garcon stripping Ed Reed.
Best endorsement of New York Jets cheerleaders: "We make it a point to get Dallas cheerleaders on [camera], but otherwise, it's not really important," says Fred Gaudelli, NBC's "Sunday Night Football" producer. "If we're doing the Jets, I couldn't care less."
Best female tennis player whose loss just curbed my interest in the Australian Open: Maria Sharapova.
Best cruise line maintaining their visits to their heavily guarded Haitian resort: Royal Caribbean.
Best you can say about that decision: It's moderately insensitive.
Best Steelers record that can't be matched with the Cowboys out of the playoffs: Six Super Bowl wins.
Best relationship between a player and his team: Carlos Beltran and the Mets.
Best "no duh" decision: FIFA finally admits it has no legal right to punish France's Thierry Henry for his controversial handball versus Ireland.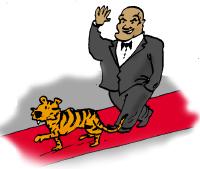 Best boxer at The Golden Globes: Mike Tyson, who made a cameo in "The Hangover."
Best protection for Aroldis Chapman: Keep him away from Dusty Baker.
Best de-cleating of a future Hall of Famer: This post-interception hit on Kurt Warner.
Best reason for the Raiders to keep Tom Cable as head coach: He's someone who actually wants the job.
Best book that needs to be made into a movie already: "A Confederacy of Dunces."
Best after that: "On the Road."
Best actor to play Ignatius J. Reilly: Philip Seymour Hoffman.
Best actor to play Sal Paradise: Johnny Depp.
Best response to being selected for the NBA Slam Dunk Contest: "I'm not really a big-time dunker. I might get one off every other game or something. ... My family thought I'd be in the 3-point [contest]." -- Clippers guard Eric Gordon.
Best chance for the Jets to beat the Colts: The Colts rest their starters.
Best Super Bowl matchup: The Colts versus the Saints.
Best outcome: The Saints win.
Best reason for that: Dude, they're the Saints. Throw 'em a bone.
Best news for Texas Rangers fans: Tom Hicks is close to selling the team to Nolan Ryan.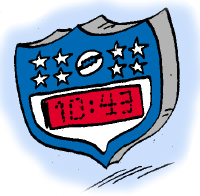 Best estimate of the actual playing time in an average NFL game: 10 minutes and 43 seconds, according to a Wall Street Journal study.
Best showing by Bode Miller in two years: His win Friday in the World Cup super combined in Switzerland.
Best evidence that Mehmet Ali Agca, the Turkish man who shot Pope John Paul II in 1981, should be released from prison: He said in a statement, "I proclaim the end of the world. All the world will be destroyed in this century. Every human being will die in this century. ... I am the Christ eternal."
Best NFL team in need of a head coach: The Bills.
Best player bemoaning the NBA's All-Star voting system: Ray Allen, a nine-time All-Star.
Best time for Jose Offerman to apply for a job in Major League Baseball: Right now.
Best movie series getting an overhaul: "Spider-Man," which will no longer star Tobey Maguire.
Best men's college basketball team: Kentucky, I guess; they're the only ones still undefeated.
Best horse: Rachel Alexandra.
Best story I heard all week: Two Haitians survived under a collapsed supermarket for five days by eating the store's food.
Cam Martin is a contributor to Page 2. He previously worked for the Greenwich (Conn.) Time and The (Stamford, Conn.) Advocate, and has written online for CBS Sports and Comcast SportsNet New England. You can contact him at cdavidmartin@yahoo.com.