Commentary
Grab the remote: College Hoops DVR
Originally Published:
February 16, 2010
By
Cam Martin
| Special to Page 2
Welcome back to the College Hoops DVR, in which -- depending on whim -- we look backward or forward or just let things play, always in quick succession.
FF: Chas McFarland of Wake Forest has joined J.J. Redick and Tyler Hansbrough as one of the most vilified players in recent ACC history. But fans outside the conference are largely unfamiliar with McFarland, so in an effort to raise his profile, the 7-foot senior is going to start wearing real fur on his uniform collar.
[+] Enlarge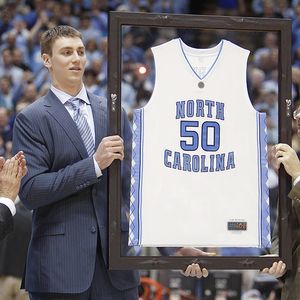 AP Photo/Chuck BurtonNorth Carolina retired the jersey of 6-foot-9 Tyler Hansbrough, the tallest scrappy athlete in history.
STOP: Virginia Military Institute says it's lost interest in landing an invitation to the Big Dance -- after learning no girls will be invited.
REW: Tyler Hansbrough had his number retired by the University of North Carolina before the Tar Heels' game against archrival Duke on Wednesday. In honor of Hansbrough's appearance, referees called touch fouls against Duke throughout the game.
FF: Illinois, which the ESPN College Basketball Encyclopedia ranks as the best program never to win a national championship, is well positioned to retain its title.
PAUSE: Big Ten coaches need a 12th for their fantasy baseball league.
PAUSE: LSU led Vanderbilt 29-28 at the half Saturday and seemed primed to win its first SEC game of the season. But Les Miles once again mismanaged the second half, and LSU lost its 11th straight conference game.
PLAY: UConn asked the NCAA tournament selection committee to overlook any games not coached by Jim Calhoun this season, and the committee has agreed. UConn is now in line for a possible 3-seed.
FF: Talking heads have recently noted that Syracuse coach Jim Boeheim, a Hall of Famer whose team won the national championship in 2003, has never won the National Coach of the Year award. This can be largely explained by Boeheim's inability to coach Carmelo Anthony into playing for him for more than one season.
STOP: The Big Red of Cornell made the Ivy League proud by cracking the Top 25 last week -- and our dubious sources tell us the program was in talks to land an endorsement with Wrigley's Big Red gum. But Cornell lost to 3-15 Penn, assuring the team of continued bad breath.
FF: After hearing that cast members of "Jersey Shore" will receive $10,000 per episode for a second season of the show, Kentucky's triumvirate of standout freshmen will ask the school to pay them $15,000 per game to return for their sophomore seasons.
[+] Enlarge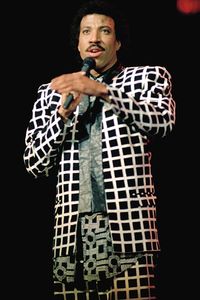 AP Photo/Jeffey RobinsWith Lionel Richie in the fold, Vanderbilt basketball would be easy like Sunday morning.
FF: In a bid to raise school spirit, a student leader at Missouri advocated bringing a live tiger to school sporting events. Not to be outdone, Vanderbilt is contemplating the possibility of bringing Lionel Richie to home games.
PAUSE: The members of the original Dream Team are finalists for the Basketball Hall of Fame and are considered shoo-ins for induction -- as long as Isiah Thomas replaces Christian Laettner on the roster.
PLAY: "Dear John" dethroned "Avatar" as the No. 1 movie at the box office, thanks largely to confused Kentucky fans who thought it was a documentary about John Wall.
REW: John Mayer issued an apology for his controversial Playboy interview, saying he forgot to mention that he hates Duke, too.
REW: UNC coach Roy Williams found himself in hot water when he likened his season to a catastrophe -- while at the same time discussing the earthquake-ravaged Haiti. Williams later clarified his statements, saying the team's misfortunes in no way compare to the devastation experienced in Haiti, but are more on par with what it's like to have been a Clemson fan for the past 100 years.
PLAY: The Cleveland Cavaliers have asked Kansas sharpshooter Brady Morningstar to teach his revolutionary free-throw technique to inveterate bricklayer Shaquille O'Neal.
LEGEND:
REW: A look back at a recent sporting development
PAUSE: Where things are on hold
PLAY: Where things are ongoing
STOP: Where things have come to an end
FF: A look ahead at a possible sporting development
Cam Martin is a contributor to Page 2. He previously worked for the Greenwich (Conn.) Time and The (Stamford, Conn.) Advocate, and has written online for CBS Sports and Comcast SportsNet New England. You can contact him at cdavidmartin@yahoo.com.