Commentary
Don't fast-forward to March Madness
Originally Published:
February 24, 2010
By
Cam Martin
| Special to Page 2
Welcome back to the College Hoops DVR, in which -- depending on whim -- we look backward or forward or just let things play, always in quick succession.
REW: During Duke's recent game in Miami, Blue Devils coach Mike Krzyzewski took exception to a Hurricanes fan who was blowing a conch shell in the stands -- and because the shell qualifies as an illegal sound-maker, it was confiscated by arena security. Krzyzewski was later seen fleeing down a local beach, chased by several youths in dirty loincloths -- one of whom was brandishing the conch.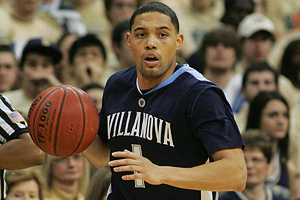 Charles LeClaire/Getty ImagesVillanova's Scottie Reynolds won't match Pete Maravich's scoring mark, but that's probably because he actually passes once in a while.
FF: Villanova senior guard Scottie Reynolds recently passed 2,000 career points and now sits at 2,113. The Wildcats have four regular-season games left, plus the Big East and NCAA tournaments -- so Reynolds might play as many as 13 more games in his collegiate career. If he does, he will need to average only 81 points a game to catch Pete Maravich for the NCAA career mark -- something opponents are all aware of, as no one wants him to break the record on their watch.
REW: Fiery SMU coach Matt Doherty was smacked with a technical during the Mustangs' loss to Memphis on Saturday, after he grabbed a game official by the collar and demanded, "Give me back that Filet-O-Fish! Give me that fish!"
PLAY: Kansas beat Oklahoma on Monday, which gave the Jayhawks their 58th consecutive home win and a share of their sixth straight Big 12 title. A conference of equals? No, the Big 12 comprises Kansas and 11 teams that lose to Kansas. Well, until football season, anyway.
PAUSE: Last week, North Carolina's Ed Davis went on Twitter to ask people to stop asking questions about his future. "Please stop asking if I'm leaving school or not. I'm just trying to recover from my injury and get back on the court asap." Ed, we understand; right now it's all about recuperating on the sofa and watching good ACC basketball. In short, how 'bout them Blue Devils?
REW: Kyle Singler was just feeding Jon Scheyer's chickens and made them so happy that they laid an extra batch of Treasured Golden Mystery Eggs!
PLAY: Krzyzewski says he's concerned some of his players might be spending too much time on FarmVille.
REW: West Virginia fans were unimpressed when Mississippi State fans threw water bottles onto the court during a game against Kentucky. After all, West Virginia fans have been known to tip opposing players by throwing coins. But broken water bottles? Everyone knows those can't be redeemed for a nickel.
REW: Sunday's game between Ohio State and Michigan State was interrupted by a two-hour delay when a pothole developed near center court. Michigan State officials admitted that the hardwood had not been replaced since 1978.
[+] Enlarge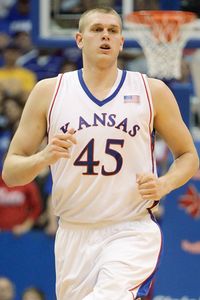 Jamie Squire/Getty ImagesWe kid Cole Aldrich, who's actually a fine student in his own right.
STOP: Kansas junior Cole Aldrich was recently named Academic All-American of the Year by ESPN The Magazine and the College Sports Information Directors Association of America. This came as a shock to Aldrich, who hasn't been to class in two years.
PLAY: In an effort to distance itself from its racially charged past, the University of Mississippi abandoned its Colonel Reb mascot in 2003 because the caricature of an old white plantation owner didn't sit well with many people. Since then, Ole Miss has been without a mascot. But this week, students had the opportunity to choose a replacement -- (1) a colonial soldier, (2) a riverboat gambler or (3) Cooper Manning.
FF: So far, the Big Ten has been unsuccessful in luring a 12th team to join the conference, with Notre Dame and Pittsburgh reportedly resisting overtures. But league officials feel confident of landing their next target, the University of Phoenix. The online school doesn't currently have a basketball program (or an athletic department, for that matter), but it's still on course to earn its first NCAA tournament invitation before Northwestern.
PAUSE: Because they're armed and -- let's be honest -- somewhat unpredictable, no one is willing to tell the folks at Virginia Military Institute that their nickname -- the "Keydets" -- has been misspelled all these years. Not even the cadets at West Point will touch this assignment.
REW: Jon Jankowski, a student sideline reporter for Kent State games, shows some commendable pluck during this recent contest versus Buffalo. It's not quite "boom goes the dynamite," but memorable nonetheless. Hey, there's no shame, Jon. Most of us would freeze on camera like Alex P. Keaton on "Jeopardy!" -- but you, bless your heart, kept talking.
LEGEND:
REW: A look back at a recent sporting development
PAUSE: Where things are on hold
PLAY: Where things are ongoing
STOP: Where things have come to an end
FF: A look ahead at a possible sporting development
Cam Martin is a contributor to Page 2. He previously worked for the Greenwich (Conn.) Time and The (Stamford, Conn.) Advocate, and has written online for CBS Sports and Comcast SportsNet New England. You can contact him at cdavidmartin@yahoo.com.