Commentary
The Weekly Best for March 30
Originally Published:
March 30, 2010
By
Cam Martin
| Special to Page 2
Welcome to the Weekly Best, a look at the best in sports, pop culture and ancient doors to the afterlife.
Best believe it: Baseball season starts Sunday.
Best aspect to Opening Day: The sublime pitching matchups.
Best dust off your disdain for the Red Sox and Yankees: They kick off the season.
Best sports day in April: This Monday.
Best way to spend it: Home sick.
Best get comfortable: On the couch and watch a slew of Opening Day games followed by the men's national championship in basketball.
Best show back in the day: "24."
Best time to stop watching it: After Tony Almeida came back from the dead.
Best 7-win team in the NBA: None; the Nets have 10 now!
Best possible matchup in the NCAA title game: Butler versus Duke.
Best possible outcome: Duke gets shut out.
Best after that: Duke loses at the buzzer.
Best roadie for Jimi Hendrix: Lemmy Kilmister of Motorhead?
Best-grossing movie at the box office: "How to Train Your Dragon."
Best keep him guessing: The Yankees say Joba Chamberlain's long-term role is undetermined.
Best cleanup hitter the Mariners could get: Is a head case who calls himself the Kanye West of baseball.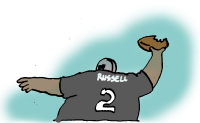 Best 290-pound quarterback in the NFL: JaMarcus Russell.
Best possible pairing for Tiger Woods at the Masters: Phil Mickelson.
Best April Fools' Day gag: Tough to beat Saran Wrap over the toilet bowl.
Best NFL team to follow on HBO's "Hard Knocks": The one we got, the Jets.
Best we can hope for from Rex Ryan: A lot of carelessly chosen statements about opposing teams, coaches and players.
Best season ended ugly: For St. Mary's in its 72-49 loss to Baylor.
Best player between Kevin Durant and Kobe Bryant: Durant, according to Matt Taibbi of Rolling Stone.
Best guess says Taibbi is not a fan of the Black Mamba: "(Durant's ability) to challenge demented three-faced narcissist Kobe Bryant and the Laker hegemony has been the highlight of the year," Taibbi writes.
Best bullying of a reporter: Urban Meyer.
Best threatening of a reporter: Urban Meyer.
Best protection when you bully and threaten reporters: Winning national championships.
Best former Eagle now running for office: Jon Runyan.
Best keep this out of the campaign literature: In a 2006 Sports Illustrated poll, players voted Runyan the second-dirtiest player in the NFL.
Best 40-year-old outfielder: Jim Edmonds.
Best city to be in this weekend: Indianapolis for the Final Four.
Best indication that Kevin Garnett has lost some bounce: He got packed by Manu Ginobli.
Best thing not to do when you're stopped by police on suspicion of drunk driving: Slap the cop, which is what Joey Porter reportedly did.
Best NFL offseason: Not the Steelers.
Best place to find an ancient door to the afterlife: Egypt.
Best assemblage of pot-using NFL prospects: The 2010 draft class, in which 10 or 11 possible first-round picks reportedly used marijuana during college.
Best place to find the strongest insect on earth: In a pile of dung, where the male dung beetle will often pull 1,141 times its weight.
Best wrestling extravaganza: WrestleMania XXVI.
Best evidence that wrestling is not in fact fixed: Vince McMahon, owner of WWE, lost to Bret Hart.
Best news for fans of the "Scream" franchise: They're making "Scream 4" with all the principle actors involved.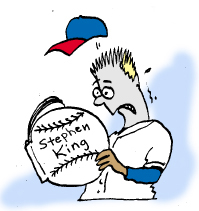 Best beer special in Baltimore on May 15: $20 for a 16-ounce beer with unlimited refills at the Preakness.
Best quarterback between Donovan McNabb and Brett Favre: McNabb.
Best reason the Vikings will ride it out and wait on Favre's decision: They're brainwashed.
Best get ready for the next big thing: The Apple iPad hits stores on Saturday.
Best time to buy an iPad: A year from now, when Apple rolls out the inevitable iPad2.
Best-named tournament in sports: The Frozen Four.
Best author coming out with a baseball novella: Stephen King.
Best keep the same budget: Ohio State coach Jim Tressel received a two-year extension but no raise.
Best check him for snakebite: Cliff Lee.
Best to expense it: A Republican donor reportedly spent $2K at a Hollywood, Calif., bondage club and charged it to the Republican National Committee.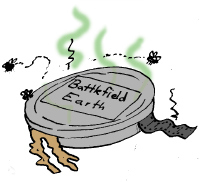 Best find some other women to cheer you on: Elin Woods reportedly won't attend the Masters in support of her husband.
Best actresses to reprise the roles of "Laverne & Shirley": Apparently Jennifer Garner and Jessica Biel.
Best job those two homely women could ever hope to get: Working in a bottling plant.
Best indication of the Royals' prospects in 2010: Kyle Farnsworth is in the running to become a starting pitcher.
Best to own it: In an open letter to the New York Post on Sunday, the screenwriter for "Battlefield Earth" wrote, "I can't help but be strangely proud of it. Because out of all the sucky movies, mine is the suckiest."
Cam Martin is a contributor to Page 2. He previously worked for the Greenwich (Conn.) Time and The (Stamford, Conn.) Advocate, and has written online for CBS Sports and Comcast SportsNet New England. You can contact him at cdavidmartin@yahoo.com.