Commentary
The Weekly Best for April 13
Originally Published:
April 13, 2010
By
Cam Martin
| Special to Page 2
Welcome to the Weekly Best, a look at the best in sports, pop culture and aliens among us.
Best thing about laziness: It pays off now.
Best golf tournament in the world: Finished with a feel-good story.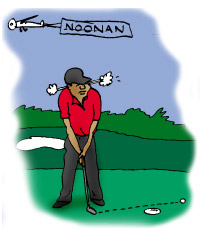 Best golfer in the world: Finished at 11 under par and tied for fourth.
Best regroup fast: The Canadiens enter the playoffs on a three-game losing streak.
Best make room for the Bobcats: Charlotte made the NBA playoffs for the first time.
Best wise up, people: Only 20 percent of the world's population believes that aliens live among us.
Best work innovation: Allow adults to take recess.
Best garage sale discovery: Kurt Cobain's early cassettes.
Best indication that Milton Bradley has amended his ways: He flipped off Rangers fans during a game.
Best new ballpark: Target Field.
Best bang for your buck: A long Red Sox-Yankees game.
Best way for umpire Joe West to bide his time during these "pathetic, embarrassing" contests: Brainstorm new songs for his next country music album.
Best life ever: Hugh Hefner, who just turned 84.
Best career win total among NBA coaches: Don Nelson.
Best place to find him: Still not in the Naismith Memorial Hall of Fame.
Best Asteroids score ever: 41,338,740 points.
Best come up with a new tease: Pitchers working on no-hitters are not "chasing history."
Best reason for that: More than 260 no-hitters have been thrown, so it's not exactly "Man Lands on Moon" when it happens.
Best storyline that didn't come to pass: Yankees manager Joe Girardi says he would have lifted CC Sabathia after eight innings of no-hit ball if he'd retired Kelly Shoppach.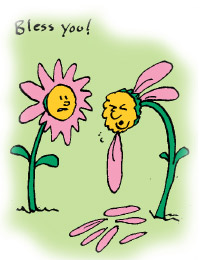 Best spring for pollen: Ask your sinuses.
Best comedic novel I've read in years: "Home Land" by Sam Lipsyte.
Best pack lightly: Spirit Airlines might charge you $45 for a carry-on bag.
Best sight for a Redskins, Eagles or Giants fan: Boom goes the dynamite!
Best come around soon: Or the Red Sox will replace you, Big Papi.
Best chance for the Mavs to avenge their 2006 NBA Finals collapse: Probably this year.
Best way to become the first supersonic man: Free fall from 23 miles above the earth?
Best get your taxes in order: The deadline to file is Thursday.
Best receiver on the Steelers: Dumped to the Jets for a fifth-round pick.
Best quarterback on the Steelers: Won't be dumped, though he probably deserves it.
Best player the Jets should target next: Maurice Clarett.
Best-grossing movie in America: Still "Clash of the Titans."
Best place to find the world's deepest underwater vents: The Caribbean Sea.
Best way to bolster racial relations: Celebrate Confederate History Month?
Best time for Barry Bonds to retire: Not yet, according to the slugger.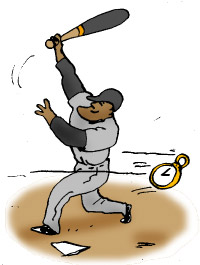 Best reason for that: "The timing isn't that important," Bonds said Sunday.
Best news conference yet to come: When Bonds actually announces his retirement.
Best guess as to when that will happen: Right after he admits he knowingly took performance-enhancing drugs.
Best entertainer in the UFC: Not Anderson Silva.
Best season premiere on Tuesday night: "Deadliest Catch."
Best television show that premiered 20 years ago: "Twin Peaks."
Best wait until things shake out: The NBA playoff scenarios are mind-numbing.
Best career points total by a U.S.-born hockey player: Mike Modano, who might be retiring after 20 years with the Stars.
Best prepare for the consequences: Ronde Barber should probably expect someone to comment, "Hey look, it's the guy who left his pregnant wife for the college girl."
Best Robin Hood: "Men in Tights."
Best comedian returning to late night television: Conan O'Brien.
Best reward for LeBron James' regular season: Make him a unanimous MVP.
Best player on the floor when the Cavs played their last three games: Not James, who's been sitting out to rest up for the playoffs.
Best job opening: Supreme Court justice.
Best thing about it: You don't even have to be a lawyer.
Best be one anyway: No non-lawyers have been appointed to the Supreme Court.
Best way to get over Kim Kardashian: Start dating Jessie James.
Best note the spelling of "Jessie" : Reggie Bush is not dating Sandra Bullock's husband.
Best way for George Lucas to debase "Star Wars": Turn it into a comedy.
Best leave those works to Mel Brooks: "Spaceballs" went there already, Mr. Lucas, and you'd hard-impressed to beat it.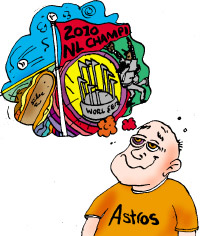 Best treatment for depression: Might be hallucinogens.
Best reason not to stay in school: Advanced degrees can hurt your career.
Best endorsement for Mark McGwire: Barry Bonds says he's proud of you.
Best finish for the Dow Jones Industrial Average since 2008: Monday, when it finished above 11,000.
Best young player in the NHL: Tampa's Steven Stamkos, 20, who became the third-youngest player in NHL history to record 50 goals in a season.
Best defensive end still available: Jason Taylor.
Best fit for him: May be with the Jets.
Best clear it with Fireman Ed: The notorious Jets fan reportedly hates Taylor, a longtime Dolphin.
Cam Martin is a contributor to Page 2. He previously worked for the Greenwich (Conn.) Time and The (Stamford, Conn.) Advocate, and has written online for CBS Sports and Comcast SportsNet New England. You can contact him at cdavidmartin@yahoo.com.